Colonial New England: An Old Order, New Awakening
When Jonathan Edwards reached manhood in the 1720's, New England had been settled by Englishmen for a hundred years. The area was conscious of its historical roots, and Cotton Mather, the famous Puritan preacher, had produced a monumental history of New England, Magnalia Christi Americana (1702). Mather's work was intended as a religious history of the colonies, but it reports on every aspect of early New England. For the early New Englanders, religious and social history were inseparable. It was assumed since the landing of the Pilgrims in 1620 that the settlers were (or should be) Christians, and that God would bless the building up of a godly commonwealth in the new land.
Needless to say, the churches of New England were no longer persecuted sects: they had become established churches. The religious groups that settled New England left the old country because of persecution, or because they saw the Church of England as a poor model of biblical faith.
They carved out a place for themselves in the New World, with much hardship and discipline. In time the New Englanders realized that they were no longer the righteous remnant running from an apostate English church establishment. They were now an establishment.
The settlers had begun with the idea that the visible church should be identical with the invisible—that is, the gathered congregations should be bodies of true believers. Nominal Christianity is indeed unthinkable among persecuted sects. If one suffers for one's beliefs, one will either believe strongly or forsake the beliefs. But in the New World, away from persecution and adjusted to life in new territory, nominal Christianity became a reality. Mingled with devout believers were church members who merely paid lip service ...
You have reached the end of this Article Preview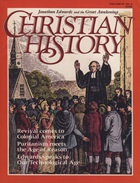 10/01/1985