Jonathan Edwards and the Great Awakening: Did You Know?
Jonathan Edwards was the only son in a family of eleven children. He and his wife Sarah had eleven children of their own.
Though John Wesley and Jonathan Edwards were born the same year (1703) and admired each other's evangelistic work, the two men never met. Both were friends of George Whitefield and both emphasized the need for conversion and heartfelt religion. Edwards read Wesley's Hymns and Sacred Poems and Wesley supervised the publication in England of Edwards' Some Thoughts Concerning the Present Revival of Religion.
Edwards' reputation as a dramatic hell-fire preacher is largely undeserved. He usually spoke quietly and with dignity, though emphatically, and his voice was unsuitable for preaching to large crowds. He never used loud volume or exaggerated gestures to make his points, for he relied on striking imagery and the logical argument of his sermons.
As part of his daily devotions, Edwards rode his horse into the woods and walked alone, meditating. He would write notes to himself on scraps of paper and pin them to his coat. On returning home, he would be met by Sarah, who would help unpin his notes.
Edwards advanced and supported the Great Awakening in New England, but viewed with suspicion the emotional excesses generated by the revival. While he encouraged repentance and heartfelt devotion to God, he was bothered somewhat by the shreiking, trances, and ecstatic deliriums that often accompanied the revivals. While the physical signs did not discredit the Awakening for Edwards, he felt some pastors placed an undue emphasis on outward signs.
Though trained to be logical and rational, Edwards insisted that true religion is primarily rooted in the affections, not in reason. He wrote the famous Treatise on Religious ...
You have reached the end of this Article Preview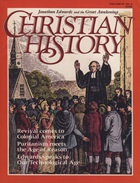 10/01/1985