I received my commission from Him, brother
In 1771, John Wesley received a remarkable letter from devout Methodist convert Mary Bosanquet (1739-1815). With her friends Sarah Crosby (1729-1804) and Sarah Ryan (1724-1768), Bosanquet had been running an orphanage and leading the small-group Methodist gatherings for spiritual growth that Wesley termed "class meetings." Crosby had in fact been speaking to groups sometimes numbering in the hundreds—though Wesley would not let her call her spiritual testimony "preaching." Bosanquet too had been leading class meetings, and been criticized for doing it.
She met the criticism head-on in her letter to Wesley: "Several object to this, saying 'A woman ought not to teach or take authority over a man.'" This might mean, Bosanquet allowed, that a woman should not take authority over her husband. But it emphatically did not mean that "she shall not entreat sinners to come to Jesus, nor say, come and I will tell you what God has done for my soul." Not every woman was called to be a preacher, no more than every man; but "some have an extraordinary call to it, and woe be to them if they obey it not."
That very month, June 1771, Wesley endorsed Bosanquet's friend Crosby as a lay preacher, using the phrase "extraordinary call." He gave his stamp of approval to Bosanquet as well. Both women became tireless evangelists, and some 41 women eventually became lay preachers in "Mr. Wesley's Methodism."
In 1781 Bosanquet married Wesley's intended successor John Fletcher. After Fletcher's death in 1785, Mary continued to hold preaching meetings and care for her late husband's Anglican parish, even appointing one of his successors. Despite the resolution ...
You have reached the end of this Article Preview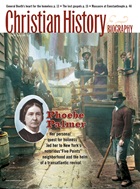 04/01/2004