Did You Know?
A Forgotten Place in History
Never one to be caught in an understatement, the journalist G. K. Chesterton wrote in 1905, "If we test the matter by strict originality of outlook, George MacDonald was one of the three or four greatest men of 19th century Britain." Whether later historians agree or disagree with Chesterton's assessment, MacDonald undeniably attracted a wide range of admirers in his own time. Queen Victoria gave MacDonald's novels to her grandchildren and granted him a Civil Pension in 1877. Archbishop Tait said that MacDonald "was the very best preacher he had ever heard."
Chesterton chaired the planning committee of the "George MacDonald Centenary Celebration," held on December 10, 1924, one hundred years after MacDonald's birth. The committee also included Sir James Barrie (author of Peter Pan), the poet William Butler Yeats, Ernst Rhys (founder of Everyman Books), and other well-known authors, theologians, social reformers, biblical scholars, ministers, a Member of Parliament, and leading luminaries of the day.
All the World's a Stage
George MacDonald was much sought after both to preach and to give lectures on literature. Archived letters reveal that, due to reasons of health and fatigue, he frequently had to turn down requests for both. When he did give a sermon, he refused any sort of remuneration. He was actually offered the considerable sum of $20,000 per year to pastor a Fifth Avenue church in New York but was not tempted. He lectured in England, Scotland, Ireland, America, Canada, and Italy to audiences sometimes numbering in the thousands. He often spoke on Shakespeare—upon one occasion proffering the topic choice: "'The Moral Drift of Shakespeare's Play of MacBeth'—or for MacBeth, substitute Hamlet ...
You have reached the end of this Article Preview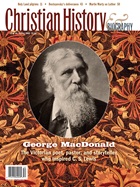 04/01/2005