C.S. Lewis: Did You Know?
A Jack of all genres
C. S. Lewis is probably the most well known, widely read, and often quoted Christian author of modern times. Between 1931 and 1962 he published 34 books. Posthumous collections added many more volumes, and the secondary studies of Lewis reach into the hundreds. The range of his talents included such varied categories as poetry (Dymer), allegorical novel (The Pilgrim's Regress), popular theology (Mere Christianity), educational philosophy (The Abolition of Man), space-travel fiction (The Ransom Trilogy), children's fairy tale (The Chronicles of Narnia), retold myth (Till We Have Faces), literary criticism (The Discarded Image), correspondence (Letters to Malcolm), and autobiography (Surprised by Joy). In spite of the variety of genres, Lewis's distinctive "voice" and continuity of thought permeated everything he wrote.
The Inklings
From the mid 1930s to the late 1940s, Lewis met with a group of literary friends every Tuesday and Thursday to share beer and conversation and to critique each other's work. "The Inklings," as they called themselves, included J. R. R. Tolkien, Charles Williams, and Lewis's brother, Warnie. Warnie wrote in his diary, "We were no mutual admiration society. … To read to the Inklings was a formidable ordeal." Among the works-in-progress forged in the heat of friendly criticism were The Screwtape Letters, the Narnia books, and The Hobbit. "But for the encouragement of CSL," Tolkien told Clyde Kilby in 1965, "I do not think that I should ever have completed or offered for publication The Lord of the Rings." (See Issue 78: J. R. R. Tolkien.)
A mind set on higher things
Lewis's close friend ...
You have reached the end of this Article Preview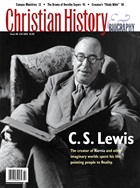 10/01/2005