Charles Finney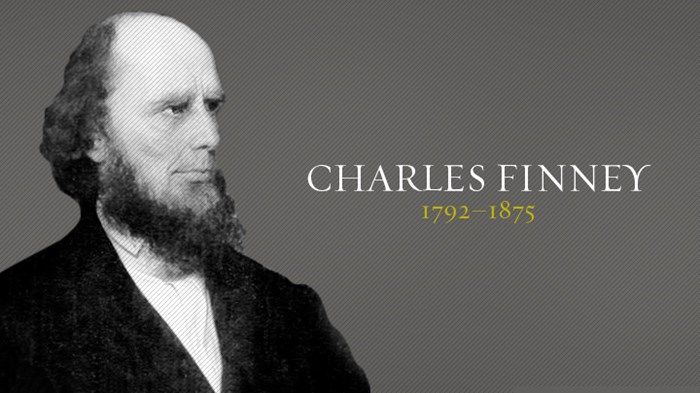 "I have a retainer from the Lord Jesus Christ to plead his cause, and cannot plead yours."
The 29-year-old lawyer Charles Grandison Finney had decided he must settle the question of his soul's salvation. So on October 10, 1821, he headed out into the woods near his Adams, New York, home to find God. "I will give my heart to God, or I never will come down from there," he said. After several hours, he returned to his office, where he experienced such forceful emotion that he questioned those who could not testify to a similar encounter.
"The Holy Spirit … seemed to go through me, body and soul," he later wrote. "I could feel the impression, like a wave of electricity, going through and through me. Indeed it seemed to come in waves of liquid love, for I could not express it in any other way."
The next morning, Finney returned to his law office to meet with a client whose case he was about to argue. "I have a retainer from the Lord Jesus Christ to plead his cause," he told the man, "and cannot plead yours."
Timeline

1771

Francis Asbury sent to America

1779

John Newton and William Cowper publish Olney Hymns

1789

Bill of Rights

1792

Charles Finney born

1875

Charles Finney dies

1878

William & Catherine Booth found Salvation Army
And so began the new career of the man who would become the leading revivalist in the nineteenth century.
Inside the burned-over district
Born in Connecticut, Finney was raised in Oneida County, New York. After a couple years teaching in New Jersey, he returned to New York to help his mother, who had become seriously ill. Meanwhile, he began studying law and became an apprentice to a judge in Adams.
After his conversion, Finney prepared for ministry in the Presbyterian church and was ordained in 1824. Hired by the Female Missionary Society of the Western District, he began his missionary labors in the frontier communities of upper New York. A rigid Calvinism dominated the theological landscape, but Finney urged his listeners to accept Christ openly and publicly. His style differed too; his messages were more like a lawyer's argument than a pastor's sermon.
At Evans Mills, he was troubled that the congregations continuously said they were "pleased" with his sermons. He set about to make his message less pleasing and more productive. At the end of his sermon, which stressed the need for conversion, he took a bold step: "You who have made up your minds to become Christians, and will give your pledge to make your peace with God immediately, should rise up."
The entire congregation, having never heard such a challenge, remained in their seats.
"You have taken your stand," he said. "You have rejected Christ and his gospel." The congregation was dismissed, and many left angry.
The next evening, Finney preached on wickedness, his voice like "a fire … a hammer … [and] a sword." But he offered no chance to respond. The next night, the entire town turned out, including a man so angry with Finney that he brought a gun and intending to kill the evangelist. But that night, Finney again offered congregants a chance to publicly declare their faith. The church erupted—dozens stood up to give their pledge, while others fell down, groaned, and bellowed. The evangelist continued to speak for several nights, visiting the new converts at their homes and on the streets.
He rode from town to town over what was known as the "burned-over district," a reference to the fact that the area had experienced so much religious enthusiasm that it was thought to have burned out. Newspapers, revivalists, and clergy took notice of the increasingly rowdy meetings—meetings unlike those of reserved Calvinists.
Identifying Finney's revivals with those a few decades earlier in places like Cane Ridge, Kentucky, many were ecstatic about prospects for "awakening" in the northeast. But others were opposed to the "plain and pointed preacher." The Old School Presbyterians resented Finney's modifications to Calvinist theology. Traditional Calvinists taught that a person would only come to believe the gospel if God had elected them to salvation. Finney stated that unbelief was a "will not," instead of a "cannot," and could be remedied if a person willed to become a Christian.
Such rigid Calvinism, he said, "had not been born again, was insufficient, and altogether an abomination to God."
The revivalistic Congregationalists, led by Lyman Beecher, feared that Finney was opening the door to fanaticism by allowing too much expression of human emotion. Unitarians opposed Finney for using scare tactics to gain converts. Across the board, many thought that his habitual use of the words you and hell "let down the dignity of the pulpit."
"New Measures"
During this time, Finney developed what came to be known as "New Measures." He allowed women to pray in mixed public meetings. He adopted the Methodists' "anxious bench": he put a pew at the front of the church, where those who felt a special urgency about their salvation could sit. He prayed in colloquial, common, and "vulgar" language. Most of these New Measures were actually many decades old, but Finney popularized them and was attacked for doing so.
In July 1827, the New Lebanon Convention was held to examine these practices, as well as some false reports of excesses. Vote after vote ended in stalemate. When a last attempt was made at a resolution condemning questionable revivalistic practices, Finney countered by proposing a condemnation to "lukewarmness in religion." Neither proposal passed.
The zenith of Finney's evangelistic career was reached at Rochester, New York, where he preached 98 sermons between September 10, 1830, and March 6, 1831. Shopkeepers closed their businesses, posting notices urging people to attend Finney's meetings. Reportedly, the population of the town increased by two-thirds during the revival, but crime dropped by two-thirds over the same period.
From Rochester, he began an almost continuous revival in New York City as minister of the Second Free Presbyterian Church. He soon became disenchanted with Presbyterianism, however (due largely to his growing belief that people could, with God, perfect themselves). In 1834, he moved into the huge Broadway Tabernacle his followers had built for him.
He stayed there for only a year, leaving to pastor Oberlin Congregation Church and teach theology at Oberlin College. In 1851, he was appointed president, which gave him a new forum to advocate social reforms he championed, especially abolition of slavery.
Finney produced a variety of books and articles. His Lectures on Revivals of Religion (1835), a manual on how to lead revivals, inspired thousands of preachers to more consciously manage (critics said "manipulate") their revival meetings. His Lectures on Systematic Theology (1846) teach his special brand of "arminianized Calvinism."
Finney is called the "father of modern revivalism" by some historians, and he paved the way for later mass-evangelists like Dwight L. Moody, Billy Sunday, and Billy Graham.