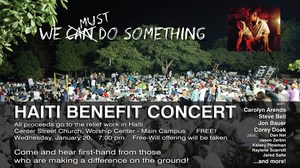 A number of Canadian Christian musicians, including CT columnist Carolyn Arends of Vancouver and fellow award-winning artist Steve Bell of Winnipeg, staged a benefit concert for Haiti last night at Centre Street Church in Calgary, raising $115,000 to be donated to Samaritan's Purse. The Canadian government provided a matching grant, bringing the total to $230,000 – a nice sum for an event that was cobbled together in just a matter of days.
"I know our efforts will be a drop in the ocean, but I am very grateful for the opportunity to do something," Arends blogged the day before the event. "Even from this safe distance, watching the devastation in Port-au-Prince shakes the foundations of many of my tidy ideas about justice and what we can expect from the universe. When my head starts to hurt, I remember this: 1. The world is broken. 2. God is with us. 3. God is for us.
4. God is good. 5. More will be revealed."
Bell, always passionate about social justice, did some research on Haiti before the show, and has posted a couple of very thoughtful items on his blog – one a brief history of the country, indicating that its problems are not as "self-inflicted" as some (even prominent Christians) have implied, and the other a list of practical ways that Christians can help Haiti.
"I don't claim the smarts to understand the matrix of causes behind systemic poverty," Bell wrote, "and I certainly don't hold to a simplistic idea of the noble poor and the evil rich. But I have lived for a decade in one of Canada's poorest neighborhoods. I have traveled to India, Bangladesh, Philippines, Ethiopia, Kenya, West Bank, Thailand and throughout the Caribbean. I have read many books on the dynamics of systemic poverty and sat in on many dialogues among folks who are leading advocates for the poor. Rarely, if ever, have I encountered individuals or societies whose poverty could be said to be deserved. And rarely, if ever, have I met those who are entirely innocent of complicity in the suffering of others.
"In the case of Haiti, a quick bit of research reveals a brutal feedback loop of external and internal predatory malice, international indifference and climactic shock that will require a patient, compassionate, wise and multifaceted response if healing and flourishing is to eventuate – for Haiti's history has been birthed in debt, borne by dictatorship and bludgeoned by disasters – a legacy of suffering that perhaps now, might receive the attention it needs."
Consider reading the rest of that post here, and Bell's post on how to help Haiti here
Meanwhile, Arends notes that one of the songs on her latest album just happens to include a verse about an earthquake "making dust of the city that was standing there." In the song, she wonders aloud: "Well who can say if the trouble comes from above or below or the hands of fate / I just pray when the trouble does come / You help us to remember the promise you make / CHORUS: I know neither death nor life / Not the past nor the present nor things to come / No foe, neither depth nor height / Can separate us from the love of Christ."