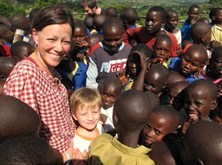 Last March, I accompanied Sara Groves, her husband Troy, their son Kirby, and a team from Food for the Hungry on a trip to Rwanda, where we visited a rural village, Gisanga, that Groves sponsors through FH. It was an amazing trip, and I wrote about it here and here.
On our return home, Sara told me that she wanted to return to Rwanda this year, this time with her whole band, to give a concert in Gisanga. That trip became reality recently, as Sara and Troy and their younger son, Toby, took the whole band. On the trip, band members met children they sponsor through FH, and they indeed held a free concert on one of Rwanda's legendary thousand hills on a sunny afternoon. Hundreds turned out for the show, some carrying a banner that read, "Thank You Sara," acknowledging the good work that she, her family, her band, and her supporters have shown in sponsoring the village, bringing food, education, vocational training, health care, and the good news of the gospel through FH's local workers.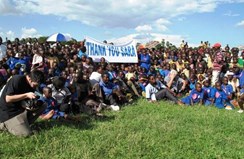 "The trip was amazing, and I wish you could have seen the concert we put on in Gisanga," Groves told me the other day. "One of my favorite moments was getting out of the van at the school, and immediately recognizing 6-7 children, and knowing them by name! It was like a reunion. It was such a sweet time."
Among the songs that Sara sang was "Joy Is in Our Hearts" from her latest album, with the chorus being sung in Kinyarwandan, the native language. See the video here: