A new CNN-Opinion Research poll finds that a majority of Americans think government should not promote "traditional values," the first time in the past two decades that support for promotion of traditional values has been below 50 percent. The June poll finds that more Americans now believe that the government should stay out of the values business.
Since 1993, Gallup, CNN, and USA Today have occasionally asked whether people think "the government should promote traditional values in our society" or "the government should not favor any particular set of values." Just three years ago, only four-in-ten polled said government should not support any one set of values. In this month's poll, 50 percent said this. For the first time, a minority (46 percent) wanted government to push traditional values.
One possible explanation is the state of the economy. Those hit hardest by the recession showed a change in their support for traditional values. CNN's polling director Keating Holland noted that rural and blue-collar Americans may be a bellwether for the presidential election.
"Change among these particular groups suggests that economic worries are crowding out social issues," Holland said.
The recent recession is unlikely to be the only explanation, however. The economy has had many ups and downs over the past 18 years, but support for government promoting traditional values has remained consistently high.
The turn away from values-promotion may be part of a more general movement favoring less government. The poll found that for the past two years the public increasingly think "the government is trying to do too many things that should be left to individuals and businesses"; a shrinking number think "government should do more to solve our country's problems." Sixty three percent said government was doing too much, up from 52 percent when Obama was elected President. The current support for less government is the highest in the past two decades.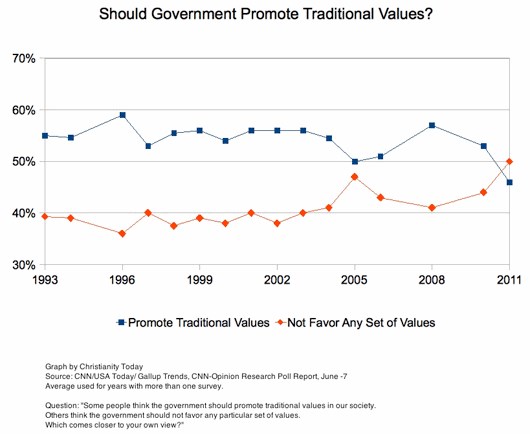 The shift in opinion does not mean that Americans like the current values in society. A January Gallup poll found that seven in ten Americans were dissatisfied with "the moral and ethical climate" in America. This was up from 62 percent a decade ago.
Another Gallup poll offers a glimpse at one reason some people may be less than thrilled at the idea of government promoting any values. In 2010, before the latest sex scandals, Gallup asked the public to rate the "honesty and ethical standards" of different types of people. Only nine percent said Members of Congress had "very high" or "high" ethical standards. Just 12 percent said the same for state officeholders, less than the percentage for lawyers (17 percent) and just slightly above car salespeople and lobbyists, each of whom received just seven percent.
Regardless of the latest public opinions, it remains to be seen if traditional values will remain important the upcoming presidential race. At Monday's Republican debate, candidates for the GOP nomination discussed their bona fides on abortion, marriage, and religion. Yet, not once in the whole debate did anyone mention the word "values."
Related Elsewhere:
Christianity Today covers political developments on the politics blog.