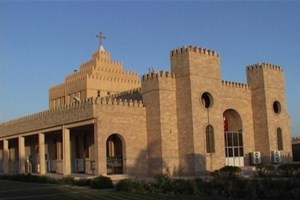 Parliamentarians in Iraq's Kurdish region are drafting a blasphemy law that, unlike those in other Muslim-majority nations, will protect Christianity as well as Islam from "insult."
Prompted by rioting after a controversial sermon by a Kurdish mullah in May, the bill would make acts of blasphemy –- broadly defined as offending God or the prophets, or deliberately damaging holy books or religious buildings –- against any religion punishable by up to 10 years in prison, according to Rudaw News. Any media organization found guilty of publishing or broadcasting blasphemous content would be closed down for a minimum of six months.
Opponents insist the bill, if passed, will unlawfully censor media in the Kurdistan region. Proponents deny that censorship would become a problem.
"It isn't prohibiting any freedom. You're free to say your opinion; you're free to criticize mullahs, scholars, Islam, the history of Islam," Basher Hadad, head of the committee charged with drafting the bill, told Rudaw News. "What's not OK and what's not allowed is insulting Islam."
Hadad says the law will protect Christians and other religious minorities in addition to Muslims. "The name of Islam is not mentioned in this law. What it does prohibit –- insulting God, the prophets, holy books –- is common to all religions. This law prohibits Muslims from insulting Christians, Yazidi or other religious minorities, too," he said, according to Rudaw News.
CT has reported how "religicide" has caused Iraqi Christians to flee to Kurdistan, interviewed a missionary who moved to Kurdistan after spending 9/11 in a Taliban jail, and examined how Iraqi Christians were the church's center for a millennium.