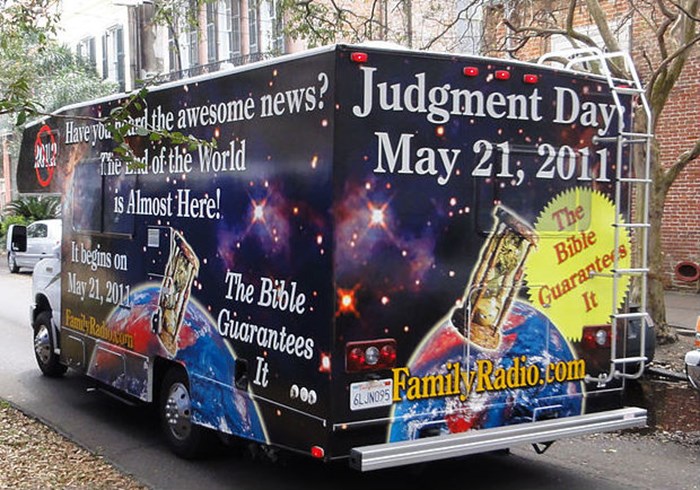 Image: Bart Everson/Wikimedia
Harold Camping, who used his sizable Christian radio network as a platform to repeatedly predict the rapture, died Sunday in his California home at the age of 92.
After a fall on November 30, Camping was unable to recover from his injuries and "passed on to glory," announced Family Radio Network.
Camping gained a national following as a Bible teacher via the radio network he founded in 1959 and grew to more than 200 stations by 2009. But he became controversial after his failed prediction that the world would end in 1994. CT noted at the time:
Thousands of devoted radio listeners heeded his warnings to some extent. Camping's end-times views have been considered inconsistent by some because his teachings appear to affirm premillennialism, while Camping considers himself a reformed amillennialist. The views concern the centuries-old debate on the return of Christ and his 1,000-year reign on earth. Camping's teachings spawned organized debates and spin-off books, with some churches losing many people who were sure of Camping's predictions.
Religion News Service offers the most detailed account of Camping's career and controversial teachings, including how he eventually apologized for his "incorrect and sinful" predictions.
CT reported in 2002 when Camping started urging Christians to leave their churches, prompting a wave of defections. "I have the sorrowful job of teaching this," he told CT at the time.
He drew the most attention (and criticism) for predicting the world would end in May (then October) 2011. CT noted the legal effort to sue Camping for fraud:
The $100 million campaign, which centered on ads that read, "Judgment Day, May 21: the Bible guarantees it," was funded in part by contributions from hundreds of donors. Most of the funds came from the sale of a television station and a radio station, a Family Radio spokesman said. But some donors sacrificed their life's fortunes, even jobs, in anticipation for the "guaranteed" end and are now in dire financial straits; others are simply frustrated and in search of recompense. With millions of dollars in family estates, wills, and personal funds pledged in support of a now defunct prophecy, is there any legal recourse for donors?
The failed prophecy proved to have financial consequences for his ministry, both in the massive advertising campaign promoting the doomsday date and in lost donations after the promised rapture failed to occur. Earlier this year, Family Radio sold three of its largest stations to shore up finances.
Meanwhile, CT editorialized on how Camping was sort of right.