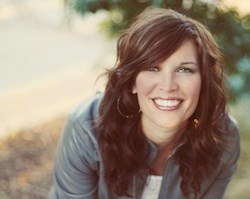 Christian blogger and author Jen Hatmaker announced this week that HGTV has planned a reality series featuring her family of seven as they renovate their new house.
Since Duck Dynasty—the hugely popular A&E series about a Christian family, the Robertsons, and their duck call business—set records as the most-watched show on cable, it appears HGTV now wants to offer viewers their own quirky but faith-filled bunch.
Hatmaker wrote on her blog:
We told the people, "Um, we are overtly Christian. This isn't even a gray area." And they said, "Yes. We want it all: your family, your prayers, your church, your poor people, your nonprofits, your chaos, your humor. We want you to be exactly who you are."
A crew filmed her family in Austin last month before successfully pitching the network. A spokeswoman from HGTV confirmed they are in initial stages of production with the Hatmaker family, though the series doesn't have a title or air date yet.
Hatmaker writes about her faith and family in a personal, unapologetic way, embracing the messiness of life with five kids, including two adopted from Ethiopia in 2011, and her "Harley-riding pastor" husband, Brandon Hatmaker. Her post about being "The Worst End of School Year Mom Ever" landed her on the Today show in June. Later that month, Hatmaker said, HGTV reached out to her about developing a show.
Her family's transition from computer screen to TV screen would follow bloggers such as Ree Drummond, whose posts about living and cooking as "The Pioneer Woman" on her family's Oklahoma ranch led to her own show on the Food Network.
The popularity of reality shows has allowed more Christians to portray their faith on TV, Craig Detweiler, Pepperdine University communications professor, told the Religion News Service. National Geographic Channel recently debuted Snake Salvation, which examines the lives of two young pastors leading a resurgence of Pentecostal serpent handling.
Ed Stetzer already declared the Hatmakers' series "the reality next TV show I will watch!"
"We're pretty excited. #AndHumbled," Brandon Hatmaker tweeted, joking with friends about who'd be their family's Uncle Si, the crazy relative and fan favorite on Duck Dynasty.