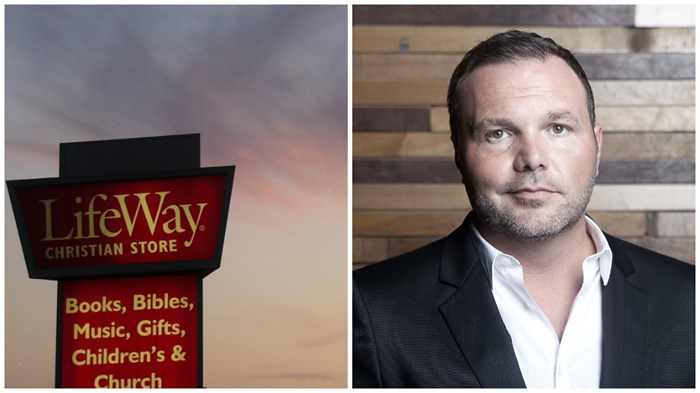 Image: Tyler Merbler/Flickr; Mars Hill Church
Update (Aug. 12): One of Mark Driscoll's advisers who recently resigned, Paul Tripp, stated today that Mars Hill's accountability model "will never be able to do what it was designed to do."
-----
[Updated with past Tyndale defense of Driscoll and Publishers Weekly report]
LifeWay Christian Resources, which bills itself as "one of the world's largest providers of Christian products and services," has pulled Mark Driscoll's books from its website and more than 180 stores nationwide.
The action by the publishing arm of America's largest Protestant denomination, the nearly 16-million-member Southern Baptist Convention (SBC), comes one day after Matt Chandler's Acts 29 church planting network removed membership from Mars Hill churches and their popular pastor. Driscoll has authored 15 books and amassed a following of 13,000 weekly worshipers at 15 locations in five states.
"LifeWay Stores and Lifeway.com are not selling Mark Driscoll's books while we assess the situation regarding his ministry," communications director Marty King told CT. LifeWay carried Driscoll's A Call To Resurgence, along with other products to which Driscoll contributed. Now, only five products that Driscoll contributed to remain. Driscoll's books were not among LifeWay's best sellers last month.
The decision echoes the debate raised after the recent resignation of popular pastor Bob Coy following a moral failing: Should Christians stop studying the teachings of fallen pastors?
Mars Hill has yet to respond to LifeWay's decision. But on Friday, leaders rebuked Acts 29's "divisive" decision, asserting "we are making real progress in addressing the serious reconciliation and unhealthy culture issues that have been a part of Mars Hill Church for way too long," and citing "clear evidence that the attitudes and behaviors attributed to Mark in the charges are not a part and have not been a part of Mark's life for some time now."
Driscoll, whose provocative preaching style has proved surprisingly successful in secular Seattle, has already apologized for the steady stream of controversies over the past few years.
Two of the latest controversies focused on his books. When duplicate content spotted in a handful of Driscoll's books last December led to widespread allegations of plagiarism, one major Christian publisher said it "strongly stands behind" Driscoll, saying he "did indeed adequately cite" the work of others, while another Christian publisher said its material "improperly appeared without quotation or attribution." In turn, Mars Hill attributed the "citation errors" to a research assistant. (CT examined the "real problem" with Driscoll's "citation errors," which became CT's No. 10 most-read story of 2013.)
In March, Mars Hill defended paying to place Driscoll's Real Marriage on The New York Times bestseller list, but Driscoll later apologized and voluntarily retracted his bestseller status.
Last month, Tyndale House Publishers issued a defense of Driscoll in response to what it called an "erroneous report" by Warren Throckmorton for The Daily Beast that Tyndale was freezing its publishing ties with the Seattle pastor. Tyndale still plans to release Driscoll's next book, and stated:
It is disturbing to us to see how quickly some are willing to criticize fellow Christians. We believe that God works through all who sincerely desire to serve Him. We believe Mark Driscoll sincerely desires to serve God, and we at Tyndale continue to support him and his desire to further God's Kingdom.
Throckmorton, who defended his reporting, broke the news of LifeWay's decision. LifeWay is the United States's second-largest chain of Christian stores, behind only Family Christian Stores with nearly 300 locations. Family Christian continues to sell 44 products connected to Driscoll, and labels his Who Do You Think You Are? as a bestseller.
Publishers Weekly reports:
At the International Christian Retail Show in Atlanta in June, there was a notable amount of chatter about LifeWay removing Driscoll's books from its stores; at that time a LifeWay spokesman denied such a move was under consideration.
LifeWay was asked to ban Driscoll's books from its stores at the SBC's 2009 annual meeting, but the motion failed to pass. Debate focused on whether Driscoll's blunt approach undermined his message.
Altogether, five motions were made against Driscoll at the 2009 convention, including a motion to have all Southern Baptist entities report any contact with Driscoll or the Acts 29 church planting network. Some were ruled out of order and others were referred to committees, Christian Retailing reported.
Driscoll was not alone—other 2009 motions reportedly requested to have The Shack and books by T.D. Jakes, John Hagee, and "Catholics" removed.
In 2012, LifeWay pulledThe Blind Side from shelves after complaints over the film's profanity and use of a racial slur. The same year, the chain declined to carry Rachel Held Evans' book A Year of Biblical Womanhood for reasons not made public.
Evans claimed her use of the word "vagina" merited the decision, but CT reported that other LifeWay books use the word numerous times, including Driscoll's Real Marriage (five uses).
Also in 2012, LifeWay declined an SBC request to remove the 2011 NIV Bible translation from its shelves, and halted sales of a breast cancer awareness Bible amid concerns over the book's beneficiary: Susan G. Komen for the Cure, which also partners with Planned Parenthood.
In early 2011, CT reported when LifeWay dropped its "read with discernment" sticker program, which targeted books that "may have espoused thoughts, ideas, or concepts that could be considered inconsistent with historical evangelical theology."
[Editor's note: A previous version of this story stated that LifeWay "offered 42 products authored by or connected to Driscoll." LifeWay communications director Marty King told CT that only one Driscoll-authored book was among them.]
[Photos courtesy of Flickr - Tyler Merbler; Mars Hill Church]