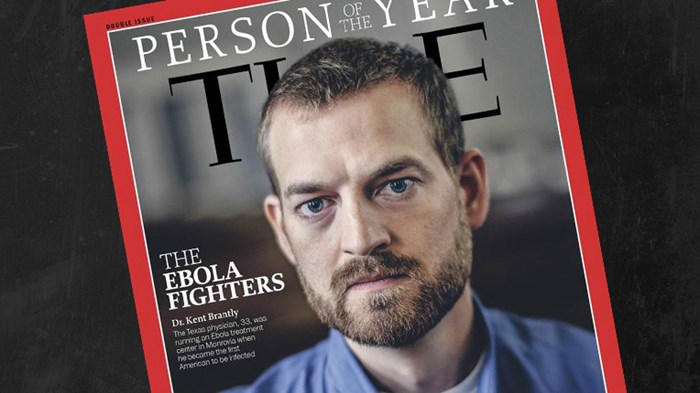 Image: Courtesy of Samaritan's Purse
For their "tireless acts of courage and mercy," Time magazine has named the Ebola fighters—including missionary doctor Kent Brantly and staffer Nancy Writebol—its 2014 person of the year.
Brantly, Writebol, and other medical staff—mainly volunteers—stepped up to manage the disease when federal governments and international health organizations were dragging their feet, fighting "a war that is waged with bleach and a prayer," managing editor Nancy Gibbs wrote in her explanation for the magazine's choice.
Medical missions is currently seeing record interest from physicians and medical students. Brantly, a doctor with Samaritan's Purse and affiliated with the Christian Medical and Dental Association (CMDA), was "one of our most dynamic student leaders," David Stevens, president of the CMDA, told CT. Before Brantly headed to Liberia, Stevens interviewed him at last year's medical missions conference in Louisville, where more than 1,000 people committed themselves to careers in medical missions, he said.
Brantly said God "blessed him with a special sense of his presence" while he battled the disease. "I remained strangely calm, never shedding a tear," he said. "I wasn't being brave. I was filled with peace. … When I told my parents about my impending fate, I told them that whether I live or die, I just want God to be glorified."
As Brantly waited to be transferred from Liberia to Atlanta, he told Time he listened to passages of scripture on his laptop, and one verse in particular caught his attention:
"For I am convinced that neither death nor life, neither angels nor demons, neither the present nor the future, nor any powers, neither height nor depth, nor anything else in all creation, will be able to separate us from the love of God."
The story of Ebola fighters has a strong religion angle, which Time makes "abundantly clear" in highlighting the role of Samaritan's Purse and other missionary doctors and even the Bible, Get Religion columnist Bobby Ross Jr. noted approvingly.
Many Ebola fighters not named in the Time article have also been critical in managing the disease, Baptist Press reports, including a worker in Guinea who used role-playing to teach locals how to prevent the disease. SIM (Serving In Mission) missionaries Jerry Brown, Debbie Eisenhut, John Fankhauser, and Rick Sacra also helped treat the disease at SIM's Eternal Love Winning Africa hospital in Monrovia, SIM noted in a press release.
CT recently reported Samaritan's Purse's strategy shift to distance missionary doctors from the deadly disease, interviewed Nancy Writebol about the "spiritual battle" of Ebola, and noted how Ebola has raised the national profile of medical missionaries.
Spread of the virus is slowing in Liberia's capital, Monrovia, but smaller outbreaks are increasing in rural areas, said Casey Helmick, content strategist for Samaritan's Purse.
Samaritan's Purse is working in Liberia to deploy small teams of staff who will train locals and provide them with the materials they need to stop the spread of the disease in their villages. Meanwhile, St. Joseph's Catholic Hospital, which closed in August after many staff died from Ebola, has reopened, allAfrica.com reports.
CT has reported on Ebola and medical missions, including what the epidemic reminds us about worry, the more than 25,000 orphans at risk from the disease, and how missionaries are changing medicine.