Image: FDNY
Update (Mar. 14): The church lost five members in the explosion, reports the New York Daily News, as does CBN.
-----
Update (Mar. 13): The explosion has killed seven people, injured more than 70, and left eight missing, reports A Journey Through NYC Religions, which is attending local prayer vigils.
The pastor of the destroyed church, Thomas Perez of Spanish Christian Church, told the New York Daily News, "The building is no longer there but we are still here and we are going to keep on going."
-----
One of two buildings destroyed by an explosion Wednesday [March 12] northeast of Manhattan's Central Park not only housed a longstanding Hispanic evangelical church—it also reportedly housed one-third of the congregation.
So reports The Huffington Post as more details emerge behind the natural gas accident in New York City's East Harlem neighborhood that has killed three people, injured dozens, and left 9 missing, reports The New York Times (NYT) amid a sea of coverage.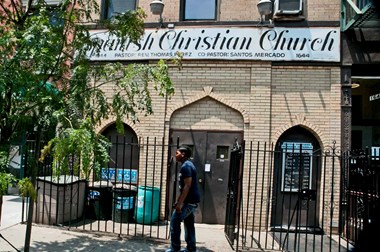 Image: A Journey Through NYC Religions
The six apartments at 1644 Park Avenue housed approximately 20 of Spanish Christian Church's 60 members, the church's financial secretary, Carmen Vargas-Rosa, told HuffPo in a widely circulated report.
Vargas-Rosa earlier told CBS-2 during a morning interview that the church's building had six tenants, and four people were missing at that time. The NYT later reported that "most of the tenants of 1644 Park were parishioners of the church, or affiliated with it in some way."
One of the fatalities is a 67-year-old member of the church, reportsThe Wall Street Journal (WSJ). The NYT report reveals more details about the church's tenants, two of which are still missing.
"God is getting me through this," church pastor Thomas Perez told the NYT.
Spanish Christian Church, which reportedly owns the building and recently celebrated its 80th anniversary, was located on the ground floor of the five-story structure, next to a piano store in the adjacent building. The explosion sent pianos flying through the air, reports CNN.
A Journey Through NYC Religions, which chronicles religious life in New York City, reports that the church was one of 102 churches in East Harlem.
"The tenants now are homeless and have lost all of their personal possessions," noted Tony Carnes, Journey's editor and publisher. "Local pastors have also gathered to plan out ways to help the church."
Journey plans to report from a Thursday morning prayer vigil with the pastor of Spanish Christian Church, advertised on Facebook by prominent NYC pastor Bill Devlin:
Prayer Vigil 10am in East Harlem Thursday March 13 at 105 East 116th St. East Harlem with Pastor Perez of Spanish Christian Church ...church destroyed by explosion today....info contact Bishop Fernando Rodriguez or Pastor Wm. Devlin 646.233.7279.All welcome.
Spanish Christian Church was "a neighborhood mainstay appreciated for its outreach to low-income people in an area just beginning to gentrify," reports a WSJ article exploring the church's impact. The NYT also profiles the buildings and their tenants.
CT regularly reports on New York City, including cover stories on how global Christians are revitalizing NYC and how Tim Keller found Manhattan. CT reported how church planting is booming in the Big Apple—but who is filling the pews?—as well as a lengthy debate over evicting churches from public schools.
CT's This Is Our City project offers many stories on NYC Christians.
[Photo courtesy of A Journey Through NYC Religions, per @FDNY Twitter]