What To Give Up for Lent 2014? Twitter Reveals Top 100 Choices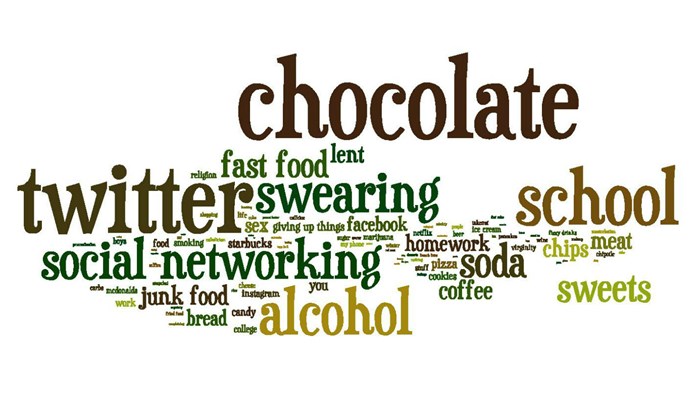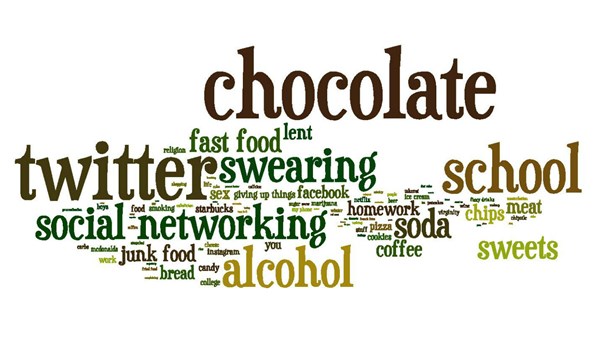 What To Give Up for Lent 2014? Twitter Reveals Top 100 Choices
[Updated with Ash Wednesday results and new Barna Group survey]
Today is Ash Wednesday, the beginning of the 40 days of Lent. If you haven't yet decided what to forego, consider what 116,000 tweets (and counting) suggest others are giving up in 2014.
So far, food and technology are top categories. The current leaders out of the top 100 choices (full list below): Chocolate, Twitter, school, alcohol, and swearing.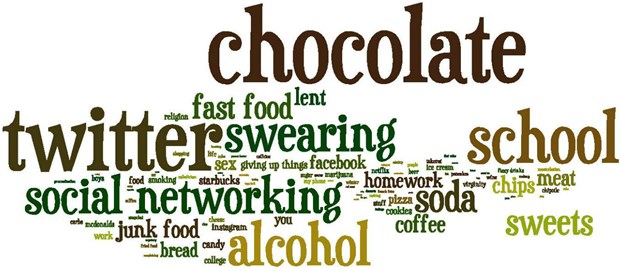 These five regularly top the lists of most frequently sacrificed personal vices. But the trendiest thing to forego last year? "Being pope."
If you do give up something for Lent this year, you will join 17 percent of U.S. adults, according to a new survey by Barna Group. While many practicing Catholics (63 percent) are planning to fast, only 16 percent of practicing Protestants have similar plans. People born in 1945 or earlier are most likely to fast (26 percent), and people born between 1946 and 1964 are least likely (10 percent). About 20 percent of young adults between the ages of 18 and 30 say they will fast.
Launching this year's count on Monday, Stephen Smith of OpenBible.info wrote:
With about 5,000 tweets analyzed, the new hot topics so far this year are: "Netflix," "Flappy Bird," and "Getting an Oscar." "Social Networking" is currently way out in front, with twice as many tweets as perennial favorites "Swearing" and "Alcohol." (Last year, Social Networking came in at #4.)
Smith uses Twitter's API to analyze each year what people say they plan to give up for Lent. In 2013, he crunched 263,000 tweets. Here's what he found:

Image: Stephen Smith - OpenBible.info
CT assessed the final 2013 results (whatever happened to giving up chocolate?) and noted the Top 100 vices that Twitter users gave up (or claimed to) in 2013, 2012, and 2011. In addition, CT's Mark Galli has offered his thoughts on "giving up self discipline" for Lent.
Twitter users giving up technology join 48 percent of practicing Protestants in the endeavor, according to Barna. People plan to fast from social networks (16 percent), smartphones (13 percent), television (11 percent), video games (10 percent), and the Internet (9 percent).
Among all Lent fasters—including those not on Twitter—food is still the most popular thing to sacrifice. Ninety-six percent of fasting Protestants and 89 percent of fasting Catholics are giving up some food item. The overall breakdown includes chocolate (30 percent), meat (28 percent), soda (26 percent) and alcohol (24 percent).
CT regularly reports on Lent, including three views on why bother celebrating Lent, what neuroscience tells us about Lent, Lent in Narnia, and the argument for lengthening Lent.
Here is Stephen Smith of OpenBible.info's running list of the top 100 most-mentioned Lenten sacrifices (both serious and cynical) in 2014 (as of 10:30 a.m. Wednesday), followed by top categories:
| Rank | What | Number of Tweets |
| --- | --- | --- |
| 1. | chocolate | 5,477 |
| 2. | twitter | 4,999 |
| 3. | school | 3,754 |
| 4. | alcohol | 3,116 |
| 5. | swearing | 2,833 |
| 6. | social networking | 2,726 |
| 7. | soda | 2,213 |
| 8. | sweets | 2,030 |
| 9. | fast food | 1,782 |
| 10. | junk food | 1,306 |
| 11. | coffee | 1,276 |
| 12. | meat | 1,246 |
| 13. | lent | 1,229 |
| 14. | chips | 1,227 |
| 15. | homework | 1,120 |
| 16. | bread | 1,050 |
| 17. | sex | 1,026 |
| 18. | facebook | 982 |
| 19. | you | 775 |
| 20. | pizza | 696 |
| 21. | starbucks | 650 |
| 22. | giving up things | 624 |
| 23. | candy | 583 |
| 24. | instagram | 547 |
| 25. | food | 546 |
| 26. | work | 543 |
| 27. | cookies | 542 |
| 28. | college | 505 |
| 29. | smoking | 493 |
| 30. | religion | 473 |
| 31. | mcdonalds | 430 |
| 32. | ice cream | 427 |
| 33. | boys | 420 |
| 34. | marijuana | 416 |
| 35. | stuff | 405 |
| 36. | virginity | 402 |
| 37. | netflix | 402 |
| 38. | life | 383 |
| 39. | cheese | 371 |
| 40. | carbs | 366 |
| 41. | beer | 354 |
| 42. | sugar | 346 |
| 43. | my phone | 342 |
| 44. | chipotle | 341 |
| 45. | takeout | 332 |
| 46. | wine | 323 |
| 47. | fizzy drinks | 318 |
| 48. | pancakes | 292 |
| 49. | winter | 289 |
| 50. | shopping | 276 |
| 51. | caffeine | 262 |
| 52. | masturbation | 258 |
| 53. | people | 257 |
| 54. | snapchat | 257 |
| 55. | selfies | 256 |
| 56. | fried food | 252 |
| 57. | snow | 246 |
| 58. | coke | 245 |
| 59. | catholicism | 242 |
| 60. | me | 226 |
| 61. | nothing | 218 |
| 62. | procrastination | 216 |
| 63. | rice | 213 |
| 64. | makeup | 211 |
| 65. | diet coke | 208 |
| 66. | tea | 208 |
| 67. | french fries | 204 |
| 68. | sobriety | 190 |
| 69. | taco bell | 189 |
| 70. | desserts | 189 |
| 71. | cake | 186 |
| 72. | complaining | 181 |
| 73. | sarcasm | 180 |
| 74. | peanut butter | 179 |
| 75. | negativity | 172 |
| 76. | feelings | 169 |
| 77. | red meat | 161 |
| 78. | breathing | 156 |
| 79. | swag | 155 |
| 80. | booze | 154 |
| 81. | porn | 151 |
| 82. | sweet tea | 146 |
| 83. | texting | 142 |
| 84. | pasta | 140 |
| 85. | eating out | 136 |
| 86. | sleep | 135 |
| 87. | tv | 134 |
| 88. | the gym | 119 |
| 89. | hope | 119 |
| 90. | gluten | 118 |
| 91. | nutella | 117 |
| 92. | exercise | 117 |
| 93. | onedirection | 116 |
| 94. | caring | 115 |
| 95. | vegetables | 107 |
| 96. | studying | 106 |
| 97. | dairy | 104 |
| 98. | laziness | 103 |
| 99. | chicken | 101 |
| 100. | tumblr | 99 |
Top categories:
| Rank | Category | Number of Tweets |
| --- | --- | --- |
| 1. | food | 30,565 |
| 2. | technology | 9,764 |
| 3. | school/work | 6,744 |
| 4. | habits | 6,689 |
| 5. | smoking/drugs/alcohol | 5,737 |
| 6. | irony | 3,176 |
| 7. | relationship | 2,715 |
| 8. | sex | 2,152 |
| 9. | health/hygiene | 1,651 |
| 10. | generic | 1,208 |
| 11. | religion | 1,149 |
| 12. | entertainment | 929 |
| 13. | weather | 609 |
| 14. | shopping | 466 |
| 15. | sports | 205 |
| 16. | money | 193 |
| 17. | celebrity | 175 |
| 18. | clothes | 171 |
| 19. | habit | 155 |
| 20. | possessions | 93 |
| 21. | politics | 83 |

03/04/2014