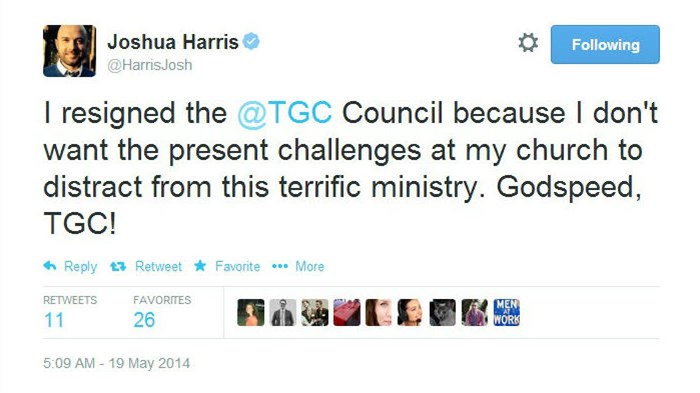 Image: Twitter screenshot
Update (July 3): The Southern Baptist Theological Seminary (SBTS) has severed ties with the pastors college of Sovereign Grace Ministries, ending a nearly two-year relationship between the two organizations.
James A. Smith, chief spokesman of the seminary, said SBTS maintains a number of "articulation agreements" with organizations that do not qualify for accreditation. These agreements allow pastors and students to transfer credit hours into the SBTS program, but "in no way amend or abridge any student's necessary prerequisites for admission," according to Smith.
Smith told CT in a statement: "In May, Southern Seminary's academic administration notified the Sovereign Grace Pastors College leadership that the seminary's articulation agreement with the college had been terminated."
The Associated Baptist Press and the Wartburg Watch report more details.
-----
Update (July 2): For the second time, the Maryland Court of Special Appeals dismissed a civil lawsuit that alleged that leaders of Sovereign Grace Ministries (SGM) covered up sexual abuse at their Bethesda, Maryland, church.
The court case, filed June 26, said that the June 14, 2013 appeal was "filed prematurely and is not effective." It was filed within 10 days of a May 2013 order, which the appeals court notes was not a final judgment.
The Wartburg Watch, a site critical of SGM, notes that the court issued a final decision in the first case in October 2013.
Attorney Susan Burke, who represents the plaintiffs against SGM, told The Christian Post that she would ask a higher court to reconsider the decision.
-----
Pastors C. J. Mahaney and Joshua Harris have resigned from the council of The Gospel Coalition (TGC) after a former youth leader was convicted of sexually abusing three boys at the flagship church of Sovereign Grace Ministries (SGM).
The conviction has renewed debate over how much SGM pastors knew about abuse allegations in their church network, and whether or not they dissuaded victims from reporting abuse to the authorities. In May 2013, a judge dismissed a class-action lawsuit against SGM based on the statute of limitations having expired. (An appeal will be heard in early June.) Meanwhile, Al Mohler and other TGC leaders explained why they hadn't publicly addressed the controversy surrounding Mahaney.
Mahaney founded SGM out of his Covenant Life Church (CLC) in the 1980s, and led the network of about 80 Reformed churches until resigning in March 2013 in order to focus on pastoral ministry in Louisville, where he relocated SGM in 2012. Harris took over the Maryland megachurch from Mahaney in 2004, and led CLC to separate from SGM in 2012.
On Thursday, former CLC youth group leader Nathaniel Morales was convicted on five counts of sexual abuse against three boys between 1983 and 1991.
WJLA, the local ABC affiliate that covered Morales's criminal trial last week, reports the following exchange between public defender Alan Drew and Grant Layman, Mahaney's brother-in-law who resigned from CLC in March after three decades as one of its pastors:
Drew: "Did you have an obligation to report the alleged abuse?"
Layman: "I believe so."
Drew: "And you didn't?"
Layman: "No."
The news prompted an #IStandWithSGMVictims hashtag which SGM critics attempted to use to flood TGC's social media presence. (The hashtag generated about 1,500 tweets and did reach trending status in the U.S. on Friday—for about five minutes.)
Brent Detwiler, a former SGM leader turned vocal critic, attended the trial and blogged his account of what information surfaced related to what SGM leaders knew when. According to Detwiler, assistant states attorney Jessica Hall "ended her individual summaries by saying the victims or parents went to the CLC pastors and the pastors 'covered up' and 'ignored the heinous crimes that had been done' to these boys."
Meanwhile, an independent investigation of CLC commissioned by Harris and other leaders is ongoing—it is "roughly at the halfway mark" after 10 months, according to an email Detwiler obtained.
On Sunday, Joshua Harris acknowledged the trial's revelations in his sermon, stating:
Now because of the separate civil lawsuit that our church is facing, we've not been able to answer questions or to speak openly about this situation. So this criminal trial that took place this past week is the first time that specifics have been shared publicly.

The details revealed at the trial have stirred many understandable questions about when pastors were informed about the situation and how they responded. It seemingly contradicts our past communications about the sequence of events involved. In particular we released a statement last February that said we weren't informed of the abuse until many years later and based on what we understood when we wrote that we believe that that statement was accurate and right now we're still getting conflicting information.

So I'm not going to at this time try to make some definitive statement until we can clear this up. But please know that there was no attempt to give misinformation and we are committed to clarifying this and if this turns out that the statement was wrong, I will take full responsibility for that.
In the sermon, Harris said that he has requested to be "placed on administrative leave until this issue can be fully addressed", along with three other CLC leaders connected to how the Morales allegations were handled, but said the CLC board "disagreed with this request, and they've asked for more time to give it further consideration."
"I am willing to do whatever is necessary to remove any obstacle, including stepping down, because God's glory is more important than any person or any position," said Harris. "Regardless of my role I am not going to run from this process. I want to walk through this in community with you trusting the Lord."
Mahaney and Harris no longer appear among the TGC's now 48 council members. Joe Carter, a TGC editor, tweeted that they both resigned this weekend.
"I resigned the @TGC Council because I don't want the present challenges at my church to distract from this terrific ministry," Harris explained on Twitter. "Godspeed, TGC!"
Carter declined to comment on the resignations for CT, saying "TGC has decided, for now, it'd be appropriate to to let Mahaney and Harris comment."
TGC on its homepage this morning linked to Harris's sermon, World magazine's coverage of the Morales verdict, and a July 2013 blog on "protecting against child abuse in your church." On Monday afternoon, TGC featured a post about the CLC trial and reporting sexual abuse against minors.
Critics have repeatedly taken issue with how TGC members have interacted with Mahaney as the SGM lawsuit and Morales trials have unfolded. Mohler and others explained in May 2013:
If the filing of civil litigation against a Christian ministry or leader is in itself reason for separation and a rush to judgment, no ministry or minister is safe from destruction at any time. Furthermore, the effort to try such a case in the court of public opinion prior to any decision rendered by an authorized court is likewise irresponsible.
Mahaney, who took a leave of absence from SGM amid charges of pride but was soon reinstated, announced in March 2013 that he would step down as president of SGM's beleaguered network of churches, shortly after SGM asked a Maryland court to dismiss a lawsuit alleging its leaders covered up the sexual abuse of children. Critics were hoping Mahaney would acknowledge the accusations or apologize, but Mahaney just said he wanted to focus on pastoring a local church. He did not apply for SGM's new executive director position because his "gifts and sense of call [were not] the best fit for certain aspects" of the role.
Harris led CLC to withdrew from SGM in December 2012, noting:
We find ourselves going in a different direction from that of Sovereign Grace Ministries (SGM), the organization that was launched within our church and whose leaders have played a foundational role in the life of our church. Over the past year there has been a growing clarity for our pastoral team that our differences with the leadership of SGM make it difficult for us to remain as a member church.
CLC recently offered this timeline of the SGM civil lawsuit to its members:
October, 2012: Plaintiffs' Initial Complaint filed

May 14, 2013: Plaintiffs' Second Amended Complaint filed

May 17, 2013: Hearing on Motions to Dismiss

At this hearing, the Court dismissed with prejudice all of the claims of nine of the 11 plaintiffs based upon the legal statute of limitations that governs their claims. The Court also dismissed for lack of jurisdiction all of the claims against the remaining two defendants residing in Virginia.

June 14, 2013: Plaintiffs filed an Appeal with the Maryland Court of Special Appeals

June 23, 2013: Independent Investigation announced at Covenant Life Church Members Meeting

At our June 23 Members Meeting, Joshua Harris presented plans to commission an investigation into all the issues raised in the civil lawsuit, with special emphasis on learning everything possible to make our current child protection policies and procedures the best they can be. The investigation, still in progress, is being conducted by the nationally recognized, independent law firm of Thaler Liebeler, LLP. The firm is an impartial third party with no prior connection to Covenant Life Church or the matters under investigation.

August 8, 2013: Motion to Reconsider Denied

The Circuit Court for Montgomery County issued an order denying the Plaintiffs' Motion to Reconsider, and also noted that since Plaintiffs had failed to file a Third Amended Complaint, the case is closed.

However, the Plaintiffs' Appeal filed with the Maryland Court of Special Appeals on June 14, 2013 is still pending.

June 2, 3, 4, 5, 6, 9, 10 or 11, 2014: Oral arguments for the Appeal Hearing will be scheduled for one of these days.

Unknown date: The Maryland Court of Special Appeals will render its opinion.