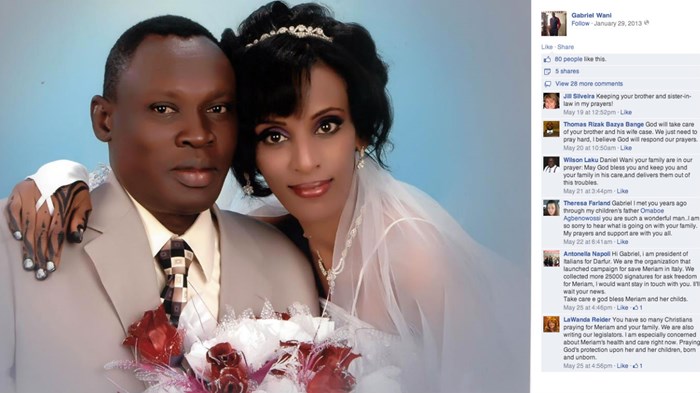 Image: Facebook screenshot - Gabriel Wani
Update (June 2): Many media outlets circulated the BBC's report this weekend that Sudanese authorities would soon free Meriam Ibrahim from prison. However, CNN reported that her fate remains a decision for the appeals court, and Sudan's foreign ministry later explained the same, claiming an official's words were misinterpreted.
CNN recently interviewed Ibrahim's husband, Daniel Wani.
-----
Update (May 29): A second Sudanese Christian woman has been arrested for apostasy, reports Morning Star News (MSN), which first broke the story of Ibrahim's plight. MSN explores the parallels between Ibrahim's case and that of 37-year-old Faiza Abdalla, who has yet to be convicted.
Sudan is one of the world's 1 in 10 countries that still outlaw apostasy, and one of the 1 in 5 countries that still outlaw blasphemy, according to new maps by the Pew Research Center.
Meanwhile, the Daily Mail has photos of Ibrahim's new daughter, Maya.
-----
As advocates for ...
1