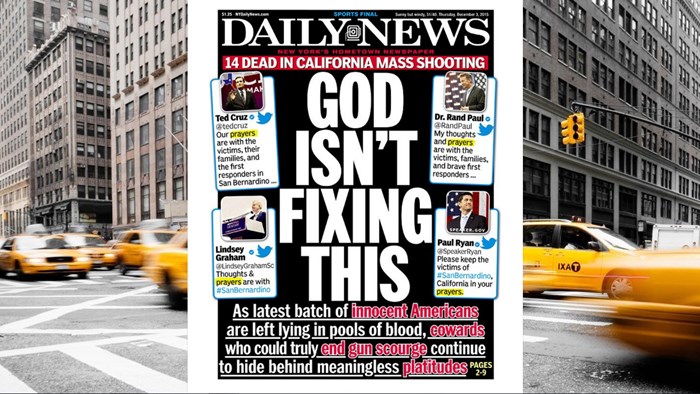 Image: Twitter screenshot / NY Daily News
Terry Pettit stood outside the Inland Regional Center in San Bernardino, California, yesterday afternoon and feared for his daughter's life.
Inside the center for the developmentally disabled was a scene of horror, which Pettit's daughter described in a text message.
"Shooting at my work. People shot," she told her dad, according to CNN. "Pray for us. I am locked in an office."
Prayers were also offered at Arrowhead Regional Medical Center, where victims of the mass shooting—which left 14 people dead and 17 wounded—were taken. Also at the nearby Rock Church and World Outreach Center, where workers from the center were reunited with their families. Many prayers were facilitated by the Billy Graham Rapid Response Team in its third shooting-related deployment since October.
On social media and in some news outlets, prayers—especially from Republican politicians—were less welcome.
George Zornick, Washington editor for ...
1