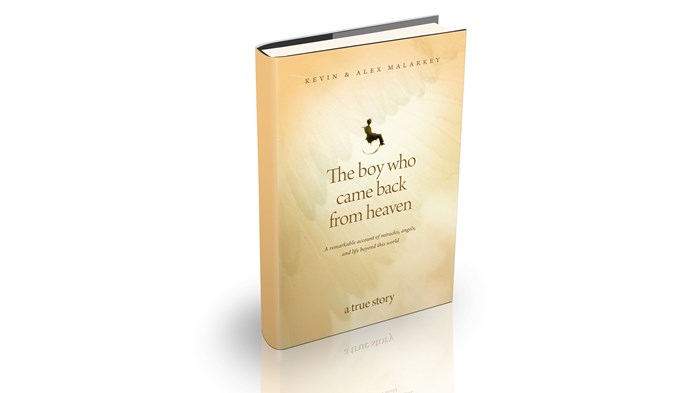 Update (Jan. 21): Tyndale House Publishers revealed more details today about the publishing and retraction of its bestselling The Boy Who Came Back from Heaven, stating it was "saddened to hear that Alex [Malarkey] is now saying that he made up the story of dying and going to heaven."
"This was the first time Tyndale had been told that Alex fabricated the story," said the publisher in a statement issued Wednesday afternoon. "We were alerted to his public statement on January 14, 2015, and have since confirmed Alex's retraction with his father, Kevin Malarkey."
In response, Tyndale "immediately put the book and all ancillary products into out-of-print status," and informed retailers that they "could return their remaining inventory if they chose to do so."
"While it was only this past week that Alex Malarkey retracted his story, leading to Tyndale's immediate decision to take the book out of print, our editors had tried on multiple occasions to meet with the family to correct any perceived inaccuracies," stated Tyndale. "On several occasions in 2012, Tyndale reached out to Beth Malarkey to schedule a meeting to respond to a list of alleged inaccuracies in the book. After originally agreeing to a meeting, Mrs. Malarkey sent us an email on May 22, 2012, saying that, out of concern for her son, she no longer wished to meet."
Tyndale disputed the assertion that no royalties had been paid on the book, stating it "has paid every penny that is due under the terms of the author contract."
The publisher also acknowledged the "varying theological positions" among evangelicals on heaven and other matters.
"Tyndale goes through an extensive vetting process and exercises discernment to ensure that the books we publish are consistent with biblical principles," said the publisher. "At the same time, we recognize that there are many different perspectives as to what does or does not conform to biblical truth."
-----
Update (Jan. 17): Days after 16-year-old Alex Malarkey recanted the story that he co-wrote with his father Kevin about a visit to heaven, family members and the publisher are speaking out.
"Kevin has always told the truth," Kevin's mother Joan told the Daily Mail. "He told the truth and he did the right thing. He's not sure why Alex is saying these things now."
Alex's mom Beth defended her son, saying he has been "pleading to be heard."
"I do stand with my son and I'm proud of the courage he has shown," she wrote Saturday afternoon, issuing a statement via her blog. She quoted 3 John 4: "I have no greater joy than to hear that my children are walking in the truth."
Beth said that she was still married to Kevin, despite media reports of their divorce. "I have not divorced my husband and I am not planning to pursue a divorce. Kevin and I are still married." (The Daily Mail reports that the couple has split, with Beth and their four children living in Huntsville, Ohio, while Kevin lives in Columbus.)
But Beth has stated that she and Alex have not received any of the proceeds of the book's sales.
"My hope is that all of this can be resolved in a way that exalts Christ by honoring the truth (2 Thessalonians 2:14)," she said. "That, likewise, has been Alex's only aim in all his attempts to set the record straight. "
Tyndale House Publishers has long known about Beth's concerns, senior publicist Maggie Wallem Rowe told CT.
"For the past couple of years we have known that Beth Malarkey, Kevin's wife and Alex's mother, was unhappy with the book and believed it contained inaccuracies," she said. "On more than one occasion we asked for a meeting with Kevin, Beth, Alex, and their agent to discuss and correct any inaccuracies, but Beth would not agree to such a meeting."
In fact, pastor and author John MacArthur noted the objections to The Boy Who Came Back From Heaven in a footnote on p. 55 of his second edition of The Glory of Heaven, which was released in May 2013. It reads:
Although Kevin and Alex Malarkey are listed as joint authors on the book's cover, Alex has publicly disclaimed the book online, calling it "1 of the most deceptive books ever." Beth Malarkey, Alex's mom and Kevin's wife, describes the book as "a beautiful testimony distorted, twisted, packaged and used as business.
In Appendix 2 (p. 199-201), he continues:
The book's cover lists Kevin and Alex as joint authors, but the copyright notice is in Kevin's name alone, and it is clearly Kevin who tells the story. Also on the book's cover, in large type, are the words 'a true story.' But as we shall see, there is considerable evidence that Kevin Malarkey has embellished, exaggerated, and even fabricated the supposed visions and experiences he attributes to Alex.
...
Kevin Malarkey has overlaid his son's testimony with so much that is unbiblical that the book considered as a whole is dangerously misleading. Alex himself posted a similar assessment of his father's narrative at a webpage publicizing the book, but the comment was quickly deleted. Beth Malarkey reposted Alex's comment at her own blog, saying, 'Alex voiced accurately what the book was about but he was silenced.' Like Alex, she emphatically disavows many of the claims that are made in her husband's book, adding this: 'Buyer beware. There is only one absolute infallible and 'true' book: God's Word! It does not need fancied up or packaged for sale. It is incredible as it stands!'
On MacArthur's website, Grace To You, Phil Johnson explains how "the true story about The Boy Who Came Back from Heaven has been in circulation and widely available for two years."
Christian Book Shop Talk examines what bookstores might do with the two other high-profile "heaven tourism" books: Heaven Is for Real and 90 Minutes in Heaven.
"Should we get rid of all the books in the same genre? Right now there is a huge backlash online," writes Paul Wilkinson. He notes, "This affects all of us who have retail stores."
His take:
I have a certain amount of skepticism about many of the titles my customers order.... But I don't think it would be right to look at that book in my store and say that we as owners, managers and staff lack discernment. Honestly, our "heaven tourism" books are all on a lower shelf. From Betty Malz to Aldo McPherson these stories have an appeal to a certain type of person, but then, I personally distance myself from most prophecy titles, yet there's no denying that there are people saved and attending church today because of The Late Great Planet Earth and even the Left Behind series.

I'm not thrilled with everything our industry produces, but to toss everything except the Bible means to toss out a vast catalog of Christian literature that includes everything from the writings of the Early Church fathers to the great classics of the 17th, 18th and 19th Centuries. Furthermore, many of our spiritual heroes claimed a number of strange and mystical experiences, many of which we don't talk about today.
Wilkinson concludes, "To paraphrase Kenny Rogers, you gotta know when to display 'em, and know when it's time to take 'em down. This one is done."
Meanwhile, Credo House's Michael Patton argues that the real value of near-death experiences is what they convey not about heaven, but about the soul.
-----
[First published on Jan. 15, 6:03 p.m. Original deck: "Tyndale pulls best-selling book after Alex Malarkey, now 16, says, 'I did not die' and 'Bible is sufficient' on heaven."]
Tyndale House Publishers has stopped production of the book and DVD of The Boy Who Came Back from Heaven after the book's coauthor and subject, Alex Malarkey, released a statement retracting the book's contents.
In an open letter, the self-described "boy who did not come back from heaven" wrote:
Please forgive the brevity, but because of my limitations I have to keep this short.

I did not die. I did not go to heaven.

I said I went to heaven because I thought it would get me attention. When I made the claims that I did, I had never read the Bible. People have profited from lies, and continue to. They should read the Bible, which is enough. The Bible is the only source of truth. Anything written by man cannot be infallible.

It is only through repentance of your sins and a belief in Jesus as the Son of God, who died for your sins (even though he committed none of his own) so that you can be forgiven may you learn of heaven outside of what is written in the Bible . . . not by reading a work of man. I want the whole world to know that the Bible is sufficient. Those who market these materials must be called to repent and hold the Bible as enough.

In Christ,

Alex Malarkey
Tyndale's publicity site for the book is down, as is the book's Facebook page.
Alex was 6 when he was paralyzed in a 2004 car accident and spent two months in a coma. After waking, he reported seeing angels that took him through the gates of heaven, hearing unearthly music, and meeting Jesus. The book, coauthored with his father, Kevin Malarkey, was released by Tyndale in March 2010, reached bestseller status, and spawned a documentary DVD and a Spanish-language edition.
In April 2014, Alex's mom and primary caregiver, Beth*, wrote a blog post claiming that Alex's name and identity were being used against his wishes.
"It is both puzzling and painful to watch the book The Boy Who Came Back from Heaven to not only continue to sell, but to continue, for the most part, to not be questioned," she wrote. "I could post facts and try to dispel many of the things contained within the pages of that book (have done a bit of that), I could continue to try to point out how biblically off the book is (a few strategically placed Scriptures does not make a book biblically sound) and how it leads people away from the Bible not to it."
Alex has not received any money from the sales of the book, she said.
The Boy Who Came Back from Heaven was released six months before Heaven Is for Real by Todd Burpo and Lynn Vincent, another book recounting the story of a child's experience of heaven during a near-death experience. The book, which hit The New York Times bestseller list in its first three weeks, was turned into a major motion picture in April 2014. (CT's review is here.)
Last summer, the Southern Baptist Convention passed a resolution declaring that many books on the afterlife "contain details that are antithetical to Scripture" and affirming "the sufficiency of biblical revelation over subjective experiential explanations to guide one's understanding of the truth about heaven and hell." LifeWay Christian Stores told CT it was "returning to the publisher the few copies we have in our stores" in the wake of Malarkey's retraction.
In 2012, CT's Mark Galli wrote a cover story on what to make of heaven-visit stories. Leslie Leyland Fields discouraged replacing "scriptural narratives with our own 'better stories.'" Last year, Kyle Rohane wrote about the history and use of books about ecstatic experiences.
* CT has removed the original reference to Kevin and Beth's divorce, confirmed by Kevin's mother here but refuted by Beth here.