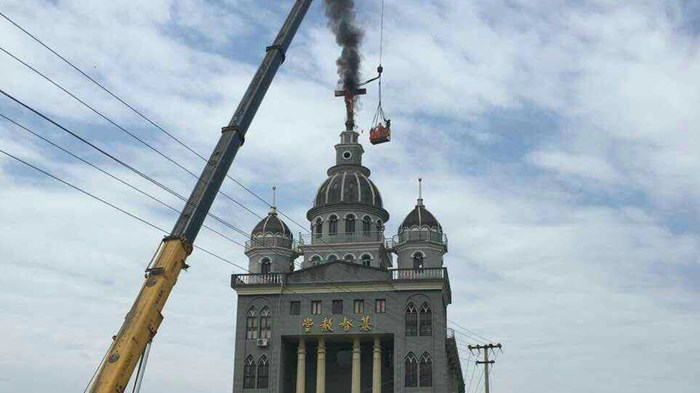 Image: Courtesy of China Aid
[Updated with China draft law and NYT report]
Days after at least a dozen crosses were forcibly removed from churches, China formally protested a United States report on its lack of religious freedom. Now a proposal has surfaced to ban crosses entirely from the rooftops of churches in Zhejiang, one of China's most Christian provinces.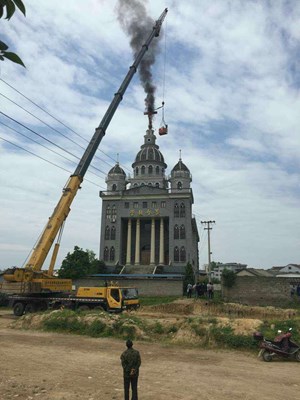 Image: Courtesy of China Aid
In March, a Chinese bishop reported that the government was finally halting a campaign which has removed hundreds of crosses from "China's Jerusalem," the coastal city of Wenzhou. (An interactive timeline was produced by Christian Solidarity Worldwide.)
But stories of more removals continued to surface. The Chinese government now says it won't stop the campaign until 2016, according to China Aid, which has closely tracked the "Three Rectifications and One Demolition" campaign.
In fact, officials have proposed a new rule that would prevent future crosses from topping churches. According to the Associated Press:
A draft of rules on religious structures released by government agencies this week says the crosses should be wholly affixed to a building facade and be no more than one-tenth of the facade's height. The symbol also must fit with the facade and the surroundings, the proposal says. The draft does not provide the rationale for the proposal.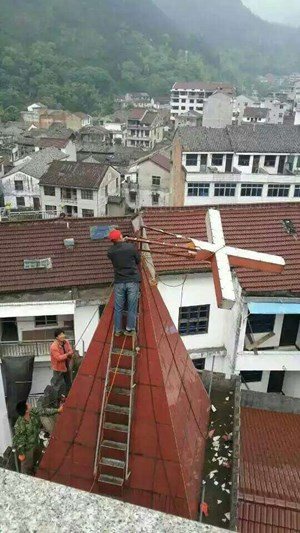 Image: Courtesy of China Aid
In a thorough report, The New York Times links to the text of the draft regulation and notes its precision. For example: "Crosses on the facades of Catholic churches are to have a height-to-width ratio of one to 0.618. For Protestant crosses, the ratio should be three to two." (Foreign Policynotes that the Catholic requirement is the "Golden Ratio.")
Last week, Zhejiang officials removed 12 crosses from churches in the city of Lishui, burning one when a removal machine malfunctioned. On Monday, the Chinese national government filed a diplomatic protest over this year's annual report by the US Commission on International Religious Freedom (USCIRF), which labeled Chinese religious freedom violations "severe" and "systematic."
"This report ... is full of political bias and makes arbitrary and unfounded criticism of China," foreign ministry spokeswoman Hua Chunying told news outlets in a daily briefing. She said that Chinese citizens had "ample" freedom religious freedom under law.
But USCIRF's 2015 report noted that more than 400 Chinese churches in Zhejiang have had their crosses removed or torn down in the past year, and in some cases those who protested were arrested or imprisoned. The report also states that China designated some house churches "cults" and then issued a directive to "eradicate" them over the next 10 years. One example: more than 100 Christians were arrested during a single raid on a house church last year in Foshan City.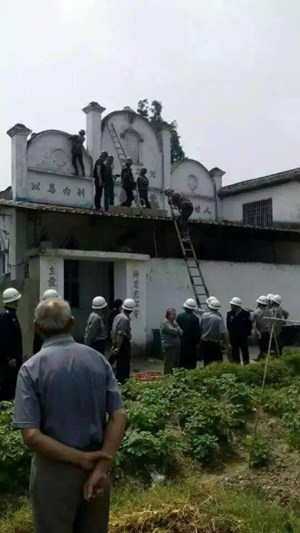 Image: Courtesy of China Aid
"People of faith continue to face arrests, fines, denials of justice, lengthy prison sentences, and in some cases, the closing or bulldozing of places of worship," the report stated. "Based on the alarming increase in systematic, egregious, and ongoing abuses, USCIRF again recommends China be designated a 'country of particular concern.'" USCIRF recommended that China be relisted as a top offender, along with countries such as Myanmar and North Korea.
Meanwhile, China Aid's 2014 report, released last month, said that persecution in China increased 150 percent over the course of last year, with nearly 3,000 detained and close to 1,300 sentenced.
"In 2014, Christians and practitioners of other faiths in China experienced the harshest persecution seen in over a decade," the report stated, noting the removal of crosses and eradication of house churches as a rising concern. China Aid also added its unease over China's campaign to assimilate Christianity into Chinese culture.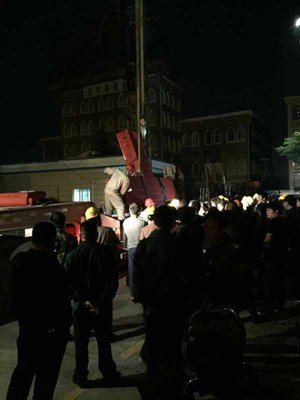 Image: Courtesy of China Aid
"They've changed Buddhism—they've reshaped it in a lot of different ways," China Aid vice president Kody Kness told CT. "It's similar to what they're trying to do with Christianity."
Open Doors offered a different take in its assessment of the "good news" trends of 2014. It noted:
China is still undecided about how to deal with the church. This is actually good news. With the attacks on scores of churches, with some buildings being destroyed and about 300 crosses being removed, in the heartland of Wenzhou, many assume that China is setting its face against Christianity, but there is a surprising weight of counter-evidence that suggests a vigorous debate is going on in the Chinese government over whether it should restrict or free the church. If Christianity can sound, look and be Chinese enough, we might just see the church continuing to be invited to play a fuller role in the building of the new China.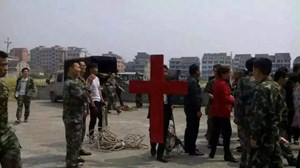 Image: Courtesy of China Aid
Despite the optimism, the events of the past year caused China to shoot from No. 37 to No. 29 on Open Doors' 2015 World Watch List.
"One thing I'm sure of is that the authorities in Zhejiang are taking down crosses again, and they are doing it everywhere," Pastor Zhang Mingxuan, president of the Chinese House Church Alliance, told China Aid.
The Associated Press describes Wenzhou as follows:
The Zhejiang city of Wenzhou is known as China's Jerusalem because it has half of the province's 4,000 churches. Rooftop crosses used to dominate the city's skylines, and local churches — often funded by well-off businesspeople — raced to build the largest church and the tallest cross as an ostensible display of their blessings.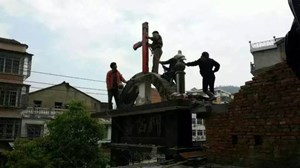 Image: Courtesy of China Aid
CT has explored the scope of the cross removals, noting how a human shield failed to save a megachurch in Wenzhou from destruction early last May. The continuing story was a Chinese Christian newspaper's No. 1 news story of the year. (ChinaSource carries an English translation of the Top Five list.)
The campaign is justified by "the pretext of rectifying structures with building code violations," according to a report from Amnesty International. Chinese officials insisted that the demolitions were not targeting religious buildings, but instead were a response to churches that had violated zoning and building codes.
CT regularly reports on China, noting measures for pastors to curb cult violence and weighing whether it matters if your Bible was printed in China. CT covered how millions of China's migrants spread the gospel every Lunar New Year, the government's decision to free Christian human rights activist Gao Zhisheng, and how China relaxed its one-child policy. CT has interviewed China Aid's Bob Fu, as well as the head of the Three-Self Patriotic Movement, and reviewed civil rights activist Chen Guangcheng's new memoir, The Barefoot Lawyer: A Blind Man's Fight for Justice and Freedom in China.