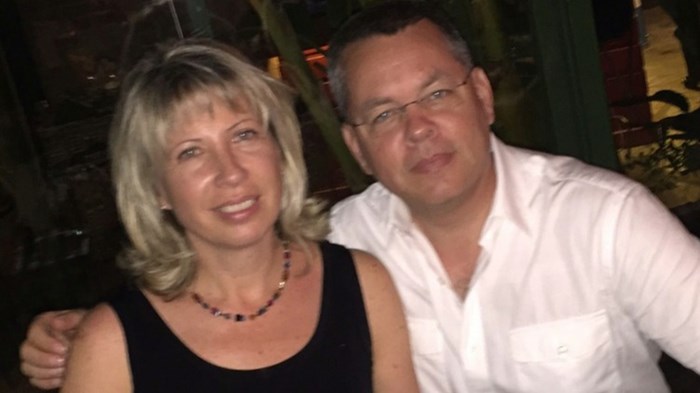 As Turkey continues to crack down on dissent in the wake of a failed coup, two longtime American Christian expats are struggling to stay in the Muslim-majority nation they have long served. So far, they have fared quite differently in Turkish courts.
Last week, dozens of US lawmakers called for Turkey to release American pastor Andrew Brunson, who remains imprisoned there with limited access to his attorney and few details about the charges against him.
"We respectfully ask you to consider Brunson's case and how the recent treatment of Brunson places significant strain not only on him and his family, but also on the robust bilateral relationship between the United States and Turkey," read the letter to Turkish President Recep Tayyip Erdoğan and signed by 78 members of Congress.
Brunson's wife, Norine, is praying the letter comes to the attention of President Donald Trump. After visiting her husband recently in prison—where they have been permitted to communicate through glass—she told supporters, he was "discouraged about the lack (seemingly) of action from the new administration."
Despite attempts to appeal his case and ongoing campaigns calling for his release, Brunson faces an uncertain future in the country where he has pastored for 23 years. Over the past year, Turkey rose from No. 45 to No. 37 on Open Doors' World Watch List of the 50 countries where it is hardest to be a Christian.
The only American Christian detained in the Muslim-majority nation, Brunson lost his initial attempt to appeal unfounded terrorism charges, and advocates aren't sure if he'll be able to continue to the appeals process to a higher court.
After being denied access to embassy officials or legal counsel for months, Brunson was finally granted visits with his attorney—though under the surveillance of the government, according to the American Center for Law and Justice (ACLJ), the group leading advocacy efforts on behalf of his family.
"Although Pastor Andrew has finally been allowed a family visit and some access to his attorney, he is still wrongfully imprisoned and the charge he faces is serious," the ACLJ stated.
As CT previously reported, the 48-year-old North Carolina native is accused of "membership in an armed terrorist organization." The Turkish government has not provided documentation to reveal the source of the claim, evidence against him, or even to which organization he allegedly belongs. But proceedings indicated that the charge is related to ongoing efforts to quash the Gülen movement, blamed for a coup last summer.
"Turkish President Erdoğan sees anti-Christian conspiracy theories as an effective strategy for galvanizing popular support for his one-man rule," said Aykan Erdemir, a senior fellow at the Foundation for Defense of Democracies and former member of the Turkish Parliament, in The Wall Street Journal.
Brunson's case is the most severe in a string of recent government actions against expat pastors—among thousands of journalists, teachers, and others arrested for suspected dissidence. Over the past year, multiple Christian leaders in Turkey faced deportation or were denied re-entry, including American street evangelist David Byle, as CT reported last year.
Last week, Byle received good news: A court temporarily blocked his pending deportation and re-entry ban, World Watch Monitor reported. Without the decision, he would have become the fourth American Christian leader forced out of Turkey in the past six months. All of the targets were Christians with significant history in Turkey (15-plus years), whom the government alleged were national security threats.
"I have deeply felt God's call to share the truths of the Bible in Turkey, and I've been committed to be transparent in all my religious activities," Byle told World Watch Monitor. "I've been allowed to do this for all these years—not in a forceful manner, but openly sharing.
"But yes, I've faced a lot of intimidation here, pushing me to give in and not exercise this right. So it has been painful for the authorities to keep insisting that I am a threat to Turkey's national security."
The ruling is an exceptional case, as Christian persecution, hate speech, and human rights violations in the country continue to escalate. Christian Solidarity Worldwide attributes the tense climate to "the promotion of Turkish ultra-nationalism" and "the backdrop of mounting terrorist violence," as the country grows more involved with the Syria crisis.
"Pastor Brunson's arrest can be seen as the latest incident in a litany of repressive actions targeting Turkey's indigenous and expatriate Christian communities at a time of increasing repression and intolerance," the organization's Turkey advocacy officer wrote.
Anti-Christian sentiment flooded the media around Christmas and New Year's, linked to instances of bigotry and bullying, according to a report released earlier this month by the Turkish Association of Protestant Churches.
The group found an uptick in persecution: Churches faced threats of violence, and non-Muslim students with exemptions to religion classes were urged to convert to Islam instead. Another incident involved a Bible being labeled as terrorist material. One church in southern Turkey was shut down by the government for offering unauthorized Bible courses.
"A Turkish parliamentarian told one Turkish Protestant leader that at least 100 expatriates from Orthodox, Catholic and Protestant denominations have been deported, refused residence visa renewal, or denied re-entry into Turkey without explanation in the past four years," according to World Watch Monitor.
Last month, Oklahoma Senator James Lankford wrote about his visit to Turkey to advocate for Brunson as a fellow American and fellow Christian:
I met with the Ministry of Justice in Ankara to discuss Pastor Brunson's case, but the situation remains bleak.

Turkey should consider carefully how it handles the case of Pastor Brunson. America cares deeply about how our people are treated across the world, and we are watching closely. Aside from the personal struggle for Pastor Brunson and his family, America sees this as both a matter of religious freedom and safety for its citizens.
Turkey is labeled a "hostile" nation for Christians and "one of the least evangelized countries in the world" by Voice of the Martyrs. Its spokesman, Todd Nettleton, said it is hard to know what will come next for Brunson.
"The situation in Turkey right now is so fluid, and they are under emergency powers. The government basically can do whatever they want without checks and balances," he told Mission Network News. "We wait and see, and hope and pray he can be released."