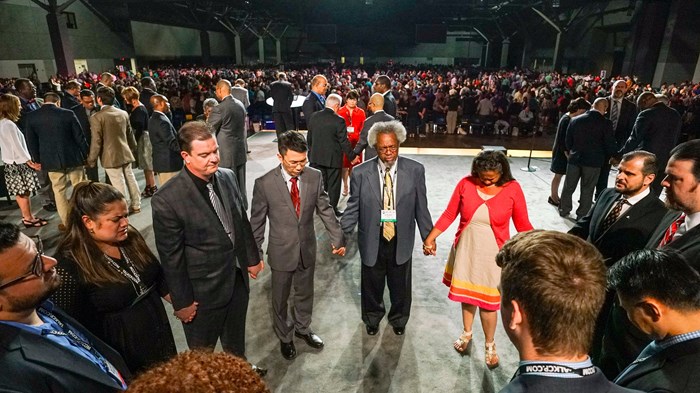 Image: Matt Miller / Baptist Press
Southern Baptists gained almost 500 churches last year, while taking in more than $11 billion. Such statistics would have most US denominations praising the Lord.
But because of declines in other metrics that matter more—including their namesake, baptisms—leaders say members should offer lament instead.
"Virtually everyone who sees these figures will react negatively and lament the poor state of our churches, our lack of evangelistic fervor, and our increasingly irrelevant programs," Frank S. Page, president and CEO of the Executive Committee of the Southern Baptist Convention (SBC), told Baptist Press. "Indeed, we all should."
There's no denying the decline of America's largest Protestant denomination any longer. The SBC lost almost 78,000 members in the past year, according to the Annual Church Profile (ACP) released ahead of its upcoming annual meeting. Southern Baptists have now lost a million members since their peak of 16.3 million in 2003.
The denomination is down to its "lowest baptisms since 1946; lowest membership since 1990; lowest worship attendance since 1996," according to historical analysis from New Orleans Baptist Theological Seminary.
"The true bad news is that when you put last year in the context of all previous years, it indicates the SBC is in the midst of a decline that shows no signs of either slowing down or turning around," said Chuck Kelly, the seminary's president.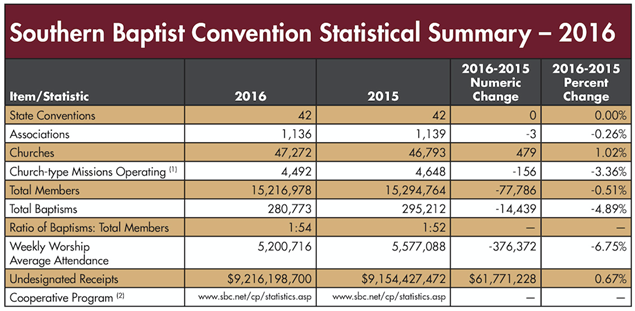 Image: SBC
The only measure where Southern Baptists are growing is their number of churches, adding 479 churches last year for a total of more than 47,000. But leaders are concerned that they have fewer people to fill those churches. Congregations reported an overall drop in Sunday service attendance (down 7%) and fewer new believers being added through baptism (down 5%).
Denominational leaders blame the downward trajectory on their struggle for effective evangelism.
"It's clear that evangelism and discipleship are waning," Thom Rainer, president and CEO of LifeWay Christian Resources, an SBC affiliate which produces the ACP report, told BP. "I don't believe it is due to the lack of opportunities, though. Instead, there is a lack of engagement."
For years, evangelicals watched their fellow Protestants in mainline denominations undergo widespread and much-talked-about decline, while hoping their more conservative theology would sustain them. Yet, as Ed Stetzer noted a year ago, "Southern Baptists are shrinking faster than United Methodists."
The former LifeWay Research president dissuaded doubters from blaming declines on churches that do not report their numbers to the ACP—about 1 in 5 congregations in recent years—and challenges the denomination to examine its church-planting strategy, evangelism, and reputation.
In the American Conservative last week, George Hawley, politics professor at the University of Alabama, suggested the Religious Right was to blame for the decline of evangelical denominations including Southern Baptists. During last year's election, the SBC saw agency leaders split over support for President Donald Trump, with some congregations even temporarily withholding funding.
In the year ending September 2016, SBC giving decreased slightly. While undesignated receipts were up almost $62 million, total church receipts and missions expenditures were each down about 1 percent, to $11.5 billion and $1.19 billion respectively.
CT reported that Southern Baptists bore similar declines last year, while the Assemblies of God, America's third-largest denomination, enjoyed domestic and global growth.