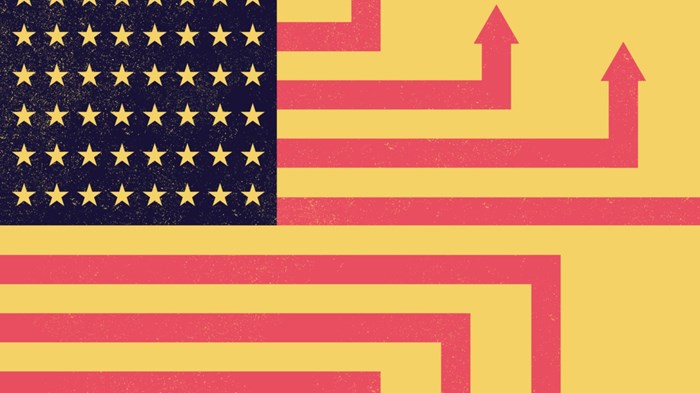 Ask Americans about their personal views on moral issues, and they are more likely than ever to hold a liberal position. Ask them about the country's moral values, and they're becoming more and more pessimistic.
The church today finds itself in a precarious position, as an ethical shift pushes public opinion in favor of stances that Christians have traditionally sided against. Meanwhile, Americans from all political and theological stripes have their own reasons to be concerned over moral decline.
In a recent poll, Gallup found a widening embrace for more than a dozen moral issues, including record-high acceptance for gay relationships, divorce, pornography, polygamy, and physician-assisted suicide.
Of the 19 issues queried about, Americans have become more liberal on 13 of them (with 10 hitting record highs) and stayed consistent on 6—most notably abortion, which 43 percent of Americans and 34 percent of Protestants deem morally acceptable.
Americans have not shifted more conservative on any of the 19 moral issues measured.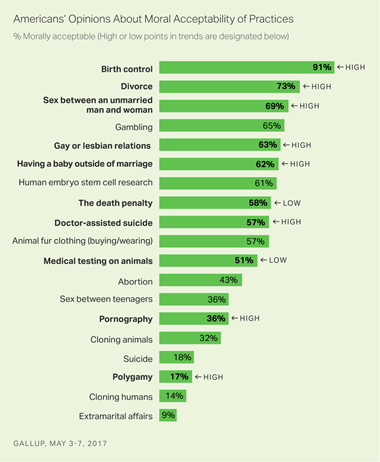 "There was a time that basic Christian morality was at least something people were afraid to violate—at least in an answer on a public survey," said Dan Darling, vice president of communications for the Southern Baptist Convention's Ethics and Religious Liberty Commission, in response. "I am not so sure this is reflective of a moral slide, but of greater honesty."
In May, both Gallup and LifeWay Research released polls showing about 4 in 5 Americans are worried about the moral state of the country. This year, 77 percent say the country's values are getting worse, the highest level since Gallup started tracking this topic 16 years ago.
Historically, social conservatives, including evangelicals and other people of faith, have been the most negative about American morality. They raise concerns about the liberal shift on issues involving family, sexuality, and the sanctity of life. This year is the first that social moderates outrank conservatives.
In last year's US presidential election, both parties employed a sense of moral superiority and moral tribalism to vilify the opposing candidates. Following President Donald Trump's victory, the numbers of moderates and liberals who believe American morality is getting worse shot up by more than 10 percentage points, to 86 percent and 71 percent, respectively. Social conservatives dropped by about the same amount to 77 percent.
But despite the overall pessimism, these groups don't necessarily have common concerns. Gallup notes that people often have more subjective measures of morality in mind than specific policies:
Americans are not necessarily thinking about moral values in terms of abortion, gay marriage, or other social issues that produce legislation and Supreme Court rulings. Polls in 2010 and 2012 that asked respondents to cite the most important problem with moral values found that the reason most often cited was lack of respect or tolerance for others, with poor parenting also frequently mentioned.
As discussed in last month's CT editorial, recent research indicates that liberals are relying on moral arguments in the same way conservatives long have—only not for the same positions.
"It isn't that conservatives and liberals have shrugged off transcendent ideas of right and wrong. Rather, they each appeal to a different transcendent moral foundation. We are not in an era of moral relativism but moral pluralism," Ted Olsen wrote. "That's not necessarily good news: It's hard to build a unified society when we hold radically different moral visions. It's even hard to have a conversation when we view each other as immoral."
Given the political aims and concerns around American morality—the conservative stances on social issues and the moral critique opponents have levied against Trump—one might assume that the government sets the tone for the country's moral state. Yet, a majority of Americans (63%) say that implementing laws is not an effective way to develop moral behavior, according to LifeWay.
Earlier this month on Mere Orthodoxy, Matthew Loftus addressed some concerns about "legislating morality," positing that every law promulgates some sort of underlying value, whether derived from religion or from secular principles "like autonomy and preventing harm." (In the LifeWay survey, 1 in 5 Americans said whether someone gets hurt is the most important factor guiding their moral decisions.)
"Virtually all of the more 'liberal' changes measured by Gallup are about maximizing autonomy and self-determination," noted Loftus, a Christian writer and physician, by email.
The acceptance of gay and lesbian relations jumped by 23 percentage points over the past 16 years, to 63 percent. The acceptability of sex outside marriage went up by 16 points to 69 percent, divorce by 14 points to 73 percent, polygamy by 10 points to 17 percent, and assisted suicide by 8 points to 57 percent.
Loftus said:
When I look at these figures showing that our moral views are getting more liberal, I think about how dangerous it is to build our social order on autonomy and freedom and how only a biblical sense of obligation to one another can pull us back from the brink.

When we talk about "liberalism" in the West, we often conflate progressivism and classical liberalism. Most modern-day "conservatism" is just as classically liberal as progressivism because it centers around autonomy and freedom, and most political debates assume that human beings ought to have the freedom to be independent of obligations or expectations put upon them …. Christian moral values will always be fighting a losing battle in a culture that sacramentalizes individual autonomy.
Half of Americans believe right and wrong never change, according to the LifeWay survey. While Christians obviously look to God's Word for moral standards, Darling—and ERLC colleague Andrew T. Walker—have made the case that they should advocate for those outside the church to follow those principles as well.
"In a society where the ethical demands of the gospel sound increasingly strange, we offer the gospel up as an alternative story to the story people are telling themselves," Darling said. "The church should always, as in every age, tell a better story about God's creational designs for human sexuality, connection, and intimacy and about Jesus' restoration of our broken humanity in his own death, burial and resurrection. The church should also be willing to stand against the pervasive utilitarianism and Darwinism that informs practices like euthanasia and abortion and racism, especially as used against the most vulnerable in society."