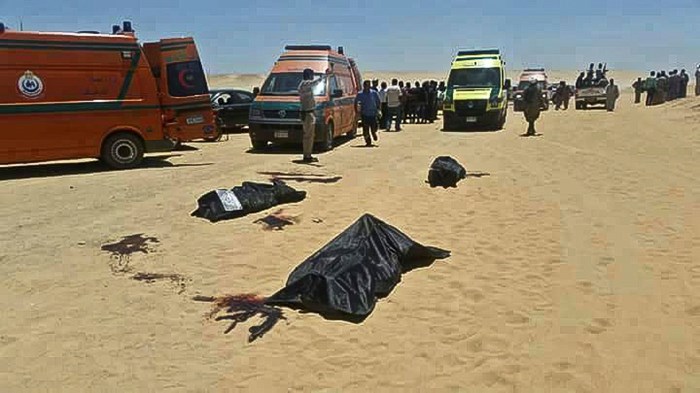 Image: Minya Governorate media office via AP
[Updated at 11:15 a.m. Sunday, May 28]
Terrorists ambushed a Coptic church bus trip on Friday near Minya in Upper Egypt, killing at least 28 and injuring 23, including many children.
Egypt's interior ministry reported that three vehicles of 8 to 10 gunmen dressed in military uniforms opened fire on the Christian convoy, which was on its way to the fourth-century St. Samuel the Confessor Monastery in Samalout, 140 miles south of Cairo.
Reuters reported that the terrorists boarded the bus, stole jewelry from the women, and filmed the executions. They also left behind leaflets celebrating the start of Ramadan, the month-long observance of Muslim fasting and prayer that began that night.
The attack was later claimed by ISIS, and follows church bombings by its affiliates on Palm Sunday and in advance of Christmas. Last week, Egyptian authorities arrested 48 individuals, securing confessions of belonging to an ISIS-linked terrorist cell.
Survivors of the bus attack reported that the terrorists attempted to force them to say the shahada, the Islamic creed. Some did so, but most did not. Pope Francis, who visited Egypt in late April, tweeted that they did not renounce their faith.
Among the victims was US citizen Muhsin Marcos from Tinley Park, Illinois, and seven of his family members.
"They asked them to switch their religion from Christian to Muslim," his relative Gerges told Chicago's ABC affiliate in an exclusive interview. "They said we're not going to leave the Christianity."
"I am grieving. It is sad and shocking," said Bishop Thomas of the Coptic Orthodox diocese of Qusia, 75 miles from the monastery. "But at the same time, I know this is not new. I was expecting things like this to happen. And it will not be the last."
Thomas described St. Samuel's as a favorite location for Copts to visit in central Egypt. A desert monastery, it has a simplicity that attracts both spiritual pilgrimage and social outings.
The move to attack Coptic civilians outside of church services is a worrisome development. Thomas compared it to attacks perpetrated against Copts by militant groups in the late 1980s and early 1990s. He views the attacks as connected, and an effort to disturb Egyptian stability.
"As long as society is so much into fundamentalism and sectarianism," said Thomas, "this atmosphere will bring more and more [attacks]."
Egypt canceled opening Ramadan celebrations as the Grand Imam of al-Azhar, Sheikh Ahmed al-Tayyib, condemned the attacks. "The Minya incident is unacceptable to Muslims and Christians," he said, "and it targets Egypt's stability." (The cancelation was a significant gesture, but does not affect the traditional Eid al-Fitr holiday at the end of the month-long Ramadan fast.)
President Abdel Fattah al-Sisi ordered the bombing of a terrorist camp in Libya, similar to the government response following the Islamic State beheading of 21 mostly Egyptian Copts in Libya.
Egypt's ministry of social solidarity decreed that victims' families receive $5,500 compensation, with the seriously injured to receive $2,200.
Andrea Zaki, president of the Protestant Churches of Egypt, also condemned the attacks and offered prayers of healing for the injured.
"Such cowardly acts will not affect the firmness of the country, nor the determination of Egyptians to rid the nation of terrorism," he said. "Targeting innocents, it seeks to spread fear and threaten the peace of the nation."
Thousands of Copts gathered for funeral prayers in Deir al-Jarnous, a village near Minya where seven were buried. It developed into an angry protest march.
"We will avenge them or die like them," Reuters reported the group chanted.
"God will avenge us," one mourner told Reuters. "We will not do anything violent because we are Christians and love is in our hearts. It is enough that they will go to hell."
Ramez Atallah, head of the Bible Society of Egypt, thinks the government action in Libya was meant to "take the lid off the pressure cooker" and satisfy the need for revenge.
"The terrorists want to infuriate the Christians enough that they forget their principles and go out on a rampage," he said. "And the normal reaction of normal Middle Easterners in a shame-based society is to retaliate.
"What is countercultural is that the leadership of the church has been so insistent that Christians do not retaliate," said Atallah. "So by the grace of God, there has not been a reaction."
As an example, Bishop Angaelos of the Coptic Orthodox Church in the United Kingdom issued a statement to the terrorists.
"You are loved. The violent and deadly crimes you perpetrate are abhorrent and detestable, but YOU are loved," he wrote. "You are loved by me and millions like me because I, and we, believe in transformation."
Even so, the incident will likely prompt further fear in the Coptic community.
"People will think more carefully about security and safety, [or] going to retreats, conferences, or to visit monasteries," said Bishop Thomas, who urged a response of love, justice, and avoidance of fear. "But people will think, 'What's next? Who's next? Maybe it will be me.' You never know."
CT recently reported how Copts' forgiveness of ISIS is moving Muslims in Egypt, and previously examined whether Christians who say the Islamic creed in response to terrorist coercion actually deny their Christian faith.