Texas Shooting Kills 26 at Southern Baptist Church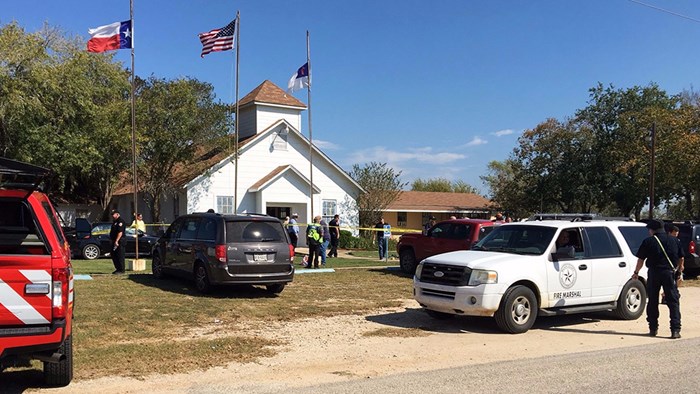 Image: KSAT / Associated Press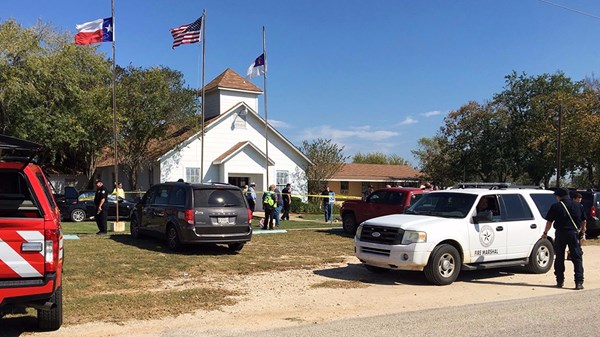 Texas Shooting Kills 26 at Southern Baptist Church
During its 11 a.m. worship service, a Southern Baptist church in rural Texas suffered not only America's latest mass shooting but the deadliest church shooting in US history.
At least 26 worshipers, ranging in ages from 5 to 72, have died from First Baptist Church of Sutherland Springs, according to Texas authorities. Another 20 worshipers were injured. YouTube videos of the church's weekly service indicate that recent Sundays drew about 50 attendees.
Among the victims, 23 died inside the rural church's small sanctuary, 2 outside the church, and 1 at a hospital. The shooter was identified as 26-year-old Devin Patrick Kelley of New Braunfels, about 35 miles away.
The Texas tragedy is only the 14th mass murder at an American house of worship since 1963, according to statistics compiled by church security expert Carl Chinn. It is also the deadliest shooting in the Lone Star State, taking place on the anniversary of the Fort Hood shooting that killed 13 people on an Army base in 2009.
Texas governor Greg Abbott said, "The tragedy of course is worsened by the fact that it occurred in a church, a place of worship, where these people were innocently gunned down."
"The death toll will mark this as the worst [church shooting] in US history," Chinn told CT. Fewer than 40 percent of church attacks happen during Sunday worship or other official church events; however, Chinn said the ones that occur during services tend to be worse.
Kelley entered the church, located about 40 minutes southeast of San Antonio, after its worship service began. According to reports, he wore black ballistic gear and carried a Ruger military-style rifle.
"Violence and evil once again have made an impact at one of our churches," stated Frank Page, president and CEO of the SBC Executive Committee. "Innocent men, women, boys, and girls went to church to worship, pray, and study God's word, and were met with unspeakable violence.
"Our prayers are for the people of Sutherland Springs and the people of the church," he continued. "One does not get numb to this kind of egregious violence. God help us all."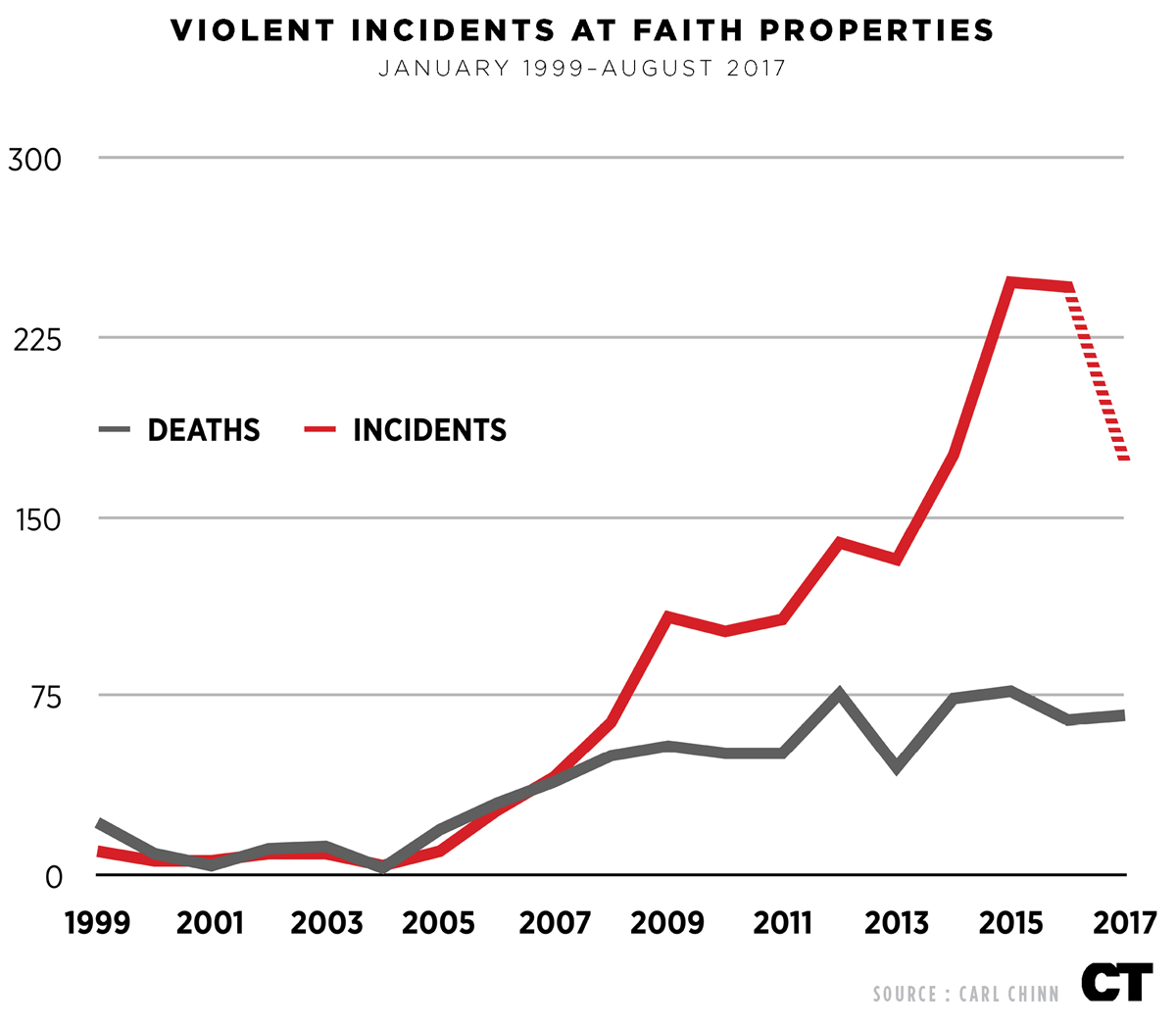 The Southern Baptists of Texas Convention (SBTC) and the Billy Graham Evangelistic Association dispatched chaplains and response teams to Sutherland Springs to assist the congregation in its grief and recovery. "We pray God's mercy and comfort on those who are grieved and those who are wounded," stated SBTC executive director Jim Richards.
TV news anchors discussed the fact that the church posts its services to YouTube, and thus there may be a recording of the shooting that investigators will be able to study.
In a small town with a single blinking stoplight and a population of about 500, the Baptist church was located down the street from a post office and a gas station. Last week, church members dressed in costume for its annual fall festival, complete with carnival games, farm animals, and bales of hay. The October 31 event was still advertised on the marquee sign in front of the church when the attack took place.
In videos of Sunday services, a singer signs lyrics to praise songs like "Your Grace Is Enough" and hymns like "Are You Washed in the Blood?" while kids dart through the front pews. "We can bless the Lord in anytime, in happiness or in sorrow," the guitarist tells the congregation one week. "So let's bless him this morning."
Last Sunday, a green Harley Davidson was parked in front of the stage as a prop for surviving pastor Frank Pomeroy's sermon on Proverbs 3, entitled "You Don't Need Training Wheels. You Need Christ."
Pomeroy and his wife, who both happened to be traveling out of state, told TV news outlets that their 14-year-old daughter, Annabelle, was one of the victims. Community members have begun to identify other victims, including a pregnant mother and the leader of a prison ministry known for playing his ukulele for the inmates.
Facebook users have been posting prayers to the small church's page. One wrote:
To the martyrs of Southerland Springs [sic]:
Remember God is our comfort, God is our patience. God is our refuge.
We fear nothing that man can do to the body, and then have no more they can do, for we are dead, and our lives are hidden with Christ in God.
Baptist churches have suffered 345 deadly incidents since 1999, or 1 in 5 of all attacks in Chinn's database of "deadly force incidents" at faith-based sites. This is far more than any other American denomination (though not entirely surprising, as the SBC is the largest Protestant denomination in the US). Chinn tallies 370 incidents at nondenominational churches, but this figure also includes attacks where he could not ascertain a targeted church's affiliation.
A previous mass shooting took place at a Southern Baptist church in East Texas back in 1980, when five worshipers were killed and ten injured by a fellow member of the church.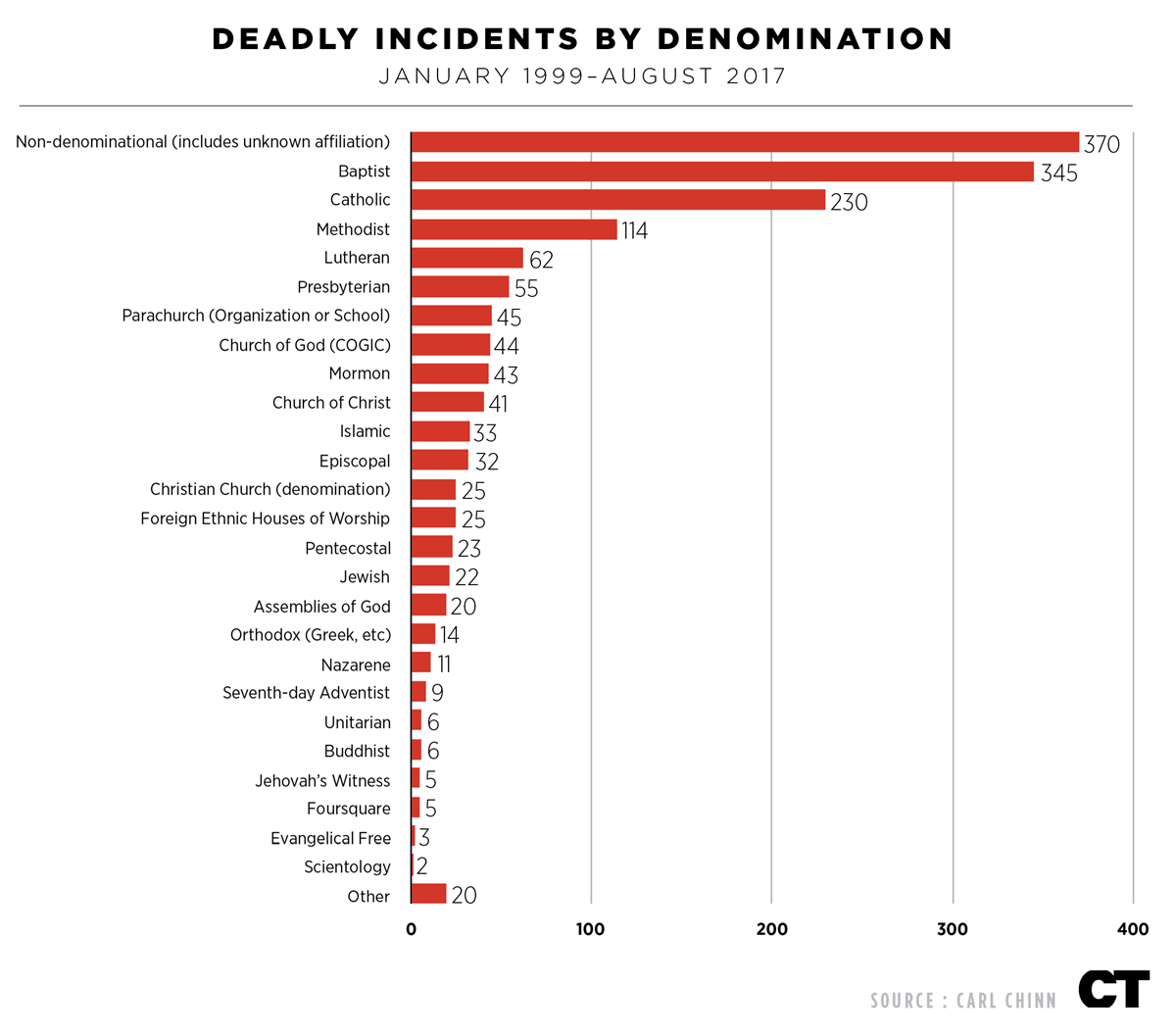 "Another church shooting. Lord have mercy," tweeted Russell Moore of the Ethics and Religious Liberty Commission of the Southern Baptist Convention (SBC).
Ronnie Floyd, past SBC president and head of the National Day of Prayer, also offered his prayers. "When attacks of hate and terror happen in our places of worship, they shake us to the core," he said. "We must beg God for his mighty hand of protection on our nation and the world. May God be with the victims of this shooting. Only God is our refuge in these times of trouble."
"May God bring healing and hope to the church and the city," current SBC president Steve Gaines told Baptist Press. "May God bless all the police officers serving in that area. And may God prevent further incidents like this throughout our nation in the days to come."
Violent incidents in churches are on the rise, including high-profile shootings in sanctuaries. In September, a shooter killed one person and injured seven others after Sunday worship at Burnette Chapel Church of Christ outside Nashville.
"The prevailing problem is denial," said Chinn. "People think, 'It won't happen here.' If they were following the news, they would know it's happening at small churches in small towns and big churches in big cities.
"The denial is worse in churches because we believe God will protect us," he told CT. "I believe God will protect us … but that doesn't mean we don't have to be intentional about security."
Chinn previously reported that 2015 marked a record year for violence on religious property or involving senior pastors, with 248 incidents and 76 deaths.
"I don't know how many wakeup calls it will take," he said.
The most prominent that year, of course, was the attack on Emanuel African Methodist Episcopal Church in Charleston, which set the record at the time for the deadliest church shooting in American history. (CT followed up with the families of the nine victims on the first anniversary of the shooting in 2016.)
"I would say we are at one of those critical times in church history that truly calls for prayer," Chinn told Church Law & Tax, a CT sister publication. "I believe our churches are under attack in a way rarely seen in world history, and never before seen in American history."
He advises all churches to train and enlist a security team, with at least one person stationed outside the church and one person in the building to keep an eye out for suspicious activity.
Earlier this year, Texas passed a law making it easier for houses of worship to enlist volunteer security guards—a policy proposed in response to the Charleston shooting. Prior to the law, which went into effect September 1, churches had to seek licensure from the state for their guards or risk fines.
Chinn said many churches may remain unaware of the policy, and many small churches lack security personnel.
"This news makes me realize how much I wish those of us teaching churches to get ready were wrong," Chinn told CT. "When I first heard [the news] today, I wanted nothing more than to later hear it was a false report. But it is true, and there are more coming."
Last month, CT reported on the Bible verses Americans seek most after mass shootings.
CT has previously reported how the surge in church shootings has prompted pastors to improve security, as well as how the White House taught American churches to "run, hide, or fight" when gunmen attack.
CT also reported what New Life Church did right when a gunman showed up in its parking lot, as well as how a YWAM director forgave the shooter.
Save

11/05/2017