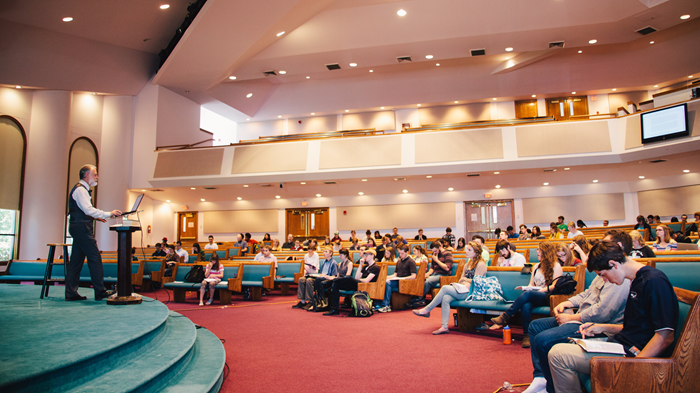 Image: Moody Bible Institute
Moody Bible Institute has decided to shut down its undergraduate campus in Spokane, Washington, after 25 years, as well as its distance learning extension site in Pasadena, California.
The decision, announced today, is part of a strategic initiative to preserve Moody's long-term financial wellbeing, which includes cuts to faculty and staff at its main campus in Chicago.
The Spokane campus enrolled 442 undergraduate students, compared to 1,599 in Chicago and 664 through its distance learning program.
Last fall, the Spokane campus added only 59 full-time freshmen; this fall, that number was down to 37. For the first half of the decade, the freshman class had been more than 100—well over double the past two years. The Pacific Northwest campus also had lower retention and graduation rates than the Chicago location.
The undergraduate school in Spokane, which offered eight bachelor's degrees and two certificate programs, will close after graduation in May 2018. Current students can transfer to the Chicago campus or complete their degree through distance learning.
"We are deeply grateful to the Lord for all those who faithfully served in Spokane and for what took place through this campus," James Spencer, Moody vice president and dean, said in a statement. "Many men and women have been sent out and are making an impact for the Kingdom around the world in all areas of life."
Moody has operated its extension campus in Spokane since 1993, and moved its aviation program to the site in 2005. Moody Aviation will continue to train missionary pilots from the Spokane location. The campus has about 45 faculty members, about a third of whom are involved in the aviation program.
The announcement indicated that Moody's distance learning program will "discontinue operations not vital to [its] mission." The Pasadena extension site, which offered a ministry leadership degree program, will be closed.
Additionally, Moody is making cuts to staff and faculty at its campus in Chicago and its seminary, a result of eliminating components of certain academic programs, spokesman Brian Regnerus told CT. He declined to provide further detail on those affected, citing privacy concerns, but said the cuts represent less than 10 percent of staff.
Moody Theological Seminary will transition its programs from 16-week courses to 8-week courses, conducted on campus, online, and in hybrid formats.
Graduate student enrollment in Chicago and in online/hybrid programs dropped by around 30 percent and 40 percent, respectively, this fall. Enrollment is steady at the seminary campus in Plymouth, Michigan.
Several students and former students tweeted and posted their response to the news and prayers for the faculty who would lose their jobs.
Tyler Mark Nelson, a student at Moody in Spokane, wrote on Facebook that the community is grieving the news.
"Local churches, ministries, and organizations, many of which have deeply benefited from the zeal and devoted service of students, will also reel from the loss," he said. "The city of Spokane will lose a powerful and effective presence when MBI-Spokane closes its doors. We lament as a community and are beginning to prepare for the approaching uprooting."
Paul Nyquist, president of Moody Global Ministries, referenced "challenging ministry trends and financial demands over the next decade" as the reason for the shift.
"We are proactively making these strategic changes now to ensure our long-term viability and sustained growth," he said in a press release.
Meanwhile, fellow Christian schools and seminaries are grappling with the future of their own extension campuses as online education becomes a more popular option.
This summer, America's largest seminary announced plans to shut down three of its eight satellite campuses and to reduce degree options at two more.
The upcoming changes at Fuller Theological Seminary, expected to go into place in 2019, hint at the shifting landscape for Christian higher education. As schools expand to offer online, hybrid, and other nontraditional programs, the path to a theological degree doesn't look like it used to.
Fuller provost Joel Green disclosed in July that the school's Seattle, Orange County, and Menlo Park campuses would close, while its Colorado Springs and Phoenix campuses would cut down on course offerings.
Fuller's regional campus enrollment decreased by 30 percent over the past four years, with the slipping numbers hurting the sense of community at various locations as well as their financial viability, he said. At the same time, Fuller's online classes—now up to 260 of them—have become a more popular choice; their enrollment has grown by over 50 percent, and outnumbered all other Fuller campuses for the first time last fall.
"Students who live across the street are still taking online classes," said Irene Neller, spokeswoman for the Pasadena-based evangelical seminary. The recent swings have prompted Fuller to explore "so many options" for how students could study in the future, she said.
The enrollment trends out of Fuller reflect what's happening at a lot of Christian schools—and seminary programs in particular.
The Association of Theological Schools (ATS), which includes more than 270 institutions in the US and Canada, found that extension enrollment has dipped by about 26 percent over the past decade, according to self-reported and adjusted figures, while online numbers have more than doubled.
"The overall trends seem fairly clear: distance education enrollment is way up and extension education enrollment is down," said Tom Tanner, director for accreditation and institutional evaluation at ATS.
But most programs are keeping their extension sites. While the number of schools with satellite campuses has remained around 95, the number of locations themselves has grown by about 20 percent over the past 10 years, from 254 to 305, according to ATS.
"I think what is happening is that schools are moving more to a hybrid model, where some courses are offered at extension sites and some offered online, which means fewer student enrollments at extension sites," Tanner said. Programs can also require students to be on campus for one or two weeks a semester for certain courses, while completing other requirements virtually.
Online education has shown a lot of promise for theological education from the start. As CT reported several years ago:
At seminaries, online ministry degree programs are tapping into a storehouse of pent-up demand. Those who once dismissed the possibility of full-time ministry can pursue dreams without making drastic changes and piling up a crushing loan debt. Students avoid the expense of moving on or near campus—or of commuting daily for three or four years. Congregations retain valuable ministry workers as they learn more.
But such programs are no longer a new frontier, and schools have begun to evaluate their next chapters: how to incorporate and build on distance learning in a way that works best for students' changing expectations and schools' long-term viability.
Fuller, for example, was surprised by how positive the interaction and community-building has been among their online students, so the school began piloting Fuller Formation Groups, spiritual and leadership formation groups that meet virtually.
As potential students weigh whether they have the time, money, or interest to pursue a degree, schools consider the same factors and adjust to make their programs accessible and applicable. The rise of nondenominational churches, for example, means that fewer pastors are required to hold a seminary degree, as CT Pastors has reported, though they may still want some level of theological study or formation.
This fall, Fuller expanded its online degree options from three degrees offered primarily online—Master of Divinity (MDiv), MA in Theology and Ministry (MATM), and MA in Global Leadership (MAGL)—to add two more that can be fully completed online: MA in Theology (MAT) and MA in Intercultural Studies (MAICS).