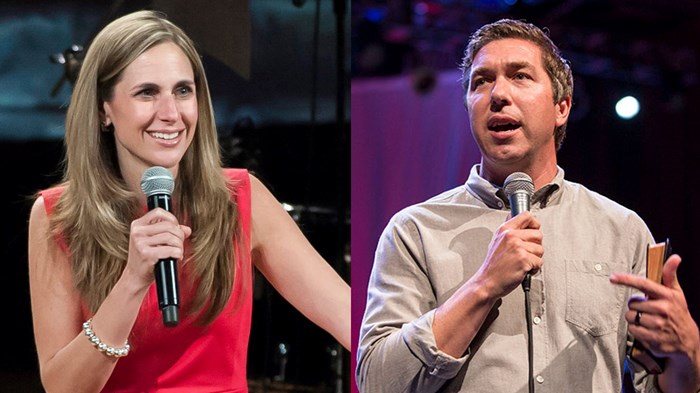 Image: Willow Creek
Since "no one person can replace" Willow Creek Community Church founder Bill Hybels, the influential megachurch has named two people: its current executive pastor Heather Larson and teaching pastor Steve Carter.
Hybels announced on Saturday that the pair will succeed him as lead pastors when he steps down in October 2018.
The historic transition will make Willow Creek one of the largest churches in America with a woman in the lead pastor position, as well as the only major evangelical megachurch with male-female lead pastors who aren't married.
"When we saw this shaping up, we had to ask ourselves, 'Can our congregation have a lead pastor that's a woman?,'" said Hybels, speaking from Willow Creek's central campus in South Barrington, Illinois, one of seven locations in the Chicago region that draw a collective total of 25,000 worshippers each weekend. "And because this is a deeply held value in our church, we said, 'No problem.'"
Larson will be lead pastor, overseeing Willow Creek's 400-person staff and $77 million budget, and Carter will be lead teaching pastor, continuing to preach most weeks.
The news comes amid Willow Creek's six-year succession plan for the megachurch, which was founded in 1975 and has grown to rank among the 10 biggest in America. The 65-year-old pastor joins a wave of greying leaders who have opted to go public with their leadership transition, as Hybels first disclosed at the church's 2012 Global Leadership Summit.
"We know that no one person can replace Bill," Larson said in an interview on the Unseminary podcast last year. "That has led Willow to talk about moving to more of a team approach in leading the church in the future and what that might look like."
Larson, 42, has worked at Willow Creek for 20 years and has served as Hybels's No. 2 since she became executive pastor in 2013.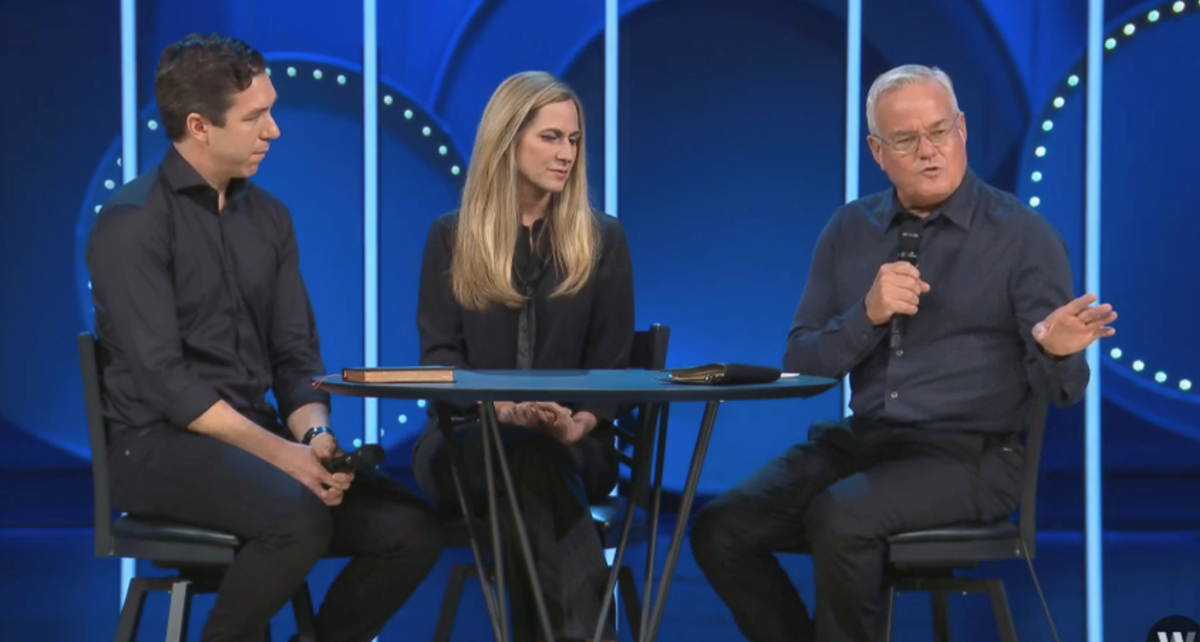 Image: Willow Creek
"There is clearly a growing tendency to see shared senior leadership in larger churches, to do ministry as a team," said Warren Bird, who consults on megachurch succession and co-authored the book Next: Pastoral Succession that Works. "Many are experimenting with titles and roles like 'directional leader' and 'chief visionary,' and giving the No. 2 person a greater role. Willow is leading another wave of experimentation in role combinations."
After an outside consultant recommended splitting the senior pastor duties, the two leaders were selected by Hybels and approved by the church's elders.
"The shared leadership dynamic is a wise move for an organization with the size, scale, and history of Willow," said Jenni Catron, a church leadership coach.
Around 5 percent of megachurches are led by a husband-wife co-pastor team (think Joel and Victoria Osteen at Lakewood, or Todd and Julie Mullins at Christ Fellowship Palm Beach Gardens), but none have an unmarried pair named as lead pastors, according to Bird.
Historically, "there have been a tiny number of female leaders in the top spot­—Aimee Semple McPherson being the most prominent, at one point leading the nation's largest-attendance church," he said, noting that for a time, widows Sharon Daugherty at Victory Tulsa, Betty Peebles at Jericho City of Praise, and Anne Gimenez at Rock Church International also had lead pastor roles.
"This is a significant move for not only Willow Creek Church, but also for the greater evangelical movement," said Tara Beth Leach, who became the first female senior pastor at First Church of the Nazarene of Pasadena last year. "Bill Hybels and Willow Creek have made a move that no church of its size has done before, and I hope that moves like this will have a ripple effect across all of evangelicalism."
The number of female pastors overall has tripled in the past 25 years, to about 9 percent of all Protestant pastors in the country, according to Barna's 2017 State of Pastors report. But the numbers are just a fraction of that for women in lead pastor roles and at megachurches, since female pastors tend to lead smaller congregations. Only about a third of nondenominational churches welcome women into senior or preaching pastor roles.
Halee Gray Scott, a researcher focused on evangelical women in leadership, said Willow Creek's announcement "trailblazes a path for the Western church."
"It is a model of leadership that is deeply scriptural, built not on personality nor an individual's personal charisma, but on partnership," she said. "It is a model that reflects the fullness of humankind, both male and female."
Since its early days, Willow Creek has not restricted women's leadership, eventually basing its position on a study led by Gilbert Bilezikian, a longtime Wheaton College professor and Hybels's mentor.
In a chapter in How I Changed My Mind about Women in Leadership, Hybels describes his desire to be proactive about adding women to leadership teams and being intentional about the women appointed to be paradigm-breakers as they step into significant roles.
Prior to being named executive pastor, Larson was involved in Willow Creek's young adult ministry, global outreach, and compassion and justice work. She opened up about her leadership role in a 2015 interview with CT's WomenLeaders.com:
Being a woman in this position is a much bigger deal outside of Willow than it is inside of Willow. Because it has been so much a part of the DNA of Willow, I get a lot of encouragement from women and men in the church who say they're so excited to see how I'm leading and guiding the church.

But outside of Willow I get a lot of more shock. That has been good for me to keep in mind how different Willow is from a lot of other churches. I've never wanted to be on a soapbox about the role of women. I would rather build influence and lead where God has placed me, and let that speak for itself.
"She owns the values of this church all the way down to her toes," said Hybels. "She has the pure Romans 12:8 gift of leadership."
Though Larson was raised as a pastor's kid, she said she didn't expect to end up working for the church; instead she started her career working for the Red Cross. She has two daughters, ages 12 and 13, and is a graduate of Taylor University.
"This is not something I ever planned for or expected, but it's something that God planted in my heart," she said. "I want my life to be about building the local church."
Carter, 38, currently does the bulk of the preaching at Willow Creek, where he has been on staff since 2013. He was also involved in The Practice, the church's experimental worship community led by Aaron Niequist, which concluded in June. (Carter and Niequist discussed their vision for the initiative with CT Pastors in 2014.)
Since he had only just arrived at Willow Creek when Hybels began his global search for his replacement, Carter initially didn't put himself in the running. He teared up as Hybels announced his new role.
"He's one of the most gifted, pure teachers that I've ever known," said Hybels. "Better than that, he is coachable and has an insatiable desire to get better."
Carter, a father of two, is a graduate of Hope International University. He previously served at Rock Harbor Church in California and Mars Hill Bible Church in Michigan.
His book on evangelism, This Invitational Life, came out last year. He wrote:
Over the past ten years, I've seen a decrease in urgency when it comes to sharing one's faith. I think a lot of it has to do with the way evangelism has been portrayed and done over the years. What I want to do is to try and reclaim the essence of the word.

My advice for those who want to live an invitational life is to show up with expectancy, with one ear attuned to heaven, so that when God whispers you'll be ready to respond. God's heartbeat is for humanity and He is inviting us to be ministers of reconciliation. He has given us a story of reconciliation and we are His ambassadors as if God was making his appeal through us. He wants to use you. When the spirit whispers, please say yes!
Carter also co-hosts a sports podcast from Relevant. "Because he's played sports all his life, he understands the dynamics of a team," said Hybels.
This weekend marks Willow Creek's 42nd anniversary. Ahead of the news, Lynne Hybels wrote that her family was "genuinely excited about this announcement because we earnestly believe it will be a blessing and gift to this church that we love."
Willow Creek pioneered tech-savvy and cultural-savvy ministry with its innovative programming, most notably its Global Leadership Summit. The annual event has drawn top names in business to address thousands of church leaders over the past 15 years, as well as pioneered a new approach to organizational leadership among evangelicals. Willow Creek spent a dozen years, from 1992 to 2004, as the largest church in America, according to Outreach magazine.
About a decade ago, the booming Chicago-area megachurch pivoted from what had been deemed a "seeker sensitive" approach to explicitly focus more on Christian growth and discipleship among its members.
Research previously featured in CT indicated that most prominent pastors leave the pulpit by 65 [see chart below, from CT September 2014]; Hybels will be 66 when he steps down next year, though he will remain involved in the Willow Creek Association and Global Leadership Summit.
"We're going to fight through the funk of succession," Larson assured the crowd on Saturday night. "We know it's hard."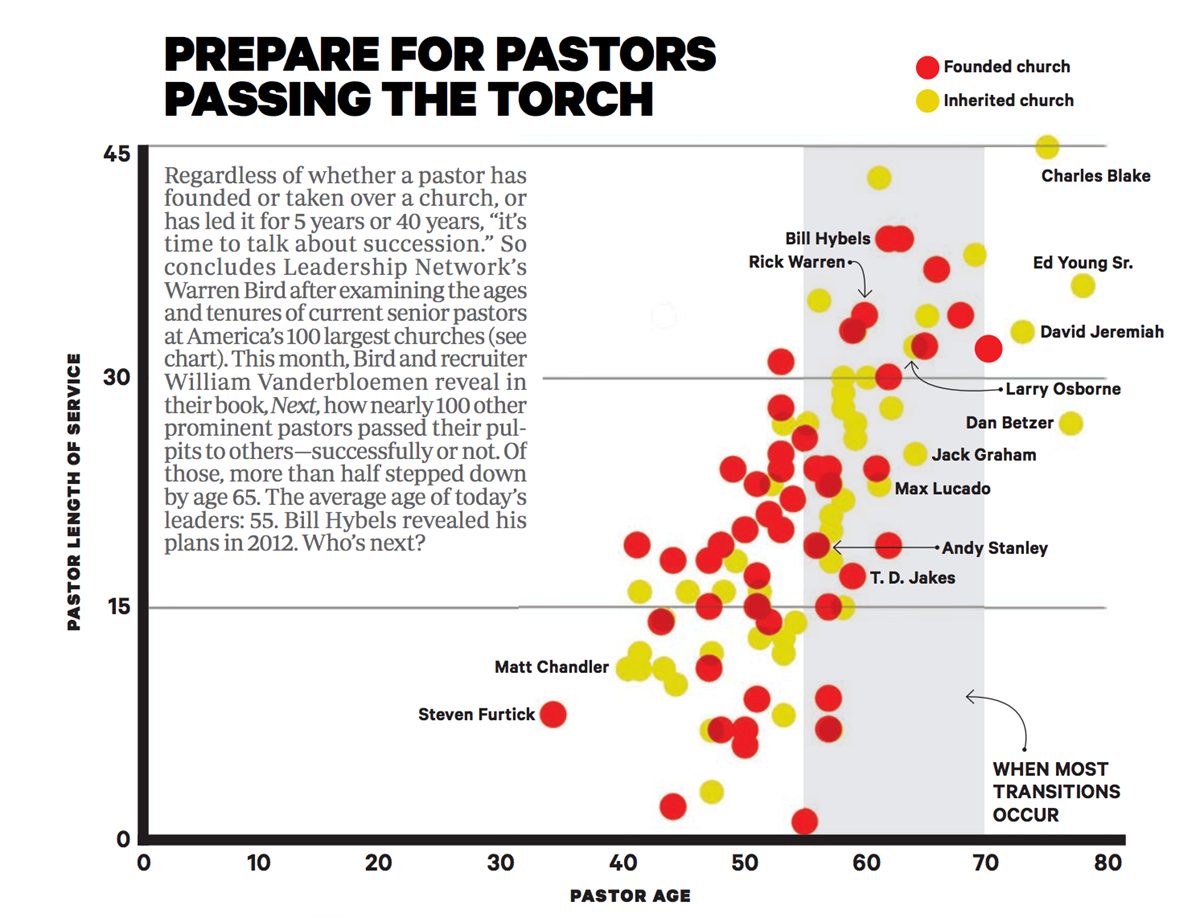 Image: Christianity Today