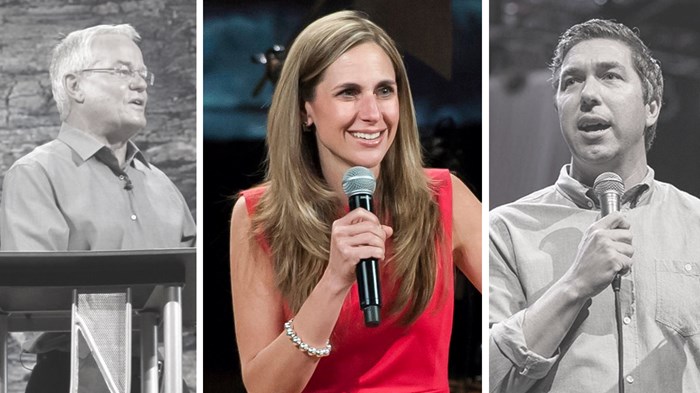 Image: Hybels: Mary Fairchild / Flickr; Larson, Carter / Willow Creek
In the summer of 2008, Bill Hybels stood in front of thousands of pastors and other church leaders gathered at Willow Creek Community Church and admitted his megachurch had failed.
"We made a mistake," he told the crowd gathered for the 2008 Global Leadership Summit (GLS). A detailed Willow study had found that the church had helped many people find new faith in Jesus, but had failed to teach them how to practice the spiritual disciplines needed to grow their faith.
He vowed the megachurch would do be better in the future.
Ten years later, Willow Creek's leaders confessed even more mistakes. On the eve of the 2018 GLS, they admitted in a special congregational meeting that church leaders had failed to appropriately handle recent allegations of sexual misconduct against their founding pastor.
Lead pastor Heather Larson announced that she was resigning immediately. The church's elder board announced that its members would also step down in an orderly fashion by the end of 2018.
Steve Carter, the church's lead teaching pastor, had already resigned on Sunday, saying he could no longer continue at the church in "good conscience."
At tonight's Willow family meeting, elder Missy Rasmussen said she and other church leaders had been blinded by their faith in their founding pastor and had failed to hold Hybels accountable.
"We trusted Bill, and this clouded our judgment," she said.
That blindness, Rasmussen said, led to a number of missteps, including a rushed investigation when allegations that Hybels had had an affair first surfaced in 2014. Church leaders did not move quickly enough to secure his' devices or other forms of communication, she said. When the woman who made the first allegations later recanted, the church dropped the matter without a thorough review.
Other allegations were met with skepticism, and later defensiveness. On behalf of the elders, Rasmussen apologized for that.
"Our entire elder board has had to come to grips with the areas of our hearts, minds, and souls that blinded us to the pain and suffering of the women and their advocates," she said. "We ask forgiveness from God, our congregation, the women, their advocates, and those who have been calling us to repent."
"We are sorry that we allowed Bill to operate without the kind of accountability that he should have had," she said. "Our desire going forward is to retain what is good and pure about Willow, but to drive out the dark places that are unhealthy."
Rasmussen also called on Hybels to repent of his actions.
"We believe that [Hybels's] sins were beyond what he previously admitted on stage, and certainly we believe that his actions with these women were sinful," she said. "We believe he did not receive feedback as well as he gave it, and he resisted the accountability structures we all need."
She apologized by name to Nancy Ortberg, Nancy Beach, and Vonda Dyer, as well as the other women who have made accusations against Hybels.
"We have no reason not to believe you," said Rasmussen on behalf of the elders. "We are sorry that our initial statements were so insensitive, defensive, and reflexively protective of Bill. We exhort Bill to acknowledge his sin and publicly apologize."
"Our board never acted out of malice, and tried to serve the church we love faithfully," she said. "But the reality is we feel the failure of the board to move our church through this in the way we should have calls for action to be taken."
She concluded: "We as a board know Willow needs a fresh start, and the entire board will step down to create room for a new board."
The statement drew a round of applause.
When Larson announced her own resignation shortly after, shouts of "No" rang out instead. One attendee shouted, "We need you."
Larson had just told the congregation how Willow Creek had been her world for the past two decades. She recounted some of the church's accomplishments in that time, like its annual Celebration of Hope and its care center, and told of her joy of baptizing people and watching their lives be transformed.
And she spoke of her hope when starting a new role as Willow Creek's lead pastor. The plan was, she said, for her to share the role with Carter as teaching pastor, with Hybels watching over them as a coach.
That plan fell apart, she said.
Larson admitted her own failings as well.
"I know I've made mistakes," she said, "and there are things I wish I could go back and do differently."
Recently, Larson said, she realized the church needed a new start. And she needed to get out of the way.
"As hard as I have tried, I simply have not been able to get the momentum that we need to address the issues that need to be addressed and to bring about the fresh start," she said.
Larson said God had given her clarity about the future of Willow. And that future did not include her as a leader.
"I am stepping down from my role as lead pastor," she said, to sounds of shock. "Because this is really important. Trust has been broken by leadership, and it doesn't return quickly. There is urgency to move in a better direction."
"I have carried what God has asked me to carry. Most of all, I know that ultimately this church is in God's hands," she said. "… Please know that I am not giving up on this church. Most importantly, God is not giving up on this church. He created it. He has always been faithful to it.
"So I ask you not to give up on it either," she said. She drew a standing ovation.
The departure of Larson and Carter—who'd been named Hybels's co-successors less than a year ago—along with the elders is a seismic shock for one of the nation's most influential churches, wracked by controversy for months after Hybels retired early after being publicly accused of sexual misconduct.
The move comes three days after more accusations surfaced against Hybels—this time from his former assistant, who alleged that Willow's founder repeatedly groped her.
When the first allegations surfaced, the elders, Larson, and Carter all backed Hybels. The church labeled the allegations as lies being spread by disgruntled former church staffers.
As more accusations surfaced, the church admitted Hybels had "entered into areas of sin." All told, 10 women have accused Willow Creek's founder of misconduct. He has consistently denied many of the allegations.
Church leaders eventually apologized for their actions. Larson told Willow members in an email this week that a group of outside Christian leaders would lead a third-party investigation into Hybels's conduct.
But that announcement and the apologies appear to have come too late.
When they'd been announced as Hybels's successors last year, Carter and Larson expected the transition to be rough.
"We're going to fight through the funk of succession," Larson told the congregation last October. "We know it's hard."
Hybels spent four decades as Willow Creek's pastor. His successors lasted less than four months.
Tom DeVries, president and CEO of the Willow Creek Association (WCA), also issued an apology on Wednesday. He sent an email to host sites of the GLS addressing the behavior of a sales representative for the WCA. That representative had "made disparaging comments" about the women who have accused Hybels of misconduct.
"For that I am very sorry," DeVries wrote. "Though I have already communicated this to each of the following named women privately, on behalf of our team, I publicly apologize for the pain this has caused these courageous women who have come forward—including Vonda Dyer, Nancy Beach, Nancy Ortberg, Leanne Mellado, and others."
Scot McKnight, author, blogger and professor of New Testament at Northern Seminary, wrote earlier this week that the leaders of Willow Creek needed to step aside.
"Their time is up," he wrote. "What I mean is that those who created and sustained and continued that narrative—a narrative that both denied the truth of the women's stories and the pastor's sexual inappropriateness—forfeited their ability to lead Willow Creek Community Church and Willow Creek Association."
"My heart breaks for Pat Baranowski and all victims of Bill Hybels at Willow Creek," tweeted author Lee Strobel in response. "I never saw any hint of misconduct when I was there. Still, I know these women and they are Godly and credible. I believe them and weep for them. Scot McKnight is right."
Steve Gillen, lead pastor of Willow Creek's North Shore campus, will take over as interim pastor. The process of replacing elders will begin immediately. The church still plans to go ahead with an independent investigation.
Earlier on Wednesday morning, Beach, a former teaching pastor at Willow Creek who accused Hybels of misconduct, wrote that she still remained hopeful—despite the turmoil at the church.
"I have hope because throughout Scripture we read that our God responds to the prayers of broken, humble people," she wrote on her blog. "That when even the smallest remnant of his followers lament their sin and seek the truth, He will usher in healing."
The outgoing Willow elders expressed a similar sentiment.
"We want to be the kind of church God is calling us to be," said Rasmussen. "A church that learns lessons, grows through healing … and demonstrates the love of Christ."
"We believe that God is still building his church."