Not an Act of God: Ministries Respond to Surge in Mass Shootings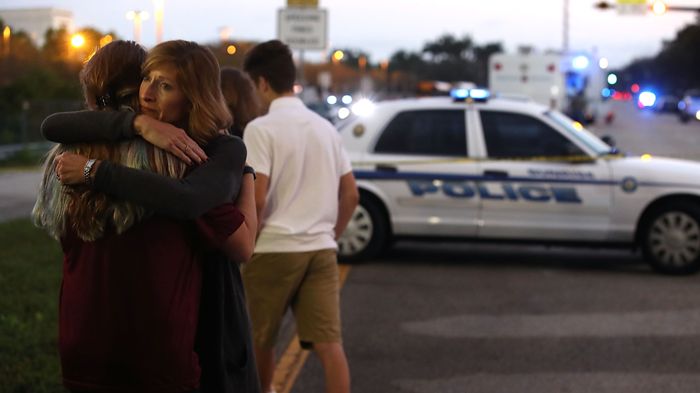 Image: Mark Wilson / Getty Images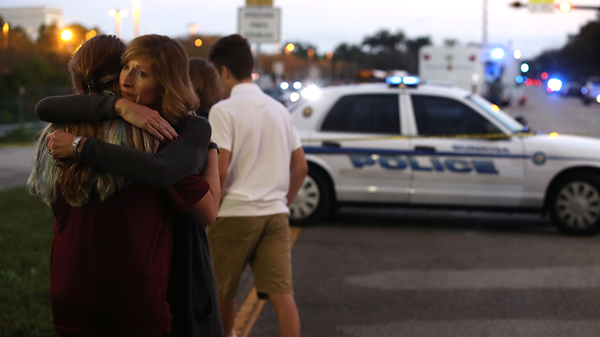 Not an Act of God: Ministries Respond to Surge in Mass Shootings
Chaplains from the Billy Graham Evangelistic Association (BGEA) arrived in Parkland, Florida, within hours of Wednesday's school shooting that killed at least 17 teens and faculty members.
This is the fifth deployment this year for the ministry's rapid response team, trained to provide emotional and spiritual support amid crises.
Each 2018 deployment has been gun-related.
"Our hearts break for the parents who sent their children to school, and are now with them in the hospital, or living a parent's worst nightmare," said Jack Munday, international director of the Billy Graham Rapid Response Team, in a statement.
"So many lives have been forever changed by this evil act. As we pray for the students, faculty, and families, we know God can bring hope and comfort, in Jesus Christ, in the darkest hours."
At times of tragedy, Christian churches and ministries rally to remind survivors of a God who the Psalms tell us "heals the brokenhearted and binds up their wounds."
For decades, they have been among the first on the scene to care for people in the wake of hurricanes, tornados, fires, and other uncontrollable natural disasters. In recent years, ministries increasingly find themselves consoling victims of manmade violence: shootings and terrorist attacks.
BGEA president and CEO Franklin Graham first formed the rapid response team in the wake of 9/11, and its chaplains have since responded to hundreds of crisis events, including last year's major shootings in Las Vegas and Sutherland Springs, Texas.
Of the 26 shootings that BGEA chaplains have responded to in the US, more than half have taken place since 2014—including the 5 so far this year. Gun violence now makes up about a tenth of the incidents the rapid response team has addressed in America over its history.
Last month, the BGEA sent 14 chaplains to Benton, Kentucky, where they set up outside a barbeque restaurant to hear from and pray with families impacted by a January 23 shooting that killed two high school students. The ministry currently has two teams deployed to respond to recent police shootings.
In many cases, BGEA chaplains partner with local churches to reach out to community members and ensure they have ongoing support even after the team leaves.
Parkridge Church, which met for seven years at the high school where yesterday's Parkland shooting took place, has teamed up with fellow churches in the community to host a vigil today.
"I'm praying that our churches, our church specifically, and other Bible-believing churches in our area, that we will point people to Jesus," pastor Eddie Bevill said in an interview with CT blogger Ed Stetzer.
"He's the only hope we have. He's the only thing that provides a future. He's the only one who can bring peace where there is nothing but lostness and struggle and anger and fury and confusion … We just want to see Christ in the forefront of all of this."
The Humanitarian Disaster Institute (HDI) at Wheaton College reflects the new scope of disaster ministry, which now includes responding to mass shootings alongside the more traditional relief efforts that surround natural disasters.
HDI researchers have found that such forms of religious support help victims of mass shootings in similar ways as they have been shown to help victims of natural disasters. Recent studies indicate that people connected to churches and religious communities fare better in their recovery.
Several Baptist churches in the Parkland area have been involved in the initial wave of grief and outreach to the victims of the Marjory Stoneman Douglas High School shooting, particularly those with students in their congregations who attend the school.
Less than 10 minutes away, Church by the Glades lost one member of their church and another was injured, the Baptist Press reported. The church's lead pastor, David Hughes, raised the question: "Do we let fear and cruelty, violence and hatred win, or do we continue to fight against the darkness and continue to bring the message of hope and light that comes through Jesus Christ?"
With every shooting, Americans become more vocal in their heartbreak and outrage, demanding more from people of faith than blanket statements about "thoughts and prayers" with whatever city suffered the latest incident. Questions inevitably arise over "where was God during the tragedy?"
"People will be turning to Christian leaders for guidance in the aftermath of the senseless violence that happened yesterday," said Jamie Aten, HDI founder and executive director.
"One of the biggest challenges pastors will face is the pressure to explain why someone would do something like this. Yet, no answer will take away the pain and heartache," he said. "What will be most helpful to those struggling is to meet them in their suffering by creating space for lament, providing comfort, encouraging community, and reminding others of the hope we have in Christ."
Such efforts have been shown to reduce the severity or longevity of trauma following a mass shooting.
Even Christian leaders far from Parkland are grasping for an adequate way to address the latest attack, which happened to take place on Valentine's Day and on Ash Wednesday, the first day of Lent.
"My heart, thoughts, and prayers are for and with the families and friends of shooting victims in Parkland, Florida," tweeted Johnathan Alvarado, a Pentecostal pastor in Atlanta. "This tragedy on Ash Wednesday reminds us of how marred and diseased we are by sin. I'm still wearing ashes on my head and heart."

02/15/2018