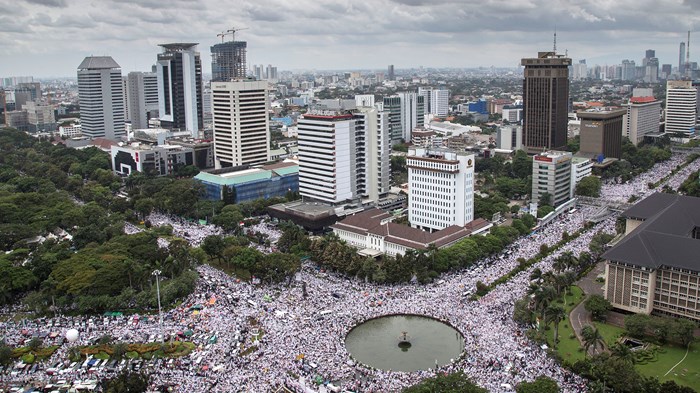 Image: Donal Husni / NurPhoto / Getty Images
A month after Anies Baswedan became Jakarta's new governor in October 2017, he took part in an Islamist rally at the National Monument, a tower that stands as a symbol of Indonesia's independence. Just weeks later, the governor invited the archipelago's Christians to celebrate Christmas there.
The move was likely an attempt to soothe emotions rubbed raw by the bitter division of the Jakarta campaign: Baswedan was backed by Islamist hard-liners who charged his Christian rival, incumbent Basuki Purnama (popularly known as Ahok), with blasphemy for referencing the Qur'an. The charges cost the popular Ahok the campaign, and later earned him two years in jail.
Having received just 58 percent of the vote, Baswedan began attempts to reach out to Ahok's many supporters at his inauguration, saying that "Indonesia is not based on only one religion" and "unity should also be celebrated in Jakarta."
But Jakarta's Christians turned down his offer of using the special location for an outdoor Christmas celebration.
"We appreciated the positive initiative; however, we need to consider that not every religion celebrates their religious holidays openly," the chair of the Jakarta chapter of the Indonesian Communion of Churches said during a press conference. "We decided to celebrate Christmas at an indoor venue instead of at the Monas [National Monument] because we didn't want to cause a disruption at the monument, which is a neutral venue."
So Baswedan moved the Christmas celebration to an indoor venue on January 5, about two months after Indonesian Christians welcomed a far more substantial victory.
In November, Indonesia's top court threw out the requirement that citizens must choose one of six faiths for their national identification cards.
"Most Protestants are in favor of the decision, because they sympathize with the plight of indigenous people," said Paul Marshall, senior fellow at the Hudson Institute's Center for Religious Freedom. (He analyzed the ruling for Providence journal.) "They support religious freedom in itself, and think that increases in religious freedom will help Protestants."
The rules—dictating that each Indonesian identify with Islam, Protestantism, Catholicism, Buddhism, Hinduism, or Confucianism—were established in 2006.
Leaving the space blank was an option, but not a safe one. Atheists can be convicted under Indonesia's blasphemy law, and punished with up to five years in jail. In addition, those with a blank religion space have reported trouble with tasks requiring ID, such as signing children up for school or applying for jobs. Some chose not to apply for an identity card at all, but then couldn't complete basic legal functions such as getting married or purchasing land.
The Constitutional Court voted 9–0 to reverse the regulations, saying they violated Indonesia's 1945 constitution, which simultaneously declares the country "based upon the belief in the One and Only God" and "guarantees all persons the freedom of worship each according to his/her own religion and belief."
The court offered a catchall alternative label—Believers of the Faith—to cover those who follow a traditional indigenous religion. Estimates of those following such religions range from 750,000 to 20 million, Marshall wrote.
"The major test will be whether the government will extend the court's ruling to the groups that suffer most from Indonesia's religious restrictions," he wrote. "These are the aliran sesat, beliefs that are held to be deviant and heretical versions of legally recognized religions."
The groups most often seen as deviant are Ahmadiyya or Shia, both versions of Islam. But they could technically also include Jehovah's Witnesses or Mormons as "deviations" from Christianity.
Even if Jehovah's Witnesses or Mormons gain more space as a result of this ruling, it's unlikely to affect traditional Protestants, at least in the short term, Marshall told CT.
"Perhaps there will be fewer indigenous people going to Christian schools, or registering as Christian," but there will be "no major effect," he said.
Even that depends on the level of enforcement of the top court's ruling.
"Previously, local governments have simply ignored [high court] decisions—such as the case of the Yasmin church in Bogor," he said. In 2003, the church in a majority-Muslim area got legal permission and built a church. But after angry protests from local Muslims, the mayor closed the doors. The church argued its case up to the Supreme Court, which gave it permission to reopen in 2010. But the mayor has ignored the order, and the doors are still closed.
"The national government has done nothing to enforce the [Yasmin] order," Marshall said. "This is less likely in this [religious ID] case, which is national in scope. But there may be forces which hinder its implementation."
Enforcement seems likely. Indonesia's House of Representatives has already said it will make the revisions.
If they—and other government officials—follow through, "it will increase religious freedom, and Christians do well with religious freedom," Marshall added. "In particular, it may undercut current restrictions on opening new centers of worship—which would be good for all, but especially Christians."
Indonesia is nearly 90 percent Muslim, and has a heritage of tolerance; its two largest Islamic organizations have had no objection to the ID card change. (Though the country's top Islamic clerical body complained that putting Islam on the same level as indiginous religions "hurts the feelings" of Muslims.)
But the ruling came just weeks after several top politicians warned against "identity politics" ahead of local elections next year and a presidential election in 2019.
Ahok's imprisonment hasn't cooled the archipelago's radical Islamist elements—almost a quarter of high school and college students recently said they would fight to establish an Islamic caliphate in Indonesia.
But the secular government isn't going quietly. Two weeks before the court's ruling on native religions, Parliament voted 314–131 to ban organized groups that threaten the government. The first on the chopping block was Hizbut Tahir Indonesia, which agitates for shari'ah law and the adoption of a caliphate. The group was also instrumental in bringing down Ahok, who is a close friend and political ally of President Joko Widodo.
"It is very important to emphasize that Indonesian governments are not unified," Marshall told CT, "but have many competing factions."
CT followed Ahok's blasphemy accusation, election loss, and imprisonment—but also explained why Christians should still have hope for Indonesia.