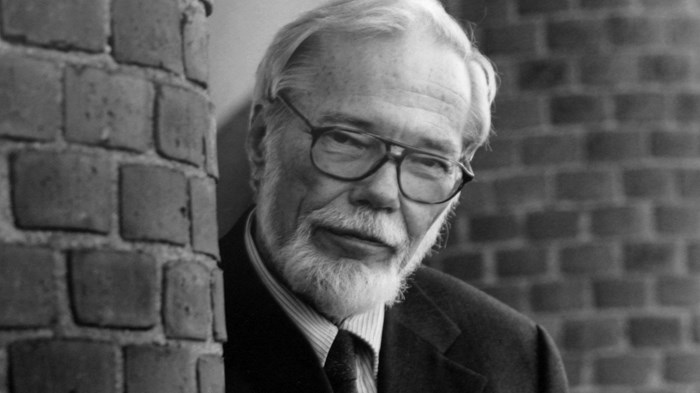 Image: Gabe Cooney / Courtesy of Yale Divinity School
Ecumenical theologian George Lindbeck, who helped define the postliberalism movement that transformed 21st-century Protestantism, died earlier this month at age 94.
A Lutheran scholar who spent more than half his life on faculty at Yale Divinity School, Lindbeck passed away on January 8 in a Florida hospice. He spent his final years in assisted living after suffering a brain aneurism in 2009.
Lindbeck's influential 1984 book, The Nature of Doctrine: Religion and Theology in a Postliberal Age, established a theology that rejected modern liberal Protestant thinking that defined religious truth by common personal experiences, and instead proposed a "cultural-linguistic" approach that saw the creeds and practices of faith communities as the basis for religious understanding.
"Whatever else postliberalism is, it was meant to be an apologetic help to be a credal or mere Christian in our age," wrote George Sumner, bishop of the Episcopal Diocese of Dallas. "That is what George was and what he wanted to promote. Furthermore, it was a deeply missionary-influenced theory."
Raised in China and Korea as the son of Lutheran missionaries, Lindbeck grew up to become what Sumner called a "missionary to postmodernity."
Lindbeck's theology, focused on belief and worldview formation over rational argumentation or emotional experience, grew popular among evangelicals, as did work by his colleague and fellow postliberal theologian Hans Frei.
"If the sort of research program represented by postliberalism has a real future as a communal enterprise of the church, it's more likely to be carried on by evangelicals than anyone else," Lindbeck told a crowd of evangelical theologians at Wheaton College in 1995.
He is also remembered for his robust involvement in ecumenical efforts, including his role as a delegated observer at the Second Vatican Council.
"He was able to cross what were for some scholars (and Christian believers) too high barriers in thought and action," said Margaret Farley, a Catholic colleague at Yale, in The Christian Century. "A very gentle person, and a searcher of truth, he respected and even reverenced the faith and hope in all of the major Christian traditions."
Lindbeck's postliberal theology approached ecumenical dialogue as an effort to learn the "cultural-linguistic" distinctives around each tradition, protecting the integrity of differing religious viewpoints and allowing those traditions to speak for themselves rather than assuming personal experience or objective observable truth as common ground for belief.
A graduate of Gustavus Adolphus College and Yale Divinity School, the late theologian studied the medieval church and wrote his dissertation on the great philosopher-theologian John Duns Scotus. He studied and taught at Yale for his entire career as a professor, from 1943 to 1993.
He is survived by his wife Violette and daughter Kristen, who described his quiet passing as "as good as death can be."
"I wish for every person who reads this that their loved ones, and they when it is time, will fall into death peacefully in old age, with good nursing care and loved ones by them," she wrote. "This is the best exit we can hope for, and denied to so many by circumstance, or worse, by human sin."