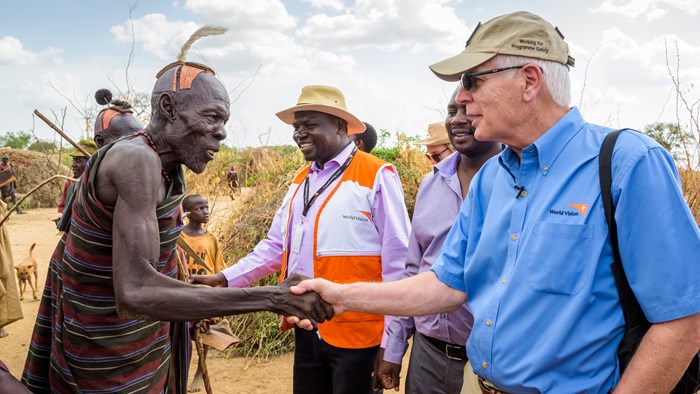 Image: Courtesy of World Vision
After two decades as president of one of America's largest charities, Richard Stearns has announced his plans to retire from World Vision at the end of 2018.
"I feel privileged to have had this opportunity to serve with some of the most amazing faith heroes on the planet—my colleagues all across the world," tweeted Stearns, who has led the prominent Christian relief organization since 1998. "Thank you Lord!"
World Vision has launched a national search to select its new CEO, and Stearns will continue at the helm until the organization has brought in his successor, according to a statement.
"Rich Stearns put compassion over career, leaving business leadership to serve the poor and vulnerable," Leith Anderson, president of the National Association of Evangelicals, told CT. "His Christian faith has been strong and practical from the board room to backwaters of the world. Truly a man of world vision."
During Stearns's time as CEO, World Vision's annual revenue grew to more than $1 billion, and the ministry reports that it is on track to serve more than 30 million children by 2022. During his tenure, World Vision has responded to global poverty, human trafficking, the refugee crisis, water sanitation, famine, and dozens of natural disasters.
"Rich was a pioneer. He helped World Vision evolve in both growth and scale without losing its values and focus," said former World Relief president Stephan Bauman. "They really stayed anchored in the gospel."
"When World Vision speaks, people listen," he said, adding that this sentiment "only increased during Stearns's time there."
Prior to World Vision, Stearns had little experience in the humanitarian or parachurch world. Instead, he spent 23 years in corporate leadership, serving as the CEO of Parker Brothers Games (maker of Monopoly) and Lenox (the fine china and crystal company).
Stearns acknowledged that he felt unqualified to accept the position back in 1998.
"I said, 'You're looking for somebody who's part CEO, part Mother Teresa, and part Indiana Jones. I don't think that's me,'" said Stearns on CT's podcast The Calling last year. "But it was almost as if God was saying, 'I got this. You were obedient. I'm going to work this. Watch and see what I'm going to do with your obedience.'"
His tenure was not controversy-free. In 2014, Stearns announced that World Vision would hire gay Christians in same-sex marriages. Within 48 hours, the organization reversed its decision after intense criticism from conservative evangelicals.
"Rather than creating more unity [among Christians], we created more division, and that was not the intent," Stearns told CT at the time. "Our board acknowledged that the policy change we made was a mistake … and we believe that [World Vision supporters] helped us to see that with more clarity … and we're asking you to forgive us for that mistake."
In recent years, largely through his book The Hole in Our Gospel, Stearns urged the American church to greater action. He also spoke out about the AIDS crisis and, in more recent years, the Syrian refugee crisis.
"People often see organizations like World Vision and World Relief as competitors in the same field, but I've always thought we were different players on the same team, with different but complementary strengths, striving towards the common goal of assisting the poor while challenging the church to be and do better," said Jenny Yang, World Relief's vice president of advocacy and policy. "World Vision's work and voice under Richard's leadership created room for us all to be better and do more for the Kingdom."
Compassion International president and CEO Santiago "Jimmy" Mellado called Stearns a "key leader in awakening the church to love and care for those suffering from the HIV and AIDS pandemic, multiple refugee crisis, and relief and recovery from countless disasters."
"Rich leaves an immense leadership legacy of kingdom service that will surely be felt for generations to come and into eternity," Mellado told CT.
Last year, Stearns was a guest on CT's news podcast, Quick to Listen, and wrote for CT about why Christians should stop caring about so many causes as well as why churches should remember that churches and relief organizations don't share the same call.
CT accompanied Stearns to South Sudan in 2015 to see why World Vision still had hope for the world's most fragile state. In 2013, CT reviewed his book Unfinished.