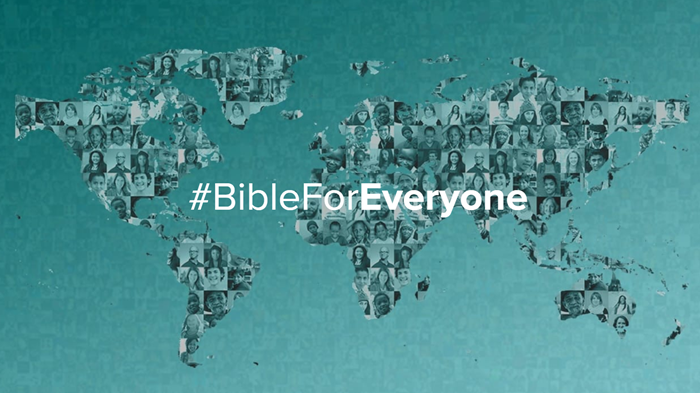 Nine years ago, YouVersion's Bible app was one of the first 200 free apps in the brand-new Apple App Store. Within seven years, it had been downloaded 200 million times. In 2017, the Bible app reached 300 million installs.
"We believe the Bible is an enduring source of courage and strength," stated Life.Church innovation pastor and YouVersion Bible app founder Bobby Gruenewald. "We are encouraged to see from this year's data that people all over the world are finding hope in God's Word."
The app offered 1,656 versions of the Bible in 1,186 languages in 2017, up from 1,200 in 2015. Working with about 10 major Bible translation agencies—including Wycliffe Bible Translators, Pioneer Bible Translators, and the United Bible Societies—YouVersion is part of a movement to translate the Bible into 99.9 percent of the world's languages by 2033.
That collaboration among Bible translation agencies, led by major donors, has inspired givers and revolutionized the industry.
"We are at a pivotal point in history," Gruenewald stated. "In recent years, technology has made it possible to accelerate Bible translation like never before. There's incredible momentum around this effort that we know won't stop until every person has Scripture available in their heart language."
The Bible app has been downloaded in every country, growing the most last year in Angola (up 733%), Mozambique (243%), Slovakia (235%), and India (228%). Downloads accelerated just as fast in areas that are friendly to Christianity (131% in Brazil) as those that are more hostile (155% in Iraq).
Last year, Bible app users shared verses 222 million times and highlighted, bookmarked, or noted them 1.4 billion times. In other words, every second an average of 10.8 verses were shared, 42.3 were highlighted, and 2.8 were bookmarked.
The world's favorite verse this year—measured by how often it was highlighted, shared, and bookmarked—was Joshua 1:9: "Have I not commanded you? Be strong and courageous. Do not be afraid; do not be discouraged, for the Lord your God will be with you wherever you go."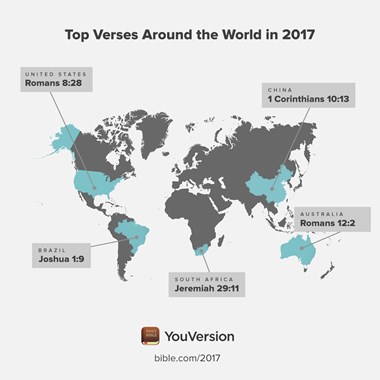 Image: Courtesy of YouVersion
Fourteen of 35 countries featured by YouVersion preferred Joshua 1:9, including Chile, Egypt, and the Netherlands. Jeremiah 29:11 ("For I know the plans I have for you …") was the most popular in 10 countries, including Canada, Indonesia, and the United Kingdom.
John 3:16 ("For God so loved the world …") was the most highlighted, shared, and bookmarked in Cambodia, Thailand, and Vietnam. Romans 8:28 ("And we know that in all things God works for the good of those who love him ...") topped the list in the United States, Romania, Russia, and Taiwan.
And Romans 12:2 ("Do not conform to the pattern of this world …") was the verse most engaged with in New Zealand.
"When people install the Bible app, it's usually because they want to read the Bible more, so we spend a lot of time thinking about how to help make it easier for them to do what they want to do," stated Gruenewald, noting the addition of new features that let users see how many days they've read the Bible in a row, connect with friends over a Bible plan, and search by topic, emotion, or Bible story.
"We're thrilled that our Bible engagement numbers are continually increasing because it tells us that we're helping people reach their goals."
Last year's success follows a record-setting 2016, when the most popular verse was Romans 8:28. The year before, users completed more than 20 million Bible-reading plans on the app.