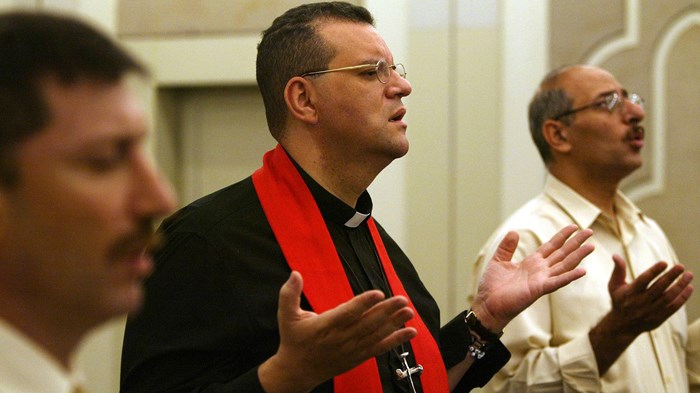 Image: Muhannad Fala'ah / Getty Images
Andrew White, best known as the former vicar of Baghdad, Iraq, has been cleared of criminal charges for allegedly paying Islamic State terrorists to redeem Yazidi sex slaves.
"For one year I have been under police investigation in response to a serious incident report submitted by FRRME to the Charity Commission indicating that I had paid money to ISIS terrorists in order to redeem sex slaves," said White, 54, who pastored Baghdad's St. George's Anglican church until leaving in 2014 after ISIS offered a $57 million bounty for him. "This information was not true and finally, this month the case was officially dropped and I have been cleared from any further police investigation."
Starting in 2014, ISIS terrorists overran the Yazidi enclave on Mount Sinjar in Iraqi Kurdistan. They abducted thousands of women and girls from this pre-Islamic religious minority and sold many as sex slaves. This action caused a handful of human rights activists independently to attempt buy-back redemptions of slaves. But anyone who channeled money to terrorists could be subject to criminal prosecution.
In June 2016, the UK Charity Commission began an inquiry after White's charity, FRRME (the Foundation for Relief and Reconciliation in the Middle East) published a statement on its website suspending White and raising questions about "an alleged incident." On Facebook, White wrote that this incident involved his actions to secure the release of sex slaves. "We never gave the bad guys one penny," White said.
But by the end of 2016, White was gone from FRRME, although he and the ministry gave different explanations. FRRME said his departure was due to ill health due to White's multiple sclerosis. White wrote on his Facebook page that his suspension was "in response to some inaccurate statements I made about our work with and funding for the former slave girls taken by ISIS."
Later, London's Metropolitan Police began its own investigation. White's June 5 press release indicated that he recently received a phone call from police clearing him of criminal wrongdoing. The charity commission inquiry is ongoing.
"You would think that releasing sex slaves from ISIS was a good thing. But [the police] were convinced that I could only have done it by paying for them," he told UK news media. White helped secure the release of six or seven women through his network of Sunni Arabs in the region. After leaving FRRME, White created Jerusalem MERIT, an organization to support his outreach in the Middle East and based in Jordan. Yet, it is not registered to receive tax-deductible donations.
White's case illuminates the hazards of mission work in war zones and other high-risk areas where payoffs, kickbacks, corruption, fraud, and bribes are part of the reality of doing ministry.
Also in 2016, Israel charged a member of the World Vision staff, responsible for ministry in Gaza, of funneling $43 million to Hamas militants. The staffer, Mohammad El Halabi, pleaded not guilty to the charges. World Vision suspended its work in Gaza after his arrest. The group's Australia affiliate said in 2017 its own inquiry found no evidence that Halabi transferred funds to Hamas.
In an exclusive June 8 statement, World Vision told CT: "Mohammad El Halabi's case remains before the courts. He has personally taken the stand in his own defense and further witnesses will be heard later in June and in September. Throughout this process, we have not seen substantive evidence in support of the charges."
There have been a handful of successful prosecutions of fraud and money laundering on behalf of terrorist groups. In 2008, the FBI successfully prosecuted a fraudulent Muslim charity, the Holy Land Foundation for Relief and Development. The charity and five leaders were convicted of funneling $12 million to Hamas in Gaza. At one time, the Foundation was one of the largest Muslim charities in the US.
CT interviewed Andrew White in 2014 on being Jesus in the kill zone. That year, CT also highlighted four views on whether Christian workers should pay bribes overseas.