World Refugee Day 2018: 'Welcoming the Stranger' Meets 'Zero Tolerance'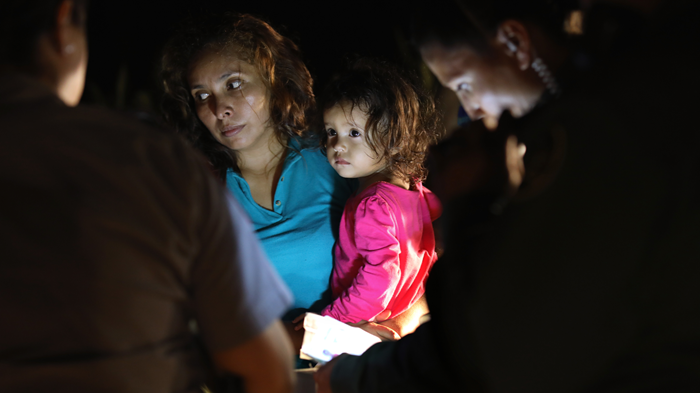 Image: John Moore / Getty Images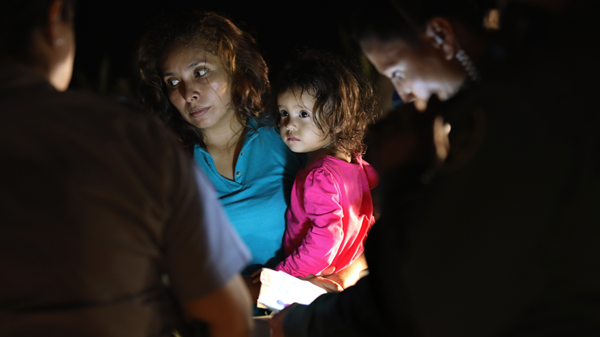 World Refugee Day 2018: 'Welcoming the Stranger' Meets 'Zero ...
While the United States continues its "zero tolerance" crackdown on asylum seekers crossing the border, churches across the country and around the world are rallying to support millions displaced by the global refugee crisis.
This week, the Trump administration pulled protections for undocumented migrants fleeing domestic violence and gang violence, a population that includes Central American Christians who come to the US because they fear for their lives as unrest worsens in places like El Salvador, Guatemala, and Honduras.
Just as the government implements another new policy—the Justice Department's recent decision to put children into government custody or foster care away from their detained parents—Christians are crying to God: Abba Father, we lift to you the precious refugee children who have become separated from their parents and family. Father God, please keep them safe and protect them from any kind of abuse. Help the children to be quickly reunited with their parents and family.
That prayer comes from the World Evangelical Alliance (WEA)'s World Refugee Sunday resources, to be used in participating churches this weekend and next weekend, timed around the United Nations' annual World Refugee Day on June 20.
With over 65 million people forcibly displaced by conflict, violence, and persecution around the globe, WEA and partnering ministries encourage Christians to raise awareness, raise prayers, and themselves welcome the stranger.
In the US, evangelicals rallying for immigration reform—who have long called on the government to prioritize family unity and protections for persecuted Christians—have likewise become more vocal in their advocacy.
Among those directly impacted by the new US policies are Christians leaving Latin American countries where organized crime outlets target them for their moral stances against violence and greed, and in some cases, the risk of violence has kept believers from feeling safe enough to gather for worship. According to one account, a Brazilian mother who fled gang threats in Brazil arrived in El Paso last week, only to have her seven-year-old taken from her, asking, "Are they going to kill you?"
During this week's Southern Baptist Convention (SBC) annual meeting, the country's largest Protestant denomination adopted a resolution reiterating its commitment to refugee ministry and welcoming migrants.
It stated in part, "We continue to 'encourage Southern Baptist churches and families to welcome and adopt refugees into their churches and homes as a means to demonstrate to the nations that our God longs for every tribe, tongue, and nation to be welcomed at his throne,'" quoting text from a 2016 resolution on the issue.
"I think God is bringing the nations, particularly as immigrants and refugees, to the US to give us an opportunity not just to go to them with the gospel, but so that they could come to us and experience the gospel," said Micah Fries, who attended the Dallas gathering as pastor of Brainerd Baptist Church in Chattanooga, Tennessee. "My fear is, as followers of Jesus, we're missing this opportunity. We're allowing political conversations, political parties, to derail a Great Commission opportunity."
Critics saw a contrast between adopting resolutions on Tuesday that affirmed the need for immigration reform (including tightening border security, offering immigrants a pathway to legal status, and ensuring families are kept together whenever possible) and on Wednesday welcoming Vice President Mike Pence, a top figure in the administration that has enacted the more restrictive policy shifts.
For Christians, the issue of family unity for immigrants shows signs of transcending partisan lines. Franklin Graham, an evangelical adviser to President Trump, recently spoke against family separation on CBN News, encouraging legislative reform to remedy the new guidelines for migrants at the border.
"I think it's disgraceful, it's terrible to see families ripped apart, and I don't support that one bit," he said. "I blame the politicians for the last 20, 30 years that have allowed this to escalate to the point where it is today. We are a country of laws, and laws need to be obeyed… but the situation we have today is the result of our lawmakers over generations, and I'm hopeful that soon something could be done to fix it."
The pushback from Christians was enough for Attorney General Jeff Sessions to "concerns raised by our church friends" in remarks on Thursday, using Romans 13 to defend obedience to national laws and reminding Christians that asylum seekers who come through ports of entry are able to stay with their families.
"I have given the idea of immigration much thought and have considered the arguments of our church leaders. I do not believe Scripture or church history or reason condemns a secular nation state for having reasonable immigration laws," he said. "If we have them, then they should be enforced."
Despite the major evangelical voices who have backed US policies welcoming asylum seekers—from SBC agency heads to the leaders of the National Association of Evangelicals (NAE), the National Hispanic Christian Leadership Conference, and the Council for Christian Colleges and Universities—the average white evangelical Protestant isn't eager to see the country open up to more refugees.
White evangelicals are less likely than other religious groups to believe the US has a responsibility to welcome refugees, according to a Pew Research Center survey released last month. Just 25 percent say it does, compared to 43 percent of white mainline Protestants, 50 percent of Catholics, and 63 percent of black Protestants (most of whom identify as evangelical).
"No matter how much we may disagree on matters of policy … we do agree on the clear biblical teaching that every man, woman, and child is made in the image of God," said Matthew Hall, dean of Boyce College at Southern Baptist Theological Seminary, following the SBC vote. "We have a unique role to play in welcoming them into our communities and showing them the love of Christ."
As of 2016, over half (53%) of top evangelical leaders surveyed by the NAE—including CEOs of denominations and representatives from missions, universities, publishers, and churches—said they attend congregations with ministries designed to serve immigrant or refugee populations.
More than 1,800 US congregations partner with World Relief, a refugee resettlement agency and the humanitarian arm of the NAE, which added 250 churches to its network in the past year alone.
Leading up to Wednesday's World Refugee Day, the organization launched a crowdfunding platform for Christians to raise money to cover ESL classes, job training, legal services, and basic household items for some of the estimated 20,000 refugees expected to enter the US in 2018. (Last year, the administration's refugee ban and drop in admittances forced World Relief to close multiple offices and downsize.)
Several churches and denominations have also released resources and messaging around this year's World Refugee Sunday efforts, including the Episcopal Church's Bishop Michael Curry, who told members of his church:
It's because we are followers of Jesus, because we follow the way of love, because we follow the way of compassion, because we follow the way of human decency and kindness that we as a church and as individual Christians and Episcopalians must be passionately committed to helping the refugees and displaced people of this world.
Earlier this year, a CT op-ed championed pro-family immigration policy, saying, "Most Christians instinctively feel the wrongness of any immigration policy that forcibly separates children and parents. But immigration approaches that reduce God's image-bearers to mere economic units should also concern us."
CT has also followed the recent plight of refugees in Bangladesh, Israel, and Western Europe.

06/14/2018