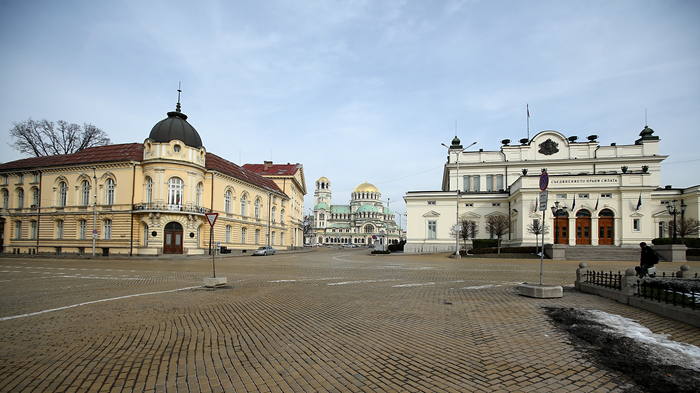 Image: Jan Kruger / Getty Images
Following an outcry from evangelicals and other faith groups, Bulgaria opted to revise a controversial proposal to restrict religious activity before putting it up for another parliamentary vote.
The initial draft amendments to its Religious Denomination Act would have kept members of minority faiths, like Protestants, from operating seminaries, holding activities outside church, and obtaining legal status. It also regulated foreign missionaries and funding. (See CT's initial reporting below.)
The revised version adjusts the formula for state subsidies so that groups beyond the Bulgarian Orthodox and Muslims—which together comprise 95 percent of the population—are eligible, the Sofia Globereported. The adjustments follow a round of feedback from religious groups and discussion between two political parties in the legislature, after a November 16 deadline.
The updated law also would allow greater freedom to foreign missionaries than the first proposal; they could preach in the country as short-term residents or as visitors coming with advance notification. The new amendment also does away with a ban on anonymous donations by foreign groups.
As of Tuesday, the parliament had not yet voted on the restrictions, according to the Baptist Standard. Teodor Oprenov, a Sofia pastor and leader in the Baptist Union of Bulgaria, told the site that evangelicals expected "some softening" after the meetings.
Thousands of Christians have been gathering before the parliament building each Sunday to protest and pray against the restrictions. They plan to continue rallying this Sunday, November 25, Oprenov said.
-----
Original post (November 16): A controversial new law before the Bulgarian Parliament would keep Protestants and other minority faiths from freely worshiping, teaching, evangelizing, and tithing in the southeastern European nation.
Today's vote marks the legislature's second hearing for amendments to Bulgaria's religious denominations act, which were initially approved October 4.
Over the past month, leaders from all faith groups in the former communist country have condemned the proposed additions, which prevent minority religions from offering clergy training, restrict worship services to designated sites, and place new regulations on international missionaries and giving.
"Should the law pass, existing theological seminaries are at risk of shutting down, evangelical church pastors may no longer be able to conduct worship services, and the acceptance and use of donations will be subject to government approval and limitations," stated the World Evangelical Alliance, which has joined with the Bulgarian Evangelical Alliance to oppose the legislation.
About 2,000 Christians gathered at the Bulgarian capital, Sofia, on Sunday to pray and protest against the proposed amendments, The Baptist Standard reported, and they have continued smaller demonstrations in hopes that the law will be rejected.
Evangelical Protestants make up less than 1 percent of the population in Bulgaria, where about 85 percent of citizens consider themselves Eastern Orthodox and about 10 percent are Muslim. Because of their small size, Protestants—along with Catholics, Jews, and others—fail to meet the threshold for certain government recognition under the draft law, which legislators say is meant to protect against foreign threats but religious groups see as a threat to their own religious freedom.
Christian churches across the country—including the United Methodist Church, Bulgarian Baptist Union, Bulgarian Evangelical Alliance, Catholic Church in Bulgaria, and National Alliance United Churches of God—each released statements against the proposal, reported Vlady Raichinov, an evangelical leader and pastor in Sofia.
The European magazine Evangelical Focus summarizes the biggest concerns with the amendments:
Only Bulgarian citizens will be able to carry out liturgical activity if they have had theological training in Bulgaria or their foreign school is approved.
Only Eastern Orthodox and Muslim believers will be able to train clergy and run schools.
A foreigner will only be able to preach if doing so with a Bulgarian ordained minister.
Foreign donations will only be allowed for building construction or social aid and will need government approval. No salaries of pastors, for example, could be paid from abroad.
No religious activities can take place outside of buildings designated for them.
Only religious groups with +300 people will have legal status.
Two years ago, Russia adopted similar restrictions on missionary activity and evangelism, also citing national security concerns. The 2016 "Yarovaya law" bars the non-Orthodox from sharing their faith outside of government-recognized church buildings.
Though only about 60,000 Protestants live in Bulgaria, according to 2011 census figures, the population has received vocal support from evangelical leaders in Europe and beyond.
European Baptist Federation general secretary Anthony Peck and Baptist World Alliance general secretary Elijah M. Brown wrote Bulgarian Prime Minister Boyokov Borissov with concerns that "… the implementation of this law could lead to unintended restrictions on religious freedom and the direct persecution of churches and individuals of faith."
"These efforts to interfere with theological education, restrict missionary and worship activity, and control international donations in fact wrongly extends government power into the internal life of Bulgarian religious communities," they said. "No state, we believe, should be in a position to control the training and activities of ecclesiastic ministers, nor should a state favor one faith expression over another."
The proposed law, opponents worry, would represent a step backwards for their country, which was under Communist rule until 1990.
"The legislative proposal is a sad reminder of a bygone Communist past, which we believed would no longer return," Christo Proykov, Catholic bishop of Sofia and president of the Bulgarian Bishops, told SIR.
Bulgarian media report that larger religious groups have likewise condemned the restrictions. Orthodox bishops stated that the amendments are "ambiguous and will fail to deliver the expected results. They must be seriously reconsidered to shun any doubt on the consolidated, positive cooperation between the State and the Church." Major Muslim leaders also met with the prime minister to object to the law, including the provisions against smaller faiths.
Protestants have had to fight for their place in Bulgaria, from being driven underground during Communist rule to fighting back against what Christianity Today called "a swelling wave of religious intolerance that includes government restrictions, vitriolic media attacks, and even violent assaults" in the 1990s.
A year before the 2002 religious denominations act was adopted in Bulgaria, Sofia-based religious liberty lawyer Viktor Kostov wrote for CT about the struggle to grow a healthy church in a country "stuck in a wounded culture" and "haunted by totalitarianism."