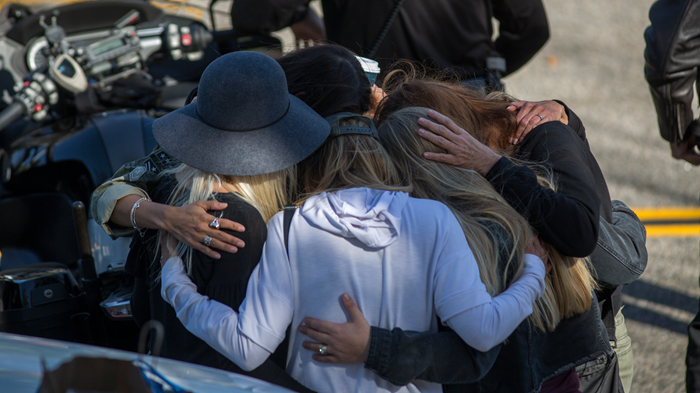 Image: David McNew / Getty
Two California Christian colleges are mourning losses after a deadly shooting at a country and western dance hall last night.
A Pepperdine University freshman and a recent alumnus of California Lutheran University were among the 11 people killed as a shooter launched smoke bombs and fired bullets across the crowd at an 18-and-up college night at Borderline Bar & Grill in Thousand Oaks, California.
A sheriff's sergeant and the gunman, identified as 29-year-old David Ian Long, also died in the shootout. At least 18 others were injured.
School officials said that 16 Pepperdine students, including from Seaver College and the School of Law, were known to be at Borderline on Wednesday. Among them was 18-year-old Alaina Housley, who didn't make it out of the bar when her friends escaped through a broken window.
On Thursday morning, her uncle—former Fox News correspondent and Pepperdine alumnus Adam Housley—told news media that her iPhone still showed her location as inside Borderline. By the afternoon, her family's worst fears were confirmed. At least two other Pepperdine students were injured in the attack; they were released from the hospital today.
Justin Meek, a graduate from nearby Cal Lutheran, was also killed. The school canceled classes Thursday and Friday.
Christians have tweeted their prayers for both campuses and all the victims.
"Many are burdened by a sense of certain loss for many in the Borderline shooting…," said Pepperdine president Andrew K. Benton. "May God grant comfort to all impacted by this senseless tragedy. Our students are resilient, but the burden is great."
Benton joined fellow campus leaders expressing grief and anger over the shooting at a prayer service at noon.
"We are sad and grieving with the students," assistant chaplain Lauren Begert told the student newspaper, The Pepperdine Graphic. "We feel the fear you feel and the sadness you feel. We want to be as present as possible and sit with you in your sadness. We want to bring it all to God because that's where we put our hope in times like this."
A 2017 Pew Research Center survey found that most Americans do not worry they will be caught in a mass shooting. About 38 percent of white evangelicals are concerned about mass shootings, but only 5 percent say they worry about it "a lot."
"You never think it'll happen to you, until it happens to you and your community," tweeted Pepperdine alumna Nenah Mikuska.
The school has offered pastoral care and counseling to grieving students.
Last year, CT reported on how faith has been shown to help people who make it through a mass shooting incident handle their grief and trauma. Survivors who get support from faith communities show greater resilience to severe tragedy than those without such networks, researchers found.