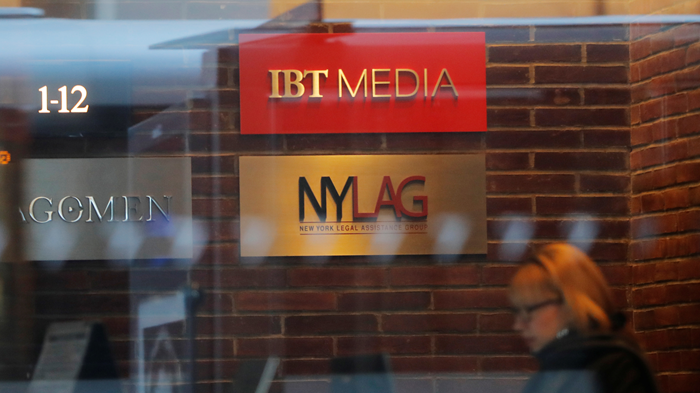 Image: Lucas Jackson / Reuters
The former head of The Christian Post, which calls itself the No. 1 Christian website in the world, was indicted this week in what investigators say was a scheme to obtain millions in loans through false pretenses.
William C. Anderson—who served as the CEO of the Christian Media Corporation (CMC International), whose flagship publication is The Christian Post—and Etienne Uzac—the CEO IBT Media (until recently, the owners of Newsweek)—were arraigned today on charges of fraud, conspiracy, money laundering, and falsifying business documents, following a long-running investigation by the Manhattan district attorney's office.
The indictment alleges that the two companies, which were also indicted, faked financial audits to secure $10 million in loans—with $1.5 million going to CMC International—then used the money to make up for deficits from general operations rather than purchasing the high-performance equipment they told financers they would.
Both executives have denied the charges, noting that all the lenders had been paid back in full. In court today, they pleaded not guilty.
"The notion that my client intended to deceive anyone, much less engage in a money laundering conspiracy, is absurd," Andy Lankler, Anderson's lawyer, told The Wall Street Journal, which broke the news of the indictment. "We will vigorously defend these charges."
Michelle Vu, chief of staff for The Christian Post, said in a statement to CT, "There are no charges against The Christian Post (CP), no allegations of any wrongdoing by CP. CP will continue its work as usual, focusing on bringing fair, accurate and relevant news to its readers."
Anderson, who was at the helm of CMC International and The Christian Post from 2010 through this summer, faces ten counts of wrongdoing, including contempt for failing to submit documents subpoenaed by investigators.
The Christian publisher now lists Andrew Clark as CEO of CMC International and former World Evangelical Alliance (WEA) COO Christopher Chou as CEO of The Christian Post. CMC International issued a statement saying the company "denies the charges brought by the Manhattan DA's office, and "we are hoping for a fair process, and expect CMC will be exonerated."
The Journal reports that the Manhattan DA's probe is ongoing and will look into the relationship between IBT Media and the California Christian college Olivet University, which has raised financial and theological questions for years.
As a Christianity Today investigation dating back to 2012 revealed, IBT Media and Olivet both have ties to controversial Korean pastor David Jang, whom some followers consider the "Second Coming Christ."
Jang's global network founded The Christian Post, Christian Today, and the International Business Times as well as Olivet and, according to sources, continues to exert some influence behind the scenes. IBT Media bought struggling Newsweek magazine in 2013, just months after it (temporarily) ceased publishing print issues due to financial strain.
When Buzzfeed reported last March that The Christian Post and other CMC International sites had participated in an ad fraud scheme just like Newsweek Media sites, the article reiterated some of the media network's connections to Jang and Olivet: Both CMC and Newsweek Media Group had "funneled millions of dollars to Olivet as part of what the university has described as research and development agreements" and "their executives have served as advisers and trustees for Olivet."
Anderson, the former Christian Post publisher/CEO, was a trustee at Olivet up until 2016. Clark, the new CMC International CEO, was responsible for registering IBT Media offices and Olivet's campus in the UK, per a 2014 Mother Jones report.
The company that facilitated the equipment loans at the center of yesterday's indictment, Oikos Network Inc., has also been linked to Olivet, The Wall Street Journal reported.
Several weeks after IBT Media's New York headquarters were raided at the start of this year, CT discussed the ongoing controversies at the publishing group, including an incident where "three editors were fired after fighting with management over what they believed had been a breach of journalistic ethics in this story, 'Why is the Manhattan DA looking at Newsweek's ties to a Christian university?,'" an article by Newsweek journalists about their own company's possible Olivet ties.
Olivet did not return a call for comment.
The Christian Post's top evangelical advisers told CT they have not been involved in its finances at all.
Former WEA secretary general Geoff Tunnicliffe, chairman of the board of advisers for the CMC and The Christian Post, said he is not involved in management. Southern Evangelical Seminary president Richard Land offered this statement:
As executive editor of The Christian Post, my role has always been more "consultative" and as an Op Ed writer, rather than hands on daily editorial supervision. All of my dealings with The Christian Post have been on the journalistic and news delivery side.

I have found the people I have worked with to be dedicated, highly motivated, of sterling character and commitment. I have never had anything to do with the financial side of The Christian Post operation or of any of its related entities.

In yesterday's indictment, prosecutors alleged that in 2015 and 2016, IBT Media and CMC International secured loans to pay for high-end servers costing between $130,000 and $180,000, but instead obtained cheaper $10,000 servers from Oikos and were transferred the rest of the money.

The conspiracy was for the companies to "obtain financing from financial institutions, divert the proceedings of the financing and conceal its origins in order to fund day to day operations and meet other needs unrelated to the stated purpose of the financing, and maintain a credit profile sufficient to continue the financing scheme," the indictment stated.

Further investigations are also looking into fraudulent traffic-boosting on IBT Media and CMC International sites, sources told The Wall Street Journal.
Correction: An earlier version of this article mistakenly referred to IBT Media as CMC International's parent company. The two are separate entities.