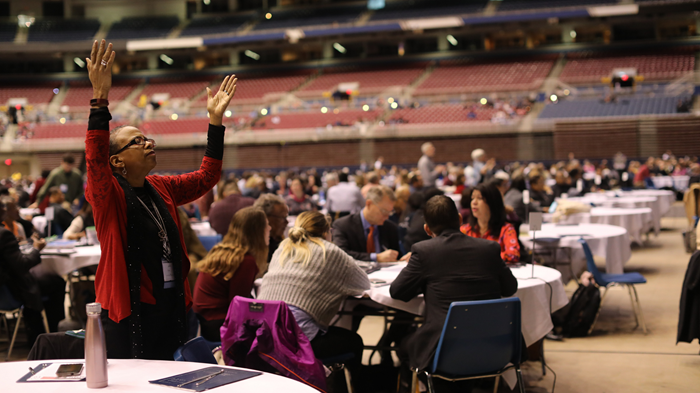 Image: Kathleen Barry / United Methodist News Service (UMNS)
After days of passionate debate, deliberation, and prayer—and years of tension—the United Methodist Church (UMC) voted Tuesday to maintain its traditional stance against same-sex marriage and non-celibate gay clergy, bolstered by a growing conservative contingent from Africa.
The denomination's "Traditional Plan" passed, with 438 votes in favor and 384 against (53% to 47%), in the final hours of a special UMC conference held this week in St. Louis to address the issue of human sexuality.
The decision leaves a sizable, vocal opposition, ensuring the exit of many progressive pastors and churches from the largest mainline Protestant body in America. After the final vote, protesters began chanting "no" and "stop the harm" through the rest of the session until the conference ended over an hour later.
The Traditional Plan preserves existing UMC positions and adds further accountability measures for those who violate them by performing same-sex ceremonies or ordaining gay clergy.
It was not the outcome many Americans, including most UMC bishops, had been praying for. In the States, a large portion of Methodists wanted to see the church accommodate LGBT ceremonies and clergy, as other mainline denominations have done in recent years. One poll through Mainstream UMC reported at least two-thirds of US delegates supported the more-inclusive "One Church Plan" instead.
But the growing global presence among the 12 million-member denomination held more sway. Methodists from outside the US, who favor more traditional positions on sexuality, made up 41 percent of the general conference's 864 delegates. A full 30 percent were from Africa.
"This session of the [general conference] has made it clear that there has been a dramatic shift in the center of gravity in the UMC," said Kimberly Reisman, executive director for World Methodist Evangelism, which connects 80 Wesleyan denominations in 138 countries. "It appears that we are now a much more thoroughly global, evangelical church, rather than simply a mainline, American denomination with missionaries outposts outside the US."
Horatio Vilanculo, a delegate from Mozambique, said that the Traditional Plan "keeps the church in the way of God" and "is what God wants in the church in this world."
Though the Traditional Plan was ultimately approved, some amendments were rushed through the process to be able to vote before the conference's 6:30 p.m. deadline. Certain details may be later overturned upon judicial review within the denomination.
Another holdup came over rumors of vote-buying; the delegation moved this afternoon to investigate the claims. The ethics committee was not able to return a full report prior to the vote, but are expected to share their findings in the final publication.
"The traditionalists did a bang-up job of political organizing and counting the votes," said Will Willimon, former bishop of the North Alabama Annual Conference and a Duke Divinity School professor, in a Religion News Service interview. "The progressives were all busy talking about unity and community and listening and loving. The conservatives were on the floor getting the votes."
In the US, Methodists in the pews tend to be more conservative than those in the pulpits, with members being twice as likely to identify as "conservative-traditional" (44%) than "liberal-progressive" (20%) and evenly split on the church's ban on same-sex ceremonies, according to a denominational poll.
"United Methodists in the US tend to reflect the church's position at the more socially conservative end of mainline Protestantism," according to Pew Research Center. Though Methodist views have shifted, Pew reported that they are still less likely than mainline Protestants overall to say homosexuality should be accepted (60% of Methodists vs. 66% of mainline) or support the legalization of same-sex marriage (49% vs. 57%).
Many leaders who favored options that would sanction greater LGBT inclusion pledged to leave if the denomination did not change its stance. The One Church Plan, backed by the UMC's bishops, would have allowed individual pastors, churches, and regional bodies to follow their own conscience on the issues of homosexual marriage and ordination.
"Some people will leave because of feeling attacked, unwanted, and excluded. Some churches will leave seeking safer, more accepting, and less conflictual settings in which to do their ministry," said Frank Wulf and Cyndi Kent, co-conveners of the Love Your Neighbor Coalition.
The UMC also voted to pass a disaffiliation petition, often called a "gracious exit" plan, to help the transition for those who felt they could not remain part of the denomination.
Though all UMC church property is deeded to the regional body, under the new legislation, churches with a two-thirds vote among professing members would be allowed to leave with their property after paying any pension liabilities and outstanding financial obligations. Some are concerned that these accommodations will facilitate a larger number of churches leaving.
Rob Renfroe, a pastor at The Woodlands UMC in the Houston area, said he believes the exodus of churches under the Traditional Plan will ultimately be smaller than those that would have left under the One Church Plan.
"But again, some are so frustrated by what has happened that they just want to be done," he said, citing cases where individual churches and leaders may have felt in conflict with their regional bodies after years of disagreement. "Every congregation will have to think and pray and go through a period of holy conference to discern what God is calling them to do."
A faction of evangelical leaders backing the UMC's current stances were poised to create a new denomination had the One Church Plan passed. "Some evangelical churches are frustrated with the dysfunction in the church and may still elect to leave, but we don't anticipate that this will be in any coordinated fashion," said Keith Boyette, president of the Wesleyan Covenant Association.
The Traditional Plan received strong support in the legislative committee yesterday, when it was initially approved to move forward with its amendments by a vote of 451 to 375.
However, the One Church Plan, which many had hoped would keep the denomination united while allowing for expanding its positions on sexuality, did not win enough votes from the delegation to be considered in a final vote, with only 386 votes for to 436 against.
Similarly, the Queer Clergy Caucus's "Simple Plan" was also defeated, though the discussion brought passionate testimony from gay delegates at the conference. "We have brought people to Jesus saying they had not heard this message before," said Jeffrey Warren, a Methodist college student. "They didn't know God could love them because their churches said God didn't." His speech was drowned out with applause from supporters among a crowd of 3,000 observers at the event.
Many prominent US Methodist leaders walk out with a heavy heart disappointed with what transpired over the four-day legislative meeting.
Willimon described a shift in tone as delegates on both sides began to see a denominational split as inevitable. "I can't decide if the Lord is saying now, 'You created the structure and polity of the United Methodist Church. I didn't. You wrote the Book of Discipline. I didn't. If that's being dismantled, that's OK,'" he told RNS.
Clara Esther, delegate, civil rights activist, and vice president of United Methodist Women said that the denomination has spent millions of dollars on the tagline "open hearts, open minds, open doors," but "we are not living it out."
"Many of us have members that will leave and have already notified us to tell us," said Virginia pastor Tom Berlin, before the One Church Plan was brought before the delegation for a second vote. "After watching yesterday's proceedings … they feel their church is exhibiting itself as being against gay people."
Now that the gathering has concluded, many are turning their eyes toward how they move forward together.
"I pray we, as a denomination can now move forward, working with each other in the spirit of Christian love and joining together as one," said Bishop Scott J. Jones of the Texas Annual Conference. "We are stronger together in serving God's mission as a diverse body of Christ."
At a press conference Tuesday, fellow bishops discussed the factions of the denomination whose petitions did not get passed. "My heroes are the people who have been harmed by the church and yet stay at the table," said Bishop Ken Carter of the Florida Annual Conference.
After this week's special session, sights now turn to the denomination's next global legislative gathering in 2020 in Minneapolis, where the UMC will consider legislation for all of its normal business—with an additional 18 delegates from Africa present.