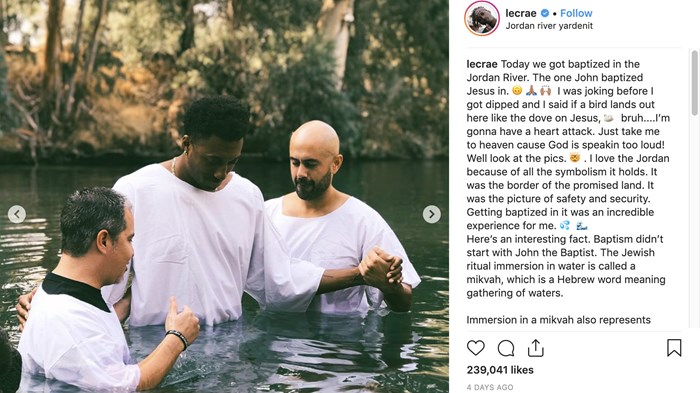 Image: Lecrae / Instagram
Like thousands of Christians who visit the Holy Land, Lecrae donned a white robe to be baptized in the Jordan River last week. The popular Christian rapper posted a video showing him being immersed in the waters where Jesus was said to be baptized. As he came up out of the water, Lecrae let out a loud "whoo!"
Fans on social media mostly celebrated his experiences at Israel's pilgrimage sites, but some questioned why Lecrae—an outspoken believer who has been making Christian music for over 15 years—would opt to participate in baptism if he had already been baptized. Lecrae wrote in his memoir that his grandmother had him baptized as a kid, and he came to faith on his own in college around 20 years ago.
The Grammy winner responded to one follower who suggested that since Lecrae already has new life in Christ, the Jordan baptism was just a "weird bath in a very significant place."
"1. It's Mikvah," Lecrae replied, referencing the Jewish ...
1