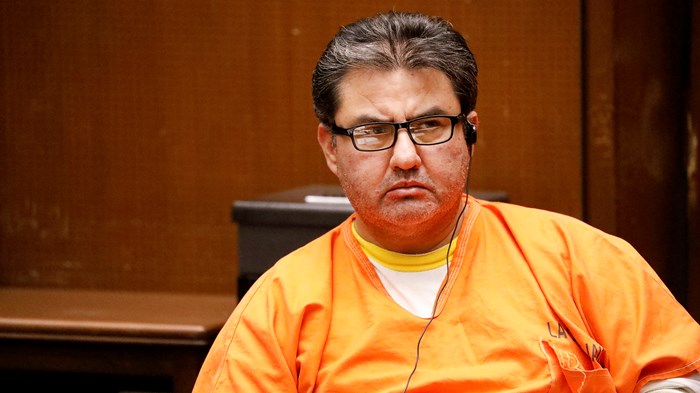 Image: Al Seib / Los Angeles Times via AP
Update (June 8): As a county judge in California deemed pastor Naasón Joaquín García a "sexual predator" and sentenced him to nearly 17 years in prison on Wednesday, members of his congregation in Mexico gathered to pray and stand with their "apostle," the Los Angeles Times reported.
The pastor of the Guadalajara-based megachurch La Luz del Mundo admitted last week to three charges of sexual offenses toward children. His followers believe he entered the plea deal to avoid an unjust trial. They have dismissed the allegations that he groomed underage girls in the congregation for sex abuse.
A statement from La Luz del Mundo, Mexico's largest evangelical congregation, said García "will continue ministering to the church. This is a path that God has placed in front of him for a reason, as he did for Apostle Paul."
Three victims anonymously shared statements at García's sentencing, with one describing how she functioned as a sex slave for the pastor and had been taught not to "refuse his desires."
According to the Associated Press:
The victims spoke of how their delight at being invited into a secret inner circle with García quickly spun into an out-of-control nightmare of rape and other sexual abuse that they described at times in graphic detail.
They said they were called angels and told they were García's property and that his wishes were godly commands and they should serve the Lord without question. Bible verses were twisted to make them comply.
But they were also told they would damned if they spoke out—and so would anybody they told.
All were disappointed that prosecutors were unable to take the case to trial so García could face the additional charges, which included rape, trafficking, and producing child abuse material.
García was sentenced to 16 years and 8 months in prison and will be required to register as a sex offender for life.
---------------
Update (June 6, 2022): The head of the Mexico-based megachurch La Luz del Mundo admitted to sexually assaulting at least three minor girls who belonged to his congregation.
Naasón Joaquín García pleaded guilty Friday and was convicted following California's four-year investigation into the pastor and his associates. The guity plea came just days before the case was scheduled to go to trial.
"As the leader of La Luz del Mundo, Naasón Joaquín García used his power to take advantage of children. He relied on those around him to groom congregants for the purposes of sexual assault," said California Attorney General Rob Bonta. "Today's conviction can never undo the harm, but it will help protect future generations."
The pastor ended up convicted of three counts of sex offenses and lewd acts involving minor children. García's former assistant, Susana Medina Oaxaca, also pleaded guilty and was convicted of assault likely to cause great bodily injury.
Some victims say García's plea deal allows the self-proclaimed apostle to evade the full weight of his crimes. He pleaded guilty for three counts but had been charged with over a dozen more, including rape, trafficking, and extortion. He now no longer has to stand trial.
"How can they make a deal with a child rapist and human trafficker?" whistleblower Sochil Martin said in the Spanish-language newspaper El País. "Give us peace, not an agreement."
According to the California Department of Justice, "Over the course of the investigation and prosecution, prosecutors demonstrated that García's criminal conduct was enabled by the individuals surrounding him and that García used his position of trust and authority as the leader of La Luz del Mundo to sexually abuse children." – CT editors
-------
July 31, 2020: California has once again charged the leader of a Mexican megachurch with child rape and human trafficking, months after a court dismissed the previous allegations because of prosecution errors.
Naasón Joaquín García, the self-proclaimed apostle of La Luz del Mundo, was charged on Wednesday with three dozen felony counts.
Also charged were Susana Medina Oaxaca and Alondra Ocampo.
Prosecutors contend the three committed sex crimes and also produced child pornography involving five women and girls who were church group members. The crimes took place between 2015 and 2018 in Los Angeles County, authorities said.
García is the spiritual leader of La Luz del Mundo, which is Spanish for "The Light Of The World," an evangelical congregation based in Guadalajara, Mexico.
García and Ocampo already were being held in custody in Los Angeles County while prosecutors decided whether to refile charges. He was rebooked on $50 million bail and Ocampo was booked on $25 million bail, while Oaxaca remained free on bail, according to the California attorney general's office.
Messages to their attorneys seeking comment weren't immediately returned but García has previously denied wrongdoing.
--------
April 9, 2020, from the Associated Press: A California appeals court ordered the dismissal of a criminal case Tuesday against a Mexican megachurch leader on charges of child rape and human trafficking on procedural grounds.
Naasón Joaquín García, the self-proclaimed apostle of La Luz del Mundo, has been in custody since June following his arrest on accusations involving three girls and one woman between 2015 and 2018 in Los Angeles County. Additional allegations of the possession of child pornography in 2019 were later added. He has denied wrongdoing.
While being held without bail in Los Angeles, García has remained the spiritual leader of La Luz del Mundo, which is Spanish for "The Light of The World." The Guadalajara, Mexico-based church was founded by his grandfather and claims 5 million followers worldwide.
It was not clear when he would be released.
The attorney general's office said it was reviewing the court's ruling and did not answer additional questions.
García's attorney, Alan Jackson, said he and his client are "thrilled" by the decision.
"In their zeal to secure a conviction at any cost, the Attorney General has sought to strip Mr. Garcia of his freedom without due process by locking him up without bail on the basis of unsubstantiated accusations by unnamed accusers and by denying him his day in court," Jackson said in a statement.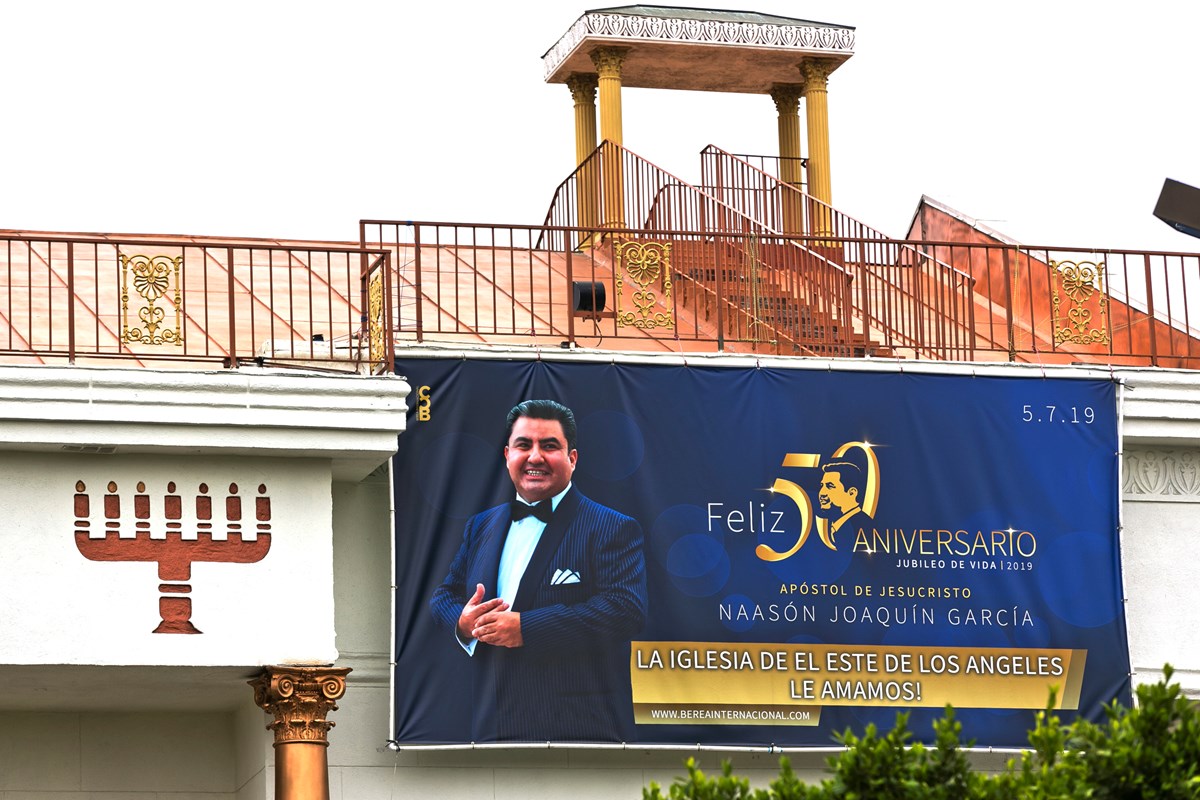 Image: Damian Dovarganes / AP
La Luz del Mundo officials in a statement urged their followers to remain respectful and pray for authorities.
"(W)e are not to point fingers or accuse anyone, we must practice the Christian values that identify us, such as patience, prudence, respect, and love of God," they said.
The appeals court ruling states that the Los Angeles County Superior Court must dismiss the 29 counts of felony charges that range from human trafficking and production of child pornography to forcible rape of a minor.
The appeals court ruled that because García's preliminary hearing was not held in a timely manner and he did not waive his right to one, the complaint filed against him must be dismissed.
In June, García was arraigned on 26 counts and waived his right to a speedy preliminary hearing—a common move. The following month, he was arraigned on an amended complaint that included three additional charges of possession of child pornography. That time, he did not waive the time limits for a preliminary hearing.
His hearing was postponed several times—in some instances, because prosecutors had not turned over evidence to the defense—as he remained held without bail, prompting his attorneys to file an appeal.
The appeals court ruled that a preliminary hearing on an amended complaint for an in-custody defendant must be held within 10 days of the second arraignment—unless the defendant waives the 10-day time period or there is "good cause" for the delay.
The appeal only mentioned the dismissal of García's case and not those of his co-defendants, Susana Medina Oaxaca and Alondra Ocampo. A fourth defendant, Azalea Rangel Melendez, remains at large.
It was not immediately clear if the co-defendants' cases would also be tossed.
In February, a Southern California woman filed a federal lawsuit against the church and García. In it, she said García, 50, and his father sexually abused her for 18 years starting when she was 12, manipulating Bible passages to convince her the mistreatment actually was a gift from God.
The lawsuit will continue despite the dismissal, the woman's lawyers said Tuesday in a statement.
The dismissal is the latest in a series of blunders on this high-profile case for the attorney general's office.
Attorney General Xavier Becerra himself pleaded with additional victims to come forward—a move defense attorneys said could taint a jury pool.
"It would be hard to believe that, based on the information that we're collecting, that it's only these four individuals," Becerra said in June, repeatedly calling García "sick" and "demented."
Prosecutors Amanda Plisner and Diana Callaghan also said multiple times in court that they expected to file additional charges based on more victims as the case continued to be investigated. But ultimately they only added three counts of possession of child pornography to the original complaint.
Plisner and Callaghan were additionally sanctioned by a Superior Court judge in September, who said they had violated a court order in failing to give defense lawyers evidence. The judge later rescinded the sanctions and overturned $10,000 in fines she had levied.