The Silent Pentecostals
The Azusa Street Revival was noticeably "free of all nationalist feeling," according to one observer. "If a Mexican or a German cannot speak English, he gets up and speaks in his own native tongue and feels quite at home, for the Spirit interprets through his face, and the people say 'Amen.' No instrument that God can use is rejected on account of color or dress or education."
It is no accident that this observer's first example of varied ethnicity was "a Mexican," for since the beginning of Pentecostalism, Latinos have played an important role in the movement.
Old-time religion
Abundio and Rosa López were among the first to be baptized with "Holy Ghost and fire," at Azusa. "Thanks be to God for the Spirit which brought us to the Azusa Street Mission, the Apostolic Faith, old-time religion," they exclaimed. "We cannot express our gratitude and thanksgiving which we feel moment by moment for what He has done for us, so we want to be used for the healing of both soul and body."
From the very beginning, Latinos flocked to the Azusa Street Mission in search of a transcendent God and a better life. For reasons that are not entirely clear, their unbridled enthusiasm and desire to testify prompted the leader of the mission to "ruthlessly crush" the Latino contingent in 1909.
This conflict gave birth to the Latino Pentecostal movement as scores left the mission and began preaching the Pentecostal message throughout barrios and migrant farm labor camps in the U.S., Mexico, and Puerto Rico. As early as 1912, Latinos organized their own completely autonomous and independent churches in California, Texas, and Hawaii.
Trinitarian and Oneness
The Oneness controversy split the fledgling Latino Pentecostal movement asunder in 1913. Many rejected ...
You have reached the end of this Article Preview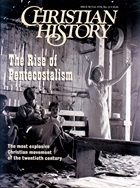 04/01/1998