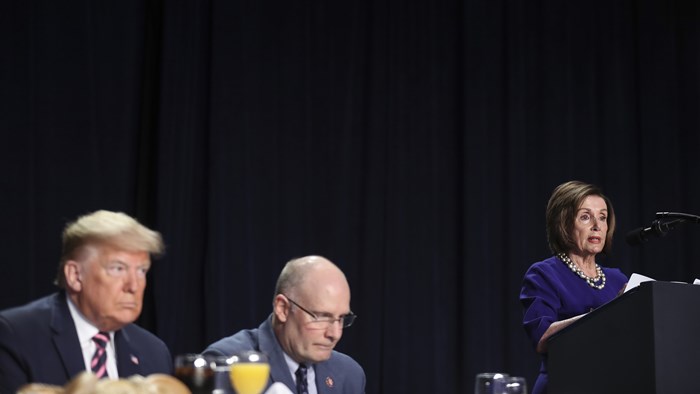 Image: Oliver Contreras / Sipa / Bloomberg / Getty Images
Inside the International Ballroom at the Washington Hilton, the mood at the National Prayer Breakfast was half church service, half political rally.
The program began with a spirited rendition of Hank William's "I Saw the Light," led by members of the House of Representatives prayer breakfast group, followed by prayers from co-hosts Rep. John Moolenaar, a Republican from Michigan, and Rep. Tom Souzzi, a Democrat from New York.
Their prayers and opening remarks echoed the larger theme of the prayer breakfast this year, which centered on Jesus's commandment to love your enemies.
The event's keynote speaker, Harvard University professor and author Arthur Brooks urged those in attendance not to let their disagreements over politics lead to contempt. Brooks recalled speaking to a group of conservative activists and telling them their political opponents were neither evil nor stupid.
That line, he said, did not get much applause.
He went on to talk about being raised ...
1