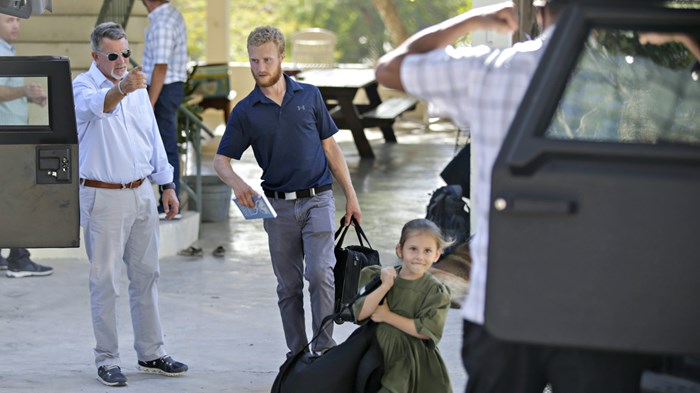 Image: Joseph Odelyn / AP Photo
Update (Dec. 20): The final 12 Haiti missionary hostages made a daring escape overnight, instead of a paid ransom securing their release, according to new details from Christian Aid Ministries. CAM says the missionaries forgive their kidnappers.
After months of fervent prayer and fasting by Anabaptists and other Christian supporters worldwide, every member of a group of American and Canadian missionaries held hostage in Haiti for months has now been released.
"We glorify God for answered prayer—the remaining twelve hostages are FREE!" stated Christian Aid Ministries (CAM) today in announcing the good news.
"Join us in praising God that all seventeen of our loved ones are now safe," stated CAM. "Thank you for your fervent prayers throughout the past two months. We hope to provide more information as we are able."
The Ohio-based group, one of the world's largest Anabaptist parachurch organizations and active in scores of countries, cited Exodus 15: "I will sing unto the Lord, for he hath triumphed gloriously."
In Port-au-Prince, Haitian police spokesman Gary Desrosiers confirmed the release to The Associated Press (AP) but did not provide additional details. It remained unclear whether any ransom was paid or what efforts led to the hostages' freedom.
Late Thursday afternoon, a convoy of at least a dozen vehicles, including US Embassy SUVs and Haitian National Police, brought the missionaries to the Port-au-Prince airport from the missionary group's offices in Titanyen, north of Port-au-Prince.
Earlier, people at the CAM campus could be seen hugging each other and smiling.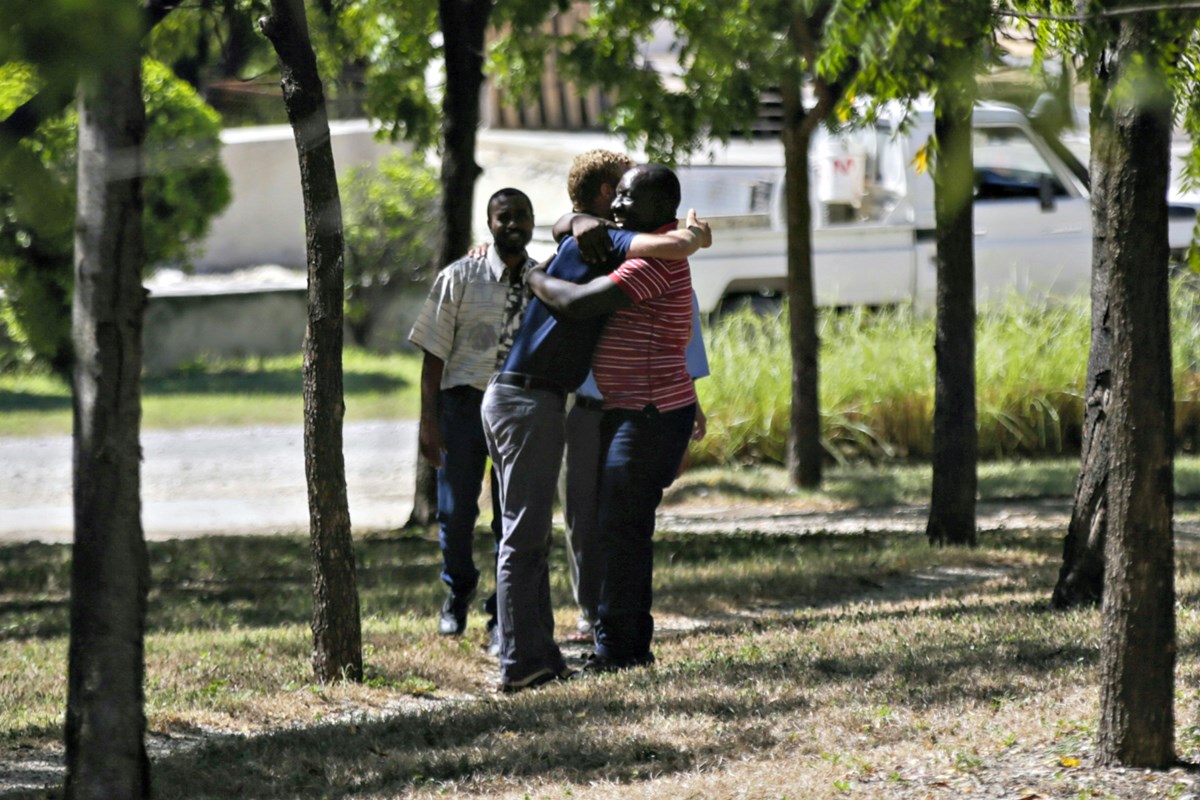 Image: Odelyn Joseph / AP Photo
The group of 12 adults and five children—including an 8-month-old—was kidnapped by a Haitian gang called 400 Mawozo in October after visiting an orphanage. The gang demanded $1 million ransoms and threatened to kill the CAM workers.
Two hostages were released on November 21 and three more were released on December 5.
Today marked two months since "our difficult journey began," stated CAM:
As we stated one day after the crisis began—As an organization, we commit this situation to God and trust Him to see us through. May the Lord Jesus be magnified and many more people come to know His love and salvation. We again want to affirm our commitment to trust God to guide us.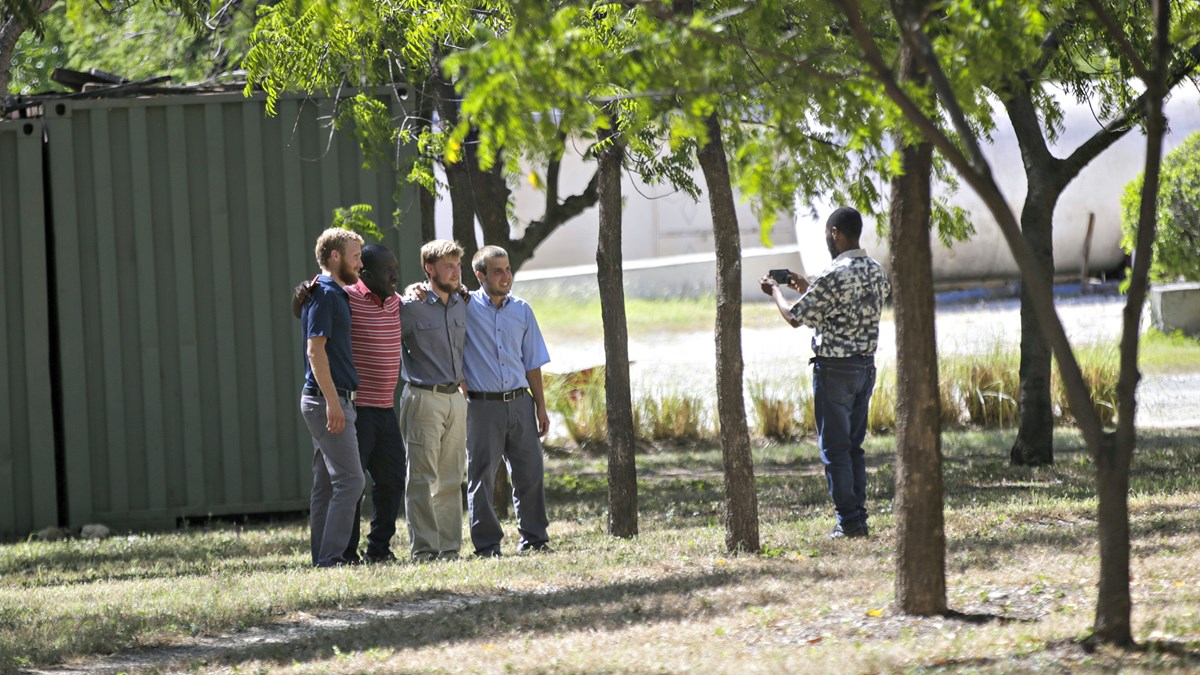 Image: Odelyn Joseph / AP Photo
News of the hostages' release spread quickly in and around Berlin, Ohio, where CAM is headquartered.
"It's an answer to prayer," said Ruth Miller, who was working at the front desk of the town's Amish and Mennonite Heritage Center.
Berlin is in Holmes County, Ohio's Amish heartland, and many Amish and Mennonites volunteer in CAM ministries and donate to it. The organization's roots date to the 1980s, when it began working in then-communist Romania. It has since expanded worldwide but has been particularly active in Haiti.
CAM's work ranges from planting churches and providing food, school supplies, and other materials to those in need, to disaster relief and putting up billboards with evangelistic messages.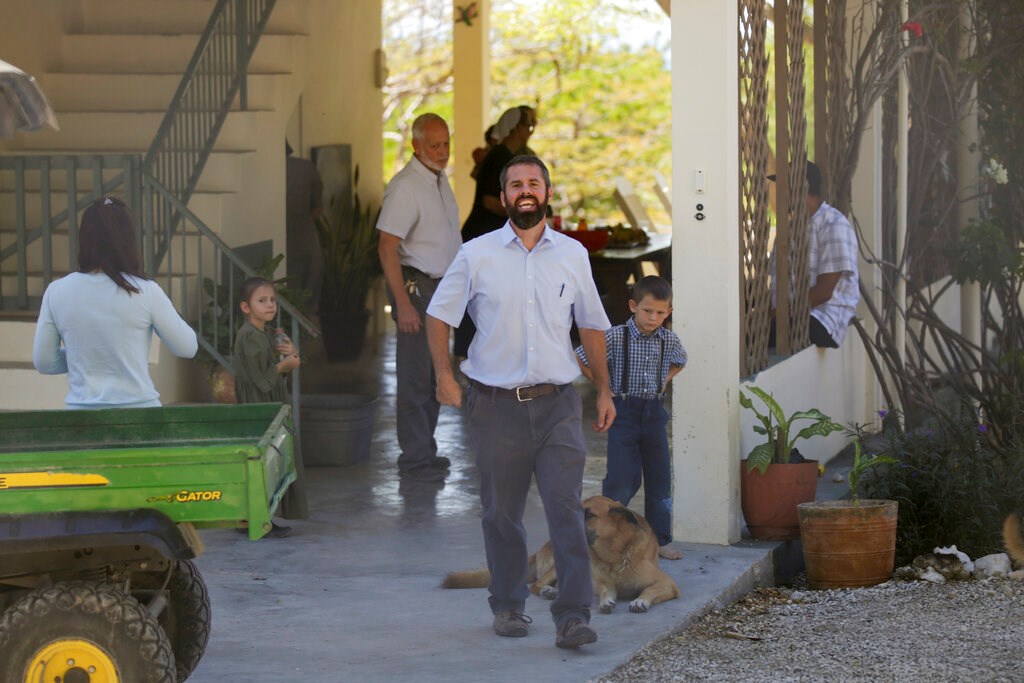 Image: Odelyn Joseph / AP Photo
Wes Kaufman, who attends a church where some CAM leaders also worship, said many congregations had heeded the mission group's recent request to devote three days to fasting and praying over the situation.
"It's amazing how God works," Kaufman said as he dined with family in nearby Walnut Creek at Der Dutchman, a restaurant featuring traditional Amish and Mennonite fare.
"We're feeling great," said Ron Marks, minister at Hart Dunkard Brethren Church in Hart, Michigan, whose members included some of the hostages.
Carleton Horst, a member of the Hart congregation, told the AP that church members received a text message Thursday morning from "someone connected to the situation" that all of the hostages had been released.
A mother and her five children, two of them adults, who belong to the church were among the hostages. Horst, who is friends with the family, said the church is rejoicing and he's "elated that that portion of things is finally over, just praise the Lord for that."
In addition to Michigan, the hostages are from Wisconsin, Ohio, Tennessee, Pennsylvania, Oregon, and Ontario, Canada, according to CAM.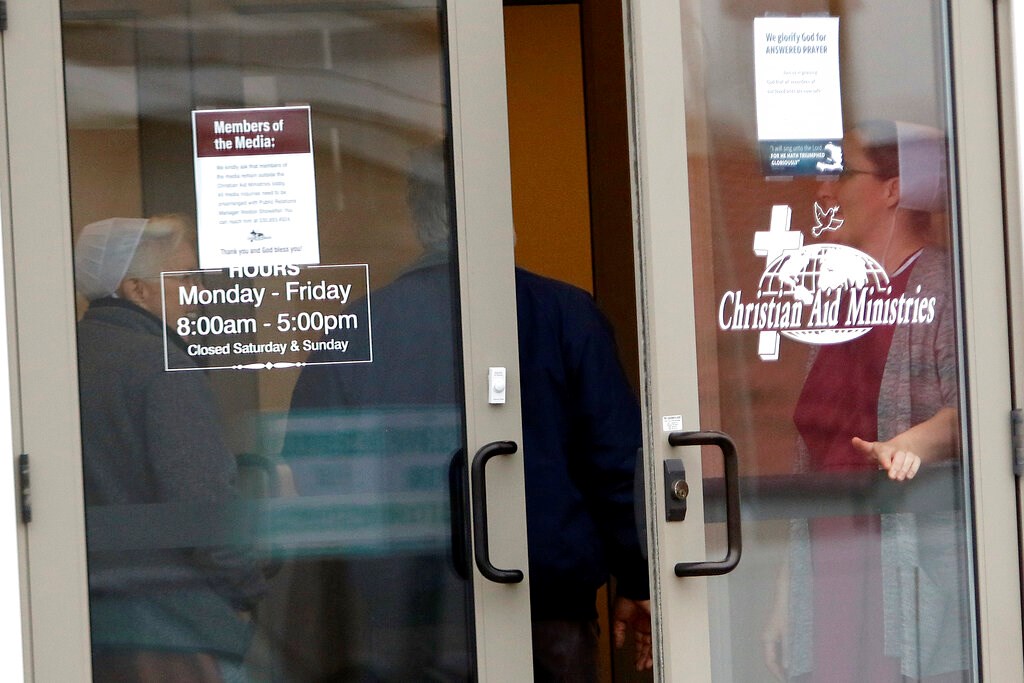 Image: Tom E. Puskar / AP Photo
Luke Perkins, assistant to the president of Evangelical Theological Seminary of Port-au-Prince, was not surprised the group was released. "I would have been very surprised if they were hurt," he told CT. "Haitians have always been so generous in their hospitality to us as Americans. It's unfortunate that they were taken—that in and of itself is a departure from the norm."
Christians in Haiti, both Haitian church leaders and other American missionaries, recently explained their concerns to CT about how the CAM workers could be released in ways that would embolden the gangs that have brought life in Haiti to a standstill.
Meanwhile, the consistently loving prayers of CAM supporters for the kidnappers themselves reveal three Anabaptist distinctives that other Christians should find both familiar and thought provoking, according to experts at the Young Center for Anabaptist and Pietist Studies.
The release comes amid an ongoing spike in kidnappings in the capital of Port-au-Prince and elsewhere in Haiti, which is struggling to recover from the July 7 presidential assassination, a 7.2 magnitude deadly earthquake that struck in mid-August, and a severe fuel shortage.
"My earnest prayer is that [the missionaries' release] forces change in Haiti—that something is done to address the impunity kidnappers have enjoyed," said Perkins. "Haitians have been living under a cloud of fear for some time now—the kidnapping of these Americans made that worse."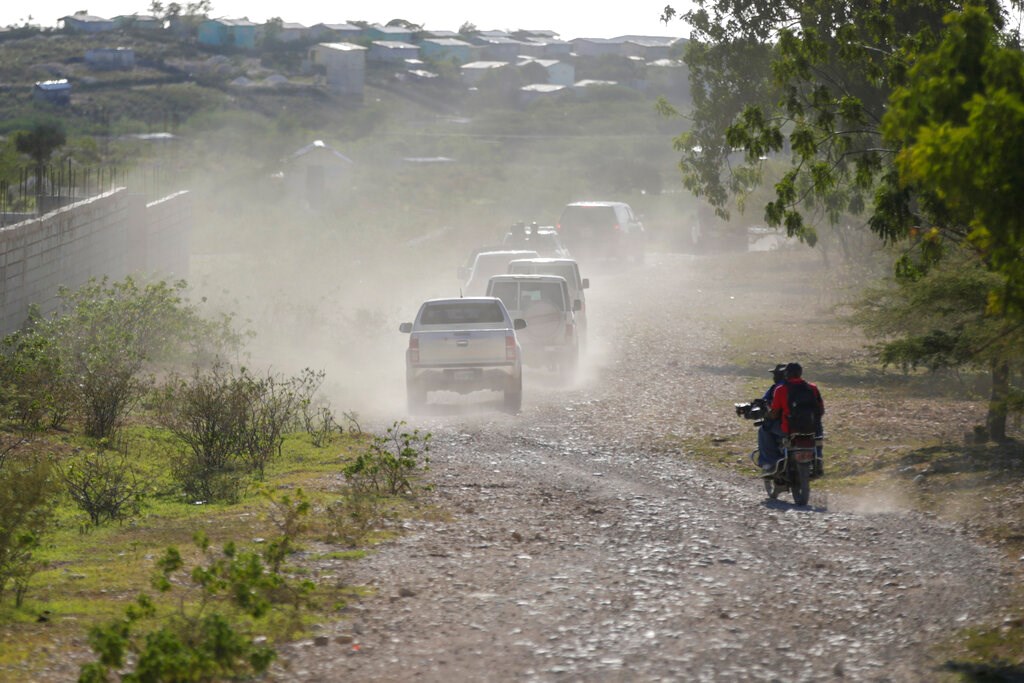 Image: Odelyn Joseph / AP Photo
Edner Jeanty, executive director of the Barnabas Christian Leadership Center in Port-au-Prince, celebrated the good news but expressed concern that the release "does not change much" in terms of the risks faced by Christians in Haiti.
"We do not know for sure whether money was given. But we do know that the gang 400 Mawozo is still alive and well," he told CT. "If the American government had some weight in the release of the North Americans, it did not help the Haitian people in helping getting rid of the kidnappers."
"As this kidnapping incident has come to some form of closure, it is important for Christians to continue to pray and support the former hostages as they have been traumatized and need healing," he said. "… It is also important to remember that Haitian brothers and sisters are being kidnapped routinely. Help us pray for the peace of the country because our welfare depends on its peace (Jer. 27:4)."
He urges more investment in job creation for local youth, in order to "change the dynamics of fear, struggle, and hope in Haiti."
"The Haitian people by and large are exhausted. They are tired of witnessing the continued downward spiral of their country," said Perkins. "[But] when I'm in class with my students, I see such hope. There are so many in the emerging generation that are ready and eager to take the country in a different direction. … I can't wait to see what the Lord uses them to do."
CT's Quick to Listen podcast recently explored how Haitian Christians persevere through crises and whether God really wants missionaries to risk their lives.
Reporting by The Associated Press' Evens Sanon in Port-au-Prince, Peter Smith in Berlin, Ohio, and Anna Nichols in Lansing, Michigan, as well as by CT's Morgan Lee and Jeremy Weber.