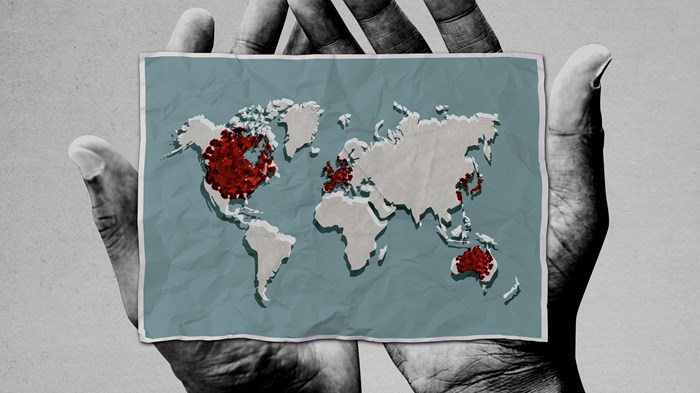 Image: Illustration by Mallory Rentsch / Source Images: Yoshiyoshi Hirokawa / Sittichai Karimpard / EyeEm / Getty Images
"Consider it pure joy, my brothers and sisters, whenever you face trials of many kinds, because you know that the testing of your faith produces perseverance."
James, the brother of Jesus, didn't have a global pandemic in mind when he wrote these words in the opening chapter of his biblical epistle to "the 12 tribes scattered among the nations." But as the coronavirus closed churches worldwide, a global survey of more than 14,000 people has found that few lost faith while many of the most faithful gained.
Today, the Pew Research Center released a study on how COVID-19 affected levels of religious faith this past summer in 14 countries with advanced economies: Australia, Belgium, Canada, Denmark, France, Germany, Italy, Japan, the Netherlands, Spain, South Korea, Sweden, the United Kingdom, and the United States.
"In 11 of 14 countries surveyed, the share who say their religious faith has strengthened is higher than the share who say it has weakened," noted Pew researchers. "But generally, people in developed countries don't see much change in their own religious faith as a result of the pandemic."
Overall, a median of 4 out of 5 of each country's citizens said their faith was more or less unchanged.
But leading the pack in strengthened faith: the United States.
And leading the pack in weakened faith: South Korea.
Americans were three times more likely to report their religious faith had become stronger due to the pandemic: 28 percent, vs. a global median of 10 percent. Next came Spaniards (16%) and Italians (15%), whose nations were two of the worst hit during the coronavirus's deadly outbreak in the spring. About 1 in 10 Canadians, French, Australians, Brits, Koreans, and Belgians said the same.
Meanwhile, Koreans were three times more likely to report their religious faith had become weaker due to the pandemic: 9 percent, vs. a global median of 3 percent. Next came Spaniards (5%), followed by a tie between Americans, Brits, Belgians, and the Dutch (4%).
However, among only respondents who said religion was "very important" in their lives, a far larger share reported strengthened faith. This included 49 percent of faithful Spaniards, 45 percent of Americans, 44 percent of Italians, and 40 percent of Canadians. The global median was 33 percent.
Once again, South Korea reported the most lost faith. Among Koreans who said religion was "very important" in their lives, 14 percent said their faith had become weaker—about three times the global median of 5 percent. They were followed by the French (8%), Brits (7%), then a tie between Spaniards, Dutch, and Swedes (5%).
Among respondents who said religion was not important or only somewhat important in their lives, 1 in 10 Americans reported strengthened faith (11%), followed by Spaniards and Koreans (6%).
(The United States remains an outlier on religiosity: 49 percent of Americans told Pew that religion is very important in their lives, vs. 24 percent of Spaniards and 17 percent of Koreans.)
Pew found no significant differences between men and women overall, but "two exceptional cases" were Italy and South Korea. In Italy, 20 percent of women say their faith has strengthened vs. only 10 percent of men. In South Korea, 13 percent of women say their faith has strengthened vs. only 8 percent of men.
Pew also asked respondents to assess the pandemic's impact on the faith of their nation as a whole. Once again, Americans led the way with 3 in 10 saying faith in the US had become stronger.
In most countries, people were more likely to say the religious faith of their fellow citizens had become stronger (global median: 15%) than to say the same about their own faith (global median: 10%). Significantly, in the Netherlands only 7 percent of the Dutch say their own faith is stronger, but 17 percent say the faith of other Dutch is stronger. The same significant spread was found among Swedes (3% vs. 15%) and Danes (2% vs. 10%).
Meanwhile, Koreans were most likely to say that religious faith in their nation has weakened (17%), followed by Americans (14%) then by Italians, Belgians, and Germans (10%). Others matched or fell below the global median (8%).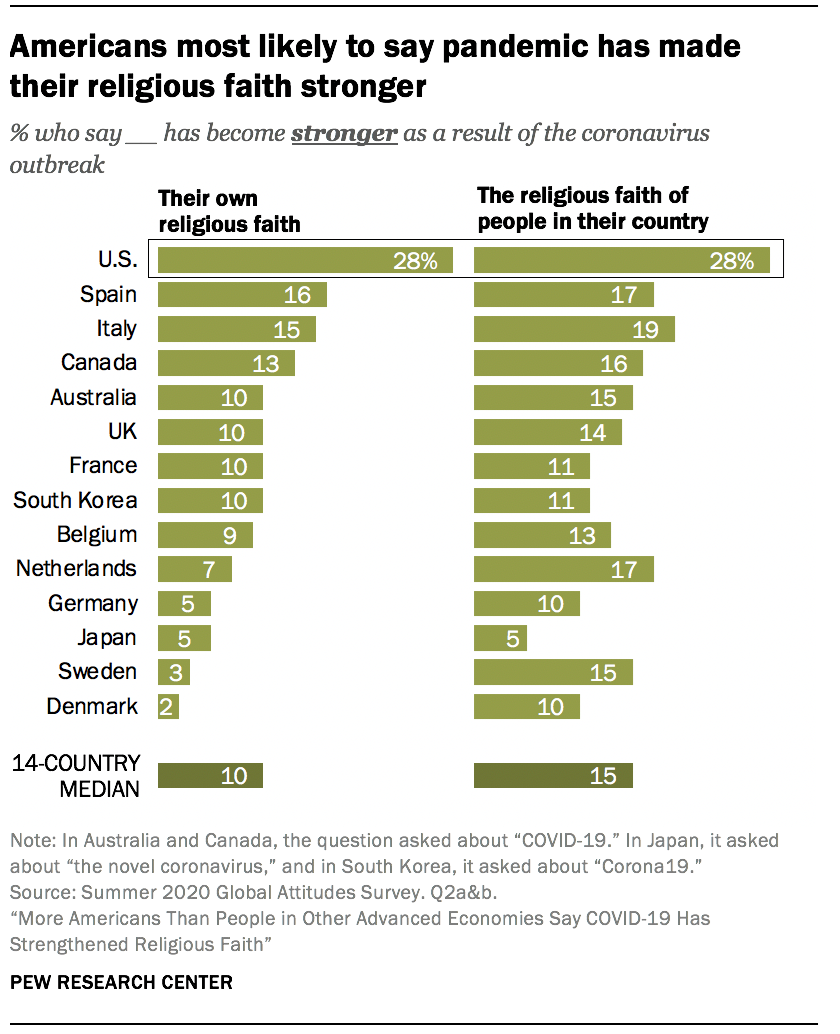 In the US, white evangelicals were the most likely to say their faith had become stronger (49%), followed by Catholics (35%), white non-evangelical Protestants (21%) and the unaffiliated (5%). This was a modest increase from April, when Pew found a strengthened faith reported by 41% of white evangelicals, 27% of Catholics, 19% of white non-evangelical Protestants, and 7% of the unaffiliated.
Pew's summer survey did not have enough black Protestants to break out, but in the April survey they led all American faith groups, with 54 percent saying their faith had been strengthened.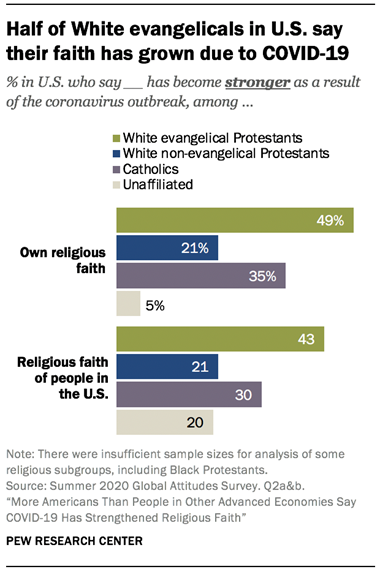 Among all Americans, 24 percent said their faith had been strengthened in April, compared to the 28 percent in the summer.
About a third of Americans believe the pandemic offers a lesson for humanity sent by God (35%), according to a prior Pew survey. A similar share (37%) believe there is a lesson to learn but it was not sent by God.
Pew surveyed 14,276 adults by telephone from June 10 to August 3 in the 14 countries, selected for being advanced economies.
Pew noted that "all of the countries surveyed were under social distancing and/or national lockdown orders due to COVID-19," however "not all countries have experienced the disease in the same way" and the pandemic "situation has changed substantially since the survey was conducted."
During the fielding period, Australia, Japan, and the United States had rising numbers of infections, while Italy and some other European countries had started to recover from the large number of cases reported in April and May. Nearly all countries surveyed experienced significant spikes in infections and deaths in the fall and winter.
Pew also found a third of respondents said their family's relationship had strengthened as a result of the pandemic (global median: 32%). About 4 in 10 Spaniards, Italians, Americans, Brits, and Canadians reported this, as did 3 in 10 Belgians, French, Australians, and Swedes.
Germans led the way among those who said family relationships had weakened (13%), followed by Belgians (11%) and Koreans (10%).
Yong J. Cho, outgoing general secretary of the Korea World Missions Association, told CT he saw "two interpretations" of Pew's findings among Koreans.
First, it reflects that South Korea is a "strong group-oriented society." "The whole country has been affected as a group. General media were very critical of the Christian church and her responses to the pandemic," Cho, a pastor and PhD who this week became the new president of Global Hope, told CT. "During the survey period, there was very strong anti-government demonstrations among the conservative churches. The current government is generally against evangelical or conservative Christianity in Korea. That is one reason why people think that religious faith in Korea has weakened."
Second, Korean churches place a high value on in-person communal worship. "Christianity and other religions in Korea have emphasized the physical presence as an essential element of worship," he said. "Because of COVID-19, the very restricted physical gathering of the churches has weakened the passion of faith."
The findings in Italy were not surprising, said Leonardo de Chirico, vice chairman of the Italian Evangelical Alliance. Though churches were closed for about three months, the majority Roman Catholic Church encouraged both positive thinking and traditional practices such as indulgences and Marian rosaries, including one led by Pope Francis himself on national TV.
"What kind of faith is it? Is it wishful thinking? Is it a self-empowerment mantra? Is it a hope that all will go well and that we will soon go back to normal?" the pastor of Rome's Breccia di Roma church told CT. "But where is God, where is the gospel?"
Chirico said evangelical churches in Italy also faced the "unprecedented challenge" of living in community, evangelizing, and caring for the elderly and the vulnerable—all at a public health-mandated distance.
"The presence [of churches] on the internet has exploded quantitatively, but it does not mean that we have succeeded to manage it well," he said. "The long-term consequences are still to be envisaged, let alone tackled. Will real community relationships resume? Will participation and involvement be a feature of future church life? … We walk step by step, but it's not clear where we are going in terms of the overall gospel dynamic. It is sobering, and it should lead us on our knees to pray."
This post will be updated.