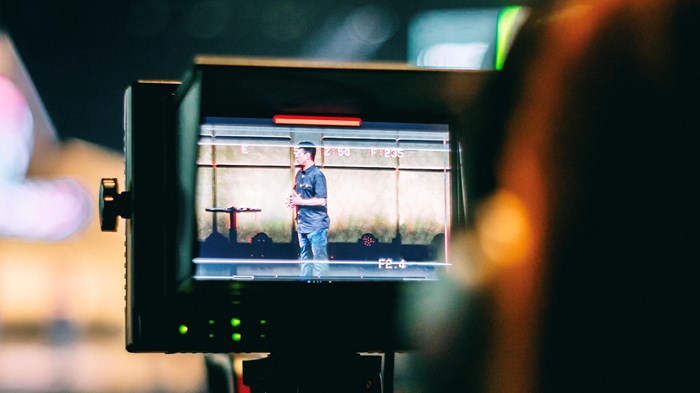 Image: Joshua Hanson / Unsplash / Edits by CT
It's been three years since Easter set records for church streaming, with churches canceling in-person worship during the early weeks of COVID-19. Though church doors have long reopened for services in the United States, the pandemic has had a lasting effect on attendance.
A multisite church based in Riverside, California, Sandals Church had about 80,000 people watch its services over the 2020 holiday weekend, up from around 3,000–4,000 before. Like churches across the country, Sandals saw online attendance numbers drop and level out once it resumed gathering, but it was still drawing in three to four times as many online participants as before.
The congregation has since launched a dedicated online campus—Sandals Church Anywhere—designed to be watched in small groups in people's homes.
"Sandals Church Anywhere is an opportunity for a group to meet in person, but they're not near a Sandals Church location," said pastor Alfredo Ramos. "They can watch the service together, process it together, have a meal together, and have time to facilitate through the group questions. These are groups that I get to directly oversee and offer pastoral care to."
Staff at Sandals are looking into the microchurch model for the 12,000–13,000 people in their online community and have adapted the service itself. Instead of the typical structure of a few worship songs before the sermon and a few after, the online Sandals service has a shorter intro and clear call to giving before quickly getting into the sermon. The digital service then concludes with only one or two songs.
"We've just tried to figure out how do we give an honest service that actually makes sense to that particular environment or platform," Ramos said.
While online church participation isn't as high as during lockdowns, 22 percent of Christians said they watch online services more often than before the pandemic, according to a Pew Research Center report released last month.
Pew found that the overall percentage of Americans going to church regularly has dropped slightly. But the demographics most likely to attend church before the pandemic saw more dramatic declines, with white evangelicals down 5 percent between 2019 and 2022 and Black Protestants down 15 percent.
There aren't as many people showing up on Sunday mornings at Woodland Park Community Church, according to Pastor Kirk Greenstreet. Before the pandemic, the Woodland Park, Colorado, congregation usually drew 550–600 people between its two services on a Sunday. Three years later, average attendance is around 500–550.
At the start of the pandemic, the church had already been moving toward offering a livestream service, and once shutdowns began, the staff was able to quickly get the technology in place so they could offer their Easter 2020 service online. Though Woodland Park reopened in June 2020, it's kept the livestream for about 100–150 people each week.
The hybrid model has become a new normal for churches. Pushpay's State of the Church Tech report, released in January, found that 89 percent of churches surveyed offered services through a hybrid model. But adding a streaming component or digital campus also brings news challenges, even without the complications of shutdowns and social distancing.
Whether they added online options for the first time over the past few years or saw a boost in engagement due to the pandemic, churches must consider technology costs, staffing hours, and ministry philosophy for those they serve through screens. They have to think about what they are aiming to do through their presence online.
"How many people sat in our building on Sunday? How many people consumed our product online? It's easy to judge the spiritual success of our church by having the usher stand in the back and count heads," wrote Jeff Reed of theChurch.Digital, whose experience in Internet ministry dates back to an online Bible study in 2000. "Nickels and noses is a great way to measure success of a corporation. But Matthew's 28's Great Commission holds us to a different standard, one that takes more time and is proven far more effective.
Reed has spent the past three years helping churches implement new strategies and technology for digital ministry: how to make sense of analytics and numbers, what to do combat burnout while always connected, ways to rethink small groups, and strategies reach kids and teens. One common issue is how to lead online participants to spiritual transformation and discipleship.
"Digital is a consumeristic mindset," said Reed. "The standard [for churches] is online to offline. The gospel we hear in our online world has to influence our offline relationships. Otherwise, all we're doing is creating consumers."
Both Greenstreet and Ramos have seen this firsthand. While many new members who have come to his church since the pandemic first connected by watching services online, Greenstreet said that fewer congregants are joining small groups and serving. He believes that digital church has contributed to these trends.
"It's just so easy to be at home, stay in your pajamas, sip your coffee, watch the livestream and feel like you did church but not ever be connected with other believers, encouraging one another and loving one another," Greenstreet said. "It's been one of the biggest dangers of the online [services] that I've seen."
For Ramos, who is shepherding a congregation where most of the members never set foot on a physical campus, these challenges are perhaps even more pronounced.
"The challenging thing continues to go back to how we effectively measure discipleship amongst our viewers and help people take steps beyond just attending or consuming," he said.
To this end, Ramos and the staff at Sandals Church have created a lot of short-form video content around different spiritual practices to help viewers grow in their faith. Additionally, they've tried to get people connected in small groups and tried to ensure people have clear opportunities to give to the church and hear stories about how God is working in the church.
With all of these strategies, the hope is those attending the church virtually won't just consume content but actually participate in the church, and that the new models will lead to more opportunities to evangelize and make disciples.
"There's a whole mission field in digital. Missions for the next 10 years can be found in virtual reality," said Reed, whose site and podcast discusses church involvement in the metaverse and streaming platforms like Twitch. "It's unbelievable, the opportunities that we have to engage in dialogue with people in this space."
Both Reed and Ramos brought up the decline in institutional trust, especially in recent years. Many who have spiritual questions are no longer turning to churches or pastors for answers but instead look to the internet. With this in mind, Ramos also believes the digital space offers an important platform for evangelism.
"The digital space then becomes a really natural place for people to go to as sources of authority, so why not get ourselves in those places and be curious, honest, and helpful in the way that we offer content to try to reach people who may never step foot in your church but happen to scroll across something that moves them," he said.
Churches are still navigating how to best engage in the digital space, remaining faithful to both the standards the Bible sets for a church and the commands it gives to reach the lost. Yet, the pandemic made it abundantly clear that ignoring the digital components of church attendance and discipleship is no longer an option. In the years to come, the church needs both.
"We need the digital, and we need the physical," Reed said. "We need both of these for the Great Commission."