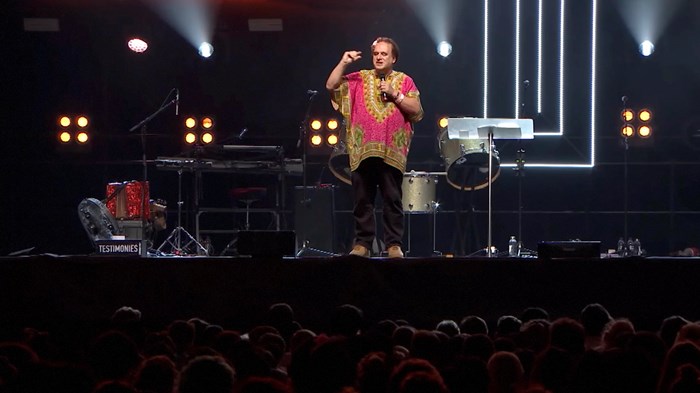 Image: Screengrab / Soul Survivor
An evangelical who was once praised for his work with young people in the United Kingdom has resigned from ministry in the middle of a Church of England investigation into allegations of "inappropriate intimate relationships" with interns.
Mike Pilavachi, founder of a popular church north of London called Soul Survivor and an associated summer festival that drew up to 30,000 young people every year for 27 years, stepped down last week. He said he wanted to ask forgiveness "from any whom I have hurt during the course of my ministry" but would not tolerate "a trial by media or social media."
Pilavachi is accused of giving full-bodied oil massages to young men stripped down to their underwear and engaging in vigorous wrestling matches that would end with him pinning and straddling 18-to-21-year-olds who were taking a gap year to learn about ministry. The allegations span three decades, with some coming as recently as 2020. That same year, he was given an award by Anglican archbishop Justin Welby for "outstanding contribution to evangelism and discipleship amongst young people."
More than 100 people have now come forward to accuse Pilavachi of physical and spiritual abuse, according to The Telegraph, which first reported the allegations in April.
Worship leader Matt Redman, who cowrote "10,000 Reasons (Bless the Lord)," "The Heart of Worship," and "Our God," has publicly identified himself as one of the victims.
"I myself experienced firsthand the harmful behaviours that have been described," Redman wrote on Facebook. "I have spent years trying to fully heal from my time at Soul Survivor."
Redman met Pilavachi during his traumatic childhood and rose to prominence as a worship leader with Soul Survivor. He said he previously reported his experiences to church leaders but was "ignored, patronised or gaslit." Now that many allegations are public, he urged the parish leadership, the diocese, and the Church of England safeguarding team to do better.
"Accountability is so key in these moments," Redman said. "It simply cannot be that if a ministry is particularly fruitful, or a leader is particularly gifted, or we ourselves have benefitted from that ministry, then we are willing to turn a blind-eye to the mistreatment of others under their care."
Some abuse survivors and victim advocates have raised concerns about the Church of England's investigation. They've asked for an independent third party to take over. The British evangelical magazine Premier Christianity reports the case has contributed to a widespread "safeguarding crisis," and many have lost trust in the church's "ability to do justice in cases of abuse."
The parish's trustees insist that they are "seeking a just, truthful and transparent outcome."
Two men who previously worked with Pilavachi have publicly said allegations of inappropriate conduct were reported to church leaders at least as early as 2004 but were not taken seriously.
Writer Chris Bullivant, who edited a magazine for Soul Survivor from 2000 to 2005, said he relayed an allegation of an inappropriate relationship that was dismissed out of hand by an executive director. Paul Martin, who founded a Soul Survivor church in the US, said he reported allegations too and was assured it was being investigated.
"In my mind, I felt absolved a bit, like, 'Okay, they're handling it now,'" Martin told The Telegraph.
When Pilavachi continued to occupy a position of authority, Martin assumed he'd been cleared of any wrongdoing and it was probably an honest misunderstanding. Perhaps he had inadvertently crossed a line or just needed to be reminded "to make the effort to have more adult relationships."
"It was naturally expected that leadership had done its job," Martin said. "I expected that measures were put in place to ensure any confusion or misconduct was dealt with."
Martin went on the record with The Telegraph in May, after the Church of England National Safeguarding Team, the trustees of the parish, and the parish's diocese jointly released a vague statement saying they were looking into "concerns" about Pilavachi that could not be further specified. The church authorities asked people not to discuss the issue or speculate about what had happened.
"We would like to stress that the police are not involved; this is not a criminal investigation and Mike has not been suspended," the statement said. "It is also not currently a clergy disciplinary matter ."
Another statement was released two and a half weeks later noting that the scope of the allegations might be larger than was first implied. A statement after that said Pilavachi was suspended and "this more decisive action should have been made earlier."
According to The Telegraph, Pilavachi was long known to have special relationships with favorite interns—good-looking, athletic young men jokingly called "Pilly boys" and "Mike's boys" within Soul Survivor. The ministry mentees seemed, too, to get cast off semiregularly and replaced by a new crop of handsome young men.
Pilavachi had "this incredible capacity to draw people in and make them feel special," one former intern explained. "It was like an elliptical orbit, he'd pull people in and then fling them out."
Pilavachi was widely regarded as a charismatic person who could bring fresh life into the Church of England. He was different from staid, respectable Anglican clerics, but that was seen as a good thing. He started as a youth minister, founded Soul Survivor in 1992, and the festival the year after. He was ordained in 2013. Pilavachi was charming and funny and people were riveted by his sermons and stories. He wore colorful tie-dyed dashikis when he spoke. And he talked with some frequency about being celibate, saying he had never slept with anyone, "animal, vegetable, or mineral."
Pilavachi was charismatic in the sense that he believed the Spirit works in the world today and spoke about discerning what God was doing or saying. Many around him felt Pilavachi had a "direct dial to God."
He was also charismatic in the sense that he seemed to effortlessly draw people to him. He made people feel special. Young men in particular.
"I didn't want to do anything that would jeopardise our new relationship," said one, who told The Telegraph he was encouraged to strip down to his underwear in Pilavachi's bedroom and then received a massage that "went too far up the inner thigh." He was 18 or 19 at the time; Pilavachi was in his 40s.
"He was an idol of mine," said the man, whose name has been withheld by The Telegraph. "Who was I to question him? I was like putty in his hands, really."
Another recalled that Pilavachi had control over every aspect of his life as he trained with Soul Survivor. Pleasing Pilavachi seemed critical to his future career in worship music.
"He was the pastor of my church. He was the head of the festivals and the events. He was the gatekeeper of my music publisher: Survivor Records. Every element of my life had Mike's hand on it," the man wrote. "I felt trapped."
Pilavachi's resignation will not end the official inquiry, according to the Church of England. There is no timeline for the conclusion of the investigation, and the safeguarding team is still open to hearing from survivors.
Those hurt by Pilavachi said his statement didn't provide them any closure, either.
"These are not the words of someone who appreciates the scope and depth of the pain and trauma they've inflicted," said David Gate, an American poet and songwriter who has credits on multiple Soul Survivor albums. "It also has the temerity to suggest that he would be a victim himself of 'trial by social media,' continuing his decades long practice of making himself the wounded party of any criticism in order to elicit sympathy and deflect from his actions.
"This statement makes me incredibly sad."