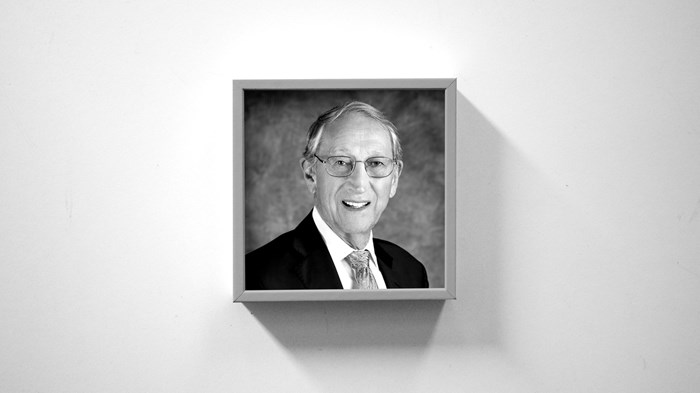 Stuart Epperson, cofounder of a radio empire that brought Christian preaching and conservative talk to the largest media markets in the United States, died on July 17 at the age of 86.
Epperson went into business with his brother-in-law Edward Atsinger in the 1970s, pioneered a new financial model for radio in the 1980s, and grew their media company to more than 100 radio stations with 11 million listeners.
Today in the largest metro areas in the United States, Salem Media Group broadcasts the sermons of David Jeremiah, Tony Evans, Greg Laurie, Chuck Swindoll, and John MacArthur, as well as the preaching and teaching of the late J. Vernon McGee, the late Charles Stanley, and the late R. C. Sproul. Salem stations also broadcast the conservative and populist political commentary of Hugh Hewitt, Dennis Prager, Charlie Kirk, Sebastian Gorka, and Eric Metaxas. Previous shows featured Oliver North, Bill Bennett, Michael Medved, Alan Keyes, and Dinesh D'Souza.
Salem provides America with a "cultural bedrock of Christian and family-themed content and conservative values," said Tony Perkins, president of the Family Research Council, which honored Epperson with an award in 2017.
"Very few people in the conservative movement have done more to shape the national conversation than Stu Epperson," Perkins said.
Newt Gingrich, former Republican speaker of the House and an inveterate partisan fighter, said Epperson's role in the ideological struggles of the late 20th century could not be underestimated; he did more than anyone to make radio the domain of religious and political conservatives.
"He is very intelligent," Gingrich said at the Values Voter Summit in 2017. "He understood where the technology was going and he used that technology to help get our message of solid conservatism, of key values, out to millions and millions of people."
Time magazine noted that reach when it named Epperson one of the 25 most influential evangelicals in 2005.
Epperson, for his part, was humbler about his accomplishments. When he looked back at Salem's rise, he said he felt like he was there, but "God did it."
As Epperson explained to a newspaper reporter near the turn of the millennium, he and his brother-in-law just made one decision at a time. They didn't have a grand plan to build an influential media empire.
"As the doors opened, we felt compelled to walk through them," he said. "It's not exactly what we set out to do … but God has always made a way."
Epperson was born in Southwest Virginia, about seven miles from the North Carolina border, on November 2, 1936. He was the youngest of Harry and Lula Epperson's six children. His father's mother, Margaret Epperson, served as midwife.
The family's home was a shanty, with no electricity and no running water. The Eppersons made ends meet by growing tobacco and doing a whole host of side jobs, including carpentry, dentistry, and mortuary services. When they weren't working, they were at Unity Presbyterian Church, a small congregation of self-proclaimed fundamentalists who met in a plain wood building made of lumber milled by the Eppersons. The family read the Bible and prayed every day.
Discovering the radio
Stuart Epperson's lifelong interest in radio began when he was eight years old and his older brother Ralph learned about broadcasting at John Brown University in Arkansas. Home from school, the older brother built a windmill to generate power, wired the house for electricity, hooked up a radio set he'd ordered from the Montgomery Ward catalog, invited the neighbors over, and tuned in to the Grand Ole Opry.
Within a year, Ralph had started his own radio station out of the family home.
"The whole community from the mountain there, Southern Appalachians, would come to our house," Epperson later recalled. "They would bring their guitars, banjos, and fiddles. They would bring their harmonicas. And they would sing. And preachers would come with big black Bibles and they would preach. … He'd put them all on [the radio]."
Harry, the Epperson patriarch then in his 60s, decided radio was a better way to earn a living than growing tobacco and selling the occasional coffin. He put up the family farm for collateral, got a loan, and used the money to start three Appalachian stations, including one up in Lynchburg, Virginia. One of the breakout stars on that station was a then-unknown Baptist preacher with big ambitions named Jerry Falwell Sr.
Young Stuart learned all about the new family business. When he graduated high school at 16, his mom and dad decided he should go to Bob Jones University in South Carolina. Epperson didn't like the school. But he liked the broadcast journalism classes and the job he got in Greenville at a radio station.
"He was a good radio man all the way," his station manager later told a North Carolina newspaper. "Cool headed, had a good voice, was adept with the controls."
Epperson earned a bachelor's degree from Bob Jones in 1956 and a master's in communications in 1959. His last semester, he met a girl he liked. Redheaded Nancy Atsinger was originally from Hawaii, but her family had relocated to Southern California after the bombing of Pearl Harbor. She was just starting school, though, so Epperson went off to Roanoke to start his first radio station.
He launched the station in 1961, when he was only 24. He adopted the format his brother had shown him, playing country music—which was sometimes called hillbilly music at the time—interspersed with local preachers who were happy to get on the air.
He went back to North Carolina, got married to Nancy in 1963, and then bought a station, WXBX, in Winston-Salem. It was not quite a one-man operation, but close. Epperson boasted he had the smallest staff in North Carolina, and the "studio" was actually a shanty he rented from a widowed woman named Erline Tate for $95 per month. For the money, Tate also made biscuits.
Trouble with the government
The shoestring operation ran into trouble with government regulations, though. In 1970, Epperson was fined by the US Labor Department for failing to pay his employees proper overtime. He said it was a mistake. He hadn't kept business records as well as he should have. Then the Federal Communications Commission fined him the maximum possible amount for failing to keep proper records.
The experience may have confirmed Epperson's suspicions about the evils of big government. The radio station owner decided to get involved in politics himself after being inspired by president Ronald Reagan. When Reagan ran for reelection in 1984, Epperson decided he would run too. He registered as a congressional candidate for North Carolina's fifth district.
"I would like to say it was popular demand," he later joked. "But it wasn't."
Epperson had no political experience, no name recognition, little party support, and he was shy. At the same time, he was passionate about his message and had money of his own he could invest. According to newspaper reports at the time, he put about $100,000 into the campaign.
Epperson's incumbent opponent mostly ignored him, though, and the political newbie spent a lot of the campaign just trying to grab attention. He twice ambushed the 10-term Democrat, showing up at events and challenged him to impromptu debates. He carried a lantern around the district claimed he was looking for his opponent's accomplishments. He announced his regrets that his opponent couldn't be with him at an evening event—he had been kidnapped by Washington, DC.
"There are some things in this campaign I would not do under normal circumstances," Epperson admitted, "but there is a cause involved."
He lost the election by less than 5,000 votes. He ran again in 1986, but did worse than the first time, falling a bit more than 13,000 ballots short of victory.
When the door to elected office closed, the door to radio opened even wider. The same year he lost his second congressional race, Epperson decided to start Salem Media with his wife's brother Ed Atsinger. The two purchased several stations together in the mid-1970s, and decided to go bigger in the 1980s. They bought one radio station in Bakersfield, California, and another in Oxnard, California, in 1986.
A new financial model
Oxnard was, as Atsinger later put it, "not the center of the world," but it did have a signal that reached into Los Angeles. Epperson and Atsinger figured out how to use the signal and developed a new model for Christian radio called "block programming." Instead of depending on ad sales for revenue, they would sell airtime to preachers who wanted to access the Los Angeles media market and were willing to pay to secure it.
At the time, a lot of small religious stations broadcasted sermons, and preachers frequently got free airtime in large markets. But the preachers found they were at the mercy of every station manager who wanted to shuffle a schedule or change formats, making it difficult to build and grow an audience with a lot of listeners. Some preachers would pay for that. And this would provide Salem with a firmer financial base than its competitors.
The innovation was not just good for business—it fit the new company's mission.
"We said, 'Let's concentrate on the big cities,'" Epperson recalled. "We started Salem—I want you to really understand this, now—we started Salem because we had an opinion. First and foremost, we wanted to build radio stations and buy radio stations because we wanted to present the gospel of the Lord Jesus Christ by the very best communicators of the gospel in the world."
Within a few years, they had taken out loans to buy a station that broadcast in Boston for $1.8 million and another in New York for about $1 million, and they kept growing. By the mid-1990s, they owned stations in 31 major markets and Salem was earning about $50 million per year.
Many evangelical radio ministries found that they grew as Salem did. Focus on the Family's daily program hosted by James Dobson, for example, became the most-listened-to religious radio show in partnership with Salem.
"We've benefited because we've been able to reach their audience," Focus vice president John Fuller said at the time. "As Salem has grown, we've grown with them."
"We're in this to save America"
In the mid-1990s, Epperson decided to get back into politics, but this time via the radio. Salem launched its first nonreligious show, featuring commentary on contemporary politics, in 1995. It starred Oliver North, a Marine lieutenant colonel who had gotten in trouble for secretly selling weapons to the Islamic Republic of Iran in order to fund a right-wing rebel group in Nicaragua. During a congressional investigation into who had authorized the scheme, North became a hero to many conservatives who didn't think the US was doing enough to fight communism around the world.
Conservative talk shows were booming at the time, and The Oliver North Show did well. Salem embraced the talk radio format, started broadcasting a growing number of conservative commentators, and syndicated the programs to other stations as well.
"There is something different about Salem that I think you need to understand," one senior vice president said recently. "The difference with Salem is, even though we always want to make money—and we do make money—we're in this to save America."
Epperson also joined the Council for National Policy, a quasi-secret group of religious right leaders, and started a political action committee. The Salem PAC raised $14 million for Republican candidates in 1996. Twenty years later, it contributed more than $200 million to Republican candidates.
The Salem PAC threw its support behind Donald Trump in 2016, donating the maximum of $5,000 to his presidential campaign. Salem also sent its conservative talk show hosts on tour that year, holding pro-Trump rallies. The company's avid support for Trump created a rift with some on the Religious Right, notably Salem talk show host Michael Medved, who said the reality TV star was not fit to lead the country. But Salem didn't waver. The media company was happy to lend its "empire of reach and influence," as talk show host Hugh Hewitt described it, to a candidate who would disrupt the political status quo.
When Epperson was honored at the Values Voter Summit in 2017, he said he and his brother-in-law didn't know they'd have great political influence when they started buying radio stations in the 1970s. But over five decades, their true goal had pretty much remained the same.
"We built the platform for the gospel and the Judeo-Christian tradition," Epperson said. "We ought to have people on the air who can ably present the Judeo-Christian tradition."
Epperson stepped down from Salem in 2019. He is survived by his wife Nancy and their four children, Kristine Pringle, Stuart Epperson Jr., Karen DeNeui, and Kathryn Fonville. A funeral service will be held in Winston-Salem on July 21, and Epperson will be buried the following day at the church his family built in Ararat, Virginia.