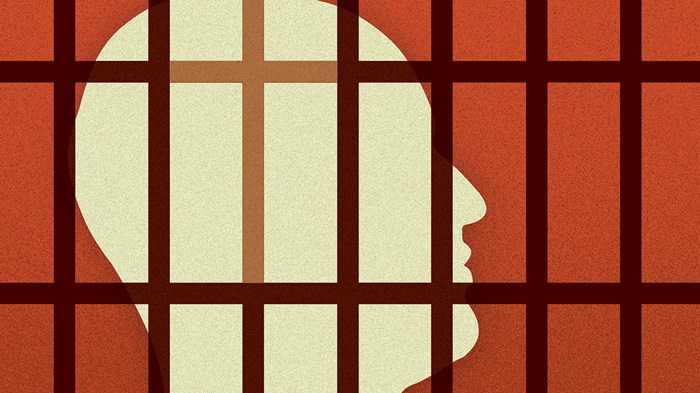 "Hey, Doc. You know, being in prison you're exposed to so much prejudice, hatred, selfishness, loneliness, etc., that you can forget the goodness of God." William's statement didn't really catch me by surprise, but it did remind me how practical theology is.
For the past three weeks, I have been teaching a survey of Bible doctrine to 15 inmates at Kirkland Correctional Institution. These followers of Jesus are serving anywhere from seven years to life for various crimes.
Each day upon arriving, I enter the security area, remove my shoes, belt, watch, and then place my Bible, textbook, and folder in the plastic bin that goes through the X-ray machine. I walk through a metal detector and spread my arms to be patted down while being asked if I am bringing any contraband items into the prison (cell phones, more than $50, weapons, drugs, etc.).
Another metal door is buzzed open so I can walk two blocks underground to another security area before a large metal door rolls back, allowing me to enter the prison's open yard. Lines of inmates watch as I walk another block to the upstairs library and classroom.
Columbia International University's Prison Initiative began in 2007 and has produced 75 graduates of the two-year study program (some serve as assistant prison chaplains). It's not easy to get in (only 15 out of 60 applicants are accepted into the newest cohort). CIU's Prison Initiative began training women inmates in 2012 at Camille Griffin Graham Institution and will be graduate its first women's cohort of 12 this year.
Curiosity Curbed
One of my initial challenges at Kirkland was overcoming my curiosity. It's natural to want to know what these men did to get locked up, some for the rest of their earthly days. But such information would serve no useful purpose. So I don't probe to find out their crimes, although sometimes they talk about how God got their attention when they killed someone, held up a bank, or whatever. In teaching five or six cohorts (one per year), I've yet to meet a student who claims he is in prison unjustly.
When I first volunteered to teach in our Prison Initiative, I had to sign a waiver that I would not sue the prison system if I was harmed or even taken hostage while in prison. It can sometimes be a bit disconcerting to be in a room with 15 previously violent criminals. But these are serious followers of Jesus who want to make the rest of their lives count for him.
The So-What Issues
Each of my students wears identical prison clothes (with "SC Department of Corrections" stenciled down the pants leg), marches to the mess hall for meals (with his left foot on the long, worn white line), and lives in a two-man cell with a sink, a toilet, and zero privacy.
The first year I taught at Kirkland, I would finish my class, go through the grey security areas, walk to my car, and sit there thanking God that I could simply put my key in the ignition and drive away. Then I would head straight for a Baskin-Robbins and consume a large vanilla milkshake. Because I could. (Don't tell my wife about the milkshake).
In the class, we cover ten areas of systematic theology, including the doctrines of God, Christ, the Bible, man, sin, salvation, the Holy Spirit, the church, and final things.
These are intense students who are "letting time serve them while they serve time." Their questions often stump me, but they have reminded me of the "so-what? imperative" of the Christian faith. What difference does it make to affirm the hypostatic union of Christ (we work hard at defining terms and learning theological vocabulary), or the differences between various millennial positions? One of my students said, "Theology is not as hard to understand as it may seem." (He made a C- on the final exam.) But my students are teaching me to always ask, "How do I apply this to where I live? Right now?"
"Doc, are you going to make us cry again?" one of my students asked as I entered. The previous week during our discussion of the doctrine of man I had shown the short film "Butterfly Circus" and several men had cried as they realized that if a limbless man like Nick Vujicic could have value and worth to God, they could as well.
TJ (all names are changed) said, "The one important truth is this: We can unlearn false doctrine and we can overcome the wiles of sin and even of prison culture, and build our character into something great through our Lord Jesus Christ."
In teaching theology I emphasize discerning between the essentials of the faith (beliefs that all Christians everywhere must hold) and the distinctives of the faith (areas where Christians can charitably differ from one another). One day we discussed what God hates and noticed that God despises those who cause unnecessary division (Prov. 6). Cliques and factions pop up quickly in prison; pet opinions become essential doctrines for some (both inside and outside of prison). In prison, any disagreements might be met by acts of violence.
These brothers need discernment as they watch TV preachers, are yelled at by some visiting church groups, and seek to share the gospel with cultists and members of other world religions who are behind bars with them. One student said, "You must be very sensitive when dealing with prisoners; many are mentally unstable and are in dire need of a Savior but do not know it."
Another reminded me, "The majority in prison have never finished high school. Most prisoners want to turn to the Lord, but they have been beat in the head with the Bible so many times that they rebel against anyone who wants to talk about God. Theology makes me think deeper than I've ever thought before about God and what's in his Word."
For class devotions one day, we examined John 9 and the story of the man born blind. My brothers-behind-bars reaffirmed their belief with me that we were all "steeped in sin at birth" (v. 34).
My students seem to appreciate our discussions on issues such as masturbation, loneliness, anger, and respect. They remind me of our fundamental need for God's Word. Bart wrote: "The truth is, God is the ultimate authority. His grace is limitless; his love endures forever. His mercy reigns. For those who refuse him, let it be known that his wrath is swift and severe. We are nothing without the work of the cross. It's Jesus' blood that sets us free."
Teaching has its highs and lows. Students in this environment, behind locked doors, are appreciative. One student wrote me: "Dr. Dixon, you not only teach us; you inspire us. This is not just a normal class. You display and illustrate what you teach. You go beneath the surface of the theology you teach. I see your heart for the Lord in your teaching. I thank God for you." Another said, "It is never too late and does not matter where we are in this life, in prison or outside of it, we are still called by God to study and learn his Word."
I asked these students on their final exam (for extra credit) a question. I told them I was writing this article and asked them what they would want said. Some of their comments:
"In prison there are many cultural differences … it is okay to … agree to disagree."
"Please add in your article that many run from theology … but it is not as boring as some may think."
"I want you to say that being in prison you are exposed to so much prejudice, hatred, selfishness, loneliness, etc. that you can forget the goodness of God. It is not your surroundings, circumstances, or emotions that dictate who God is. He is the same through all storms."
"Keep essentials and stand firm on them. Avoid discussing distinctives unless you are willing to bend to keep relationships."
Real Freedom
I've learned a lot from this band of behind-bars-brothers. I've been reminded that God's truth doesn't just sit there. It changes us and makes us more like Jesus.
These courses certainly changed me. In my three weeks with this group, no one sought sympathy from me about their incarceration, but all acknowledged that beliefs and behaviors have consequences. Their desire is to honor God where they are.
Freedom to them is living for God, behind bars. Those outside prison who are not living for him are the real prisoners. One wrote, "Prison is far from hell. There are inmates who know Christ and are freer than many people in the free world."
My definition of freedom has been revised. We "outsiders" are quite capable of forgetting God's goodness and our need of his truth to survive. We who are "free," are we just living for ourselves? The Bible defines that kind of freedom as slavery (John 8:34; Gal. 4:9; Titus 3:3).
When freedom is living for God, bars don't determine the limits of a person's heart. Even a prison's close quarters are not so confining that God's truth can't be lived out.
I guess it's not too late for this theologian to get educated ... by a community behind bars.
Larry Dixon is professor of systematic theology at Columbia International University in South Carolina.